Peng Shuai: China opposes 'politicisation' of sports
China's comments came after the Women's Tennis Association (WTA) suspended tournaments in the country over concerns for Chinese tennis player Peng Shuai's safety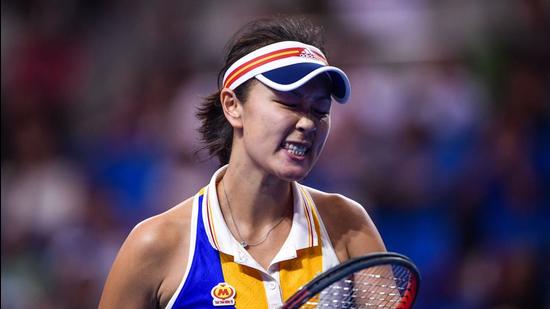 Published on Dec 02, 2021 05:21 PM IST
China said on Thursday that politics should be kept out of sports after the Women's Tennis Association (WTA) suspended tournaments in the country over concerns for Chinese tennis player Peng Shuai's safety.
The WTA, the global governing body for women's professional tennis, on Wednesday announced the "immediate suspension of all tournaments in China", including in Hong Kong, citing concerns about the well-being of Peng, a former doubles world number one, who accused a top former Communist Party of China (CPC) leader Zhang Gaoli of sexual assault a month ago.
The WTA also cited concerns over the safety of other players as a reason for suspending tournaments.
The Chinese foreign ministry did not directly respond to the WTA's decision to suspend competitions, but said it was against politicisation of sport.
When asked about the matter at a regular briefing, foreign ministry spokesperson Wang Wenbin gave a one line response, saying China "opposes the politicisation of sports".
China has remained largely silent over the huge scandal, blocking discussions of the topic on China's heavily-censored internet.
On November 23, the foreign ministry had said it hoped that "malicious hype" about tennis star Peng's whereabouts and well-being would stop, and that her case would not be politicised.
Instead, the Chinese government has allowed state-controlled media to go on the offensive, describing the global concern for Peng's well-being as politicising sport.
On Thursday, the editor of the tabloid, Global Times, accused the WTA of "coercing" Peng to "support the West's attack" on China by suspending tournaments in the country until was assured of her well-being.
The tabloid also cited a statement from the Chinese Tennis Association saying that it would defend its rights, and warning that the WTA should bear the legal consequences.
In an editorial aimed at the WTA's decision, the tabloid accused it of "bringing politics into women's tennis" and of being a "lever of Western public opinion".
"WTA suspended tournaments in China amid so-called concerns about the safety of Peng Shuai. The WTA is expanding its influence in a speculative way, bringing politics into women's tennis deeply, setting a bad example for the entire sporting world," the editorial posted on Twitter – which is banned in China – said on Thursday.
Meanwhile, the International Olympic Committee said in a statement on Thursday that it had held a second video call with Peng, having held the first late last month.
"We share the same concern as many other people and organisations about the wellbeing and safety of Peng Shuai. This is why, just yesterday, an IOC team held another video call with her," the IOC said.
The whereabouts of Peng, a former doubles world number one and one of China's top tennis icons, have been a matter of international concern since November 2 when she posted a message on social media alleging that China's former vice-premier Zhang Gaoli had sexually assaulted her.
Peng's post was immediately deleted and her presence scrubbed from China's strictly censored web.
In late November, Chinese state media released Peng's photos and videos, following the release of an email purportedly written by her, to claim that the tennis player was safe but wanted to be left alone.
Close Story
Personalise your news feed. Follow trending topics