Russia-Ukraine war Highlights: Govt says nearly 4,000 Indians brought back from Ukraine in last 24 hours
Mar 04, 2022 11:15 PM IST
Russia-Ukraine war Highlights March 4, 2022: Russian forces seize Europe's largest nuclear plant hours after attack sparked fire, reports Reuters citing local officials.
Ukraine's Black sea port city Kherson continued to witness bombardment as Russia continued its invasion.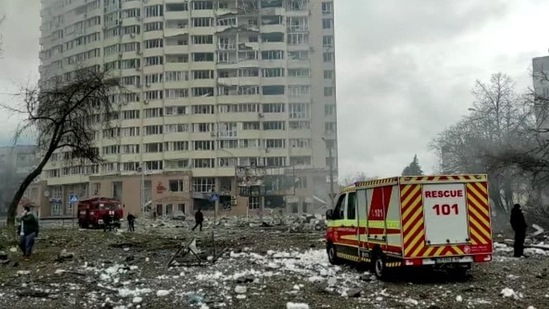 Russian troops had entered the southern city of Enerhodar, a major energy hub on the Dnieper River that accounts for about one-quarter of the country's power generation. It is the site of the Zaporizhzhia nuclear plant, the biggest in Europe.
Follow the latest updates here
A Ukrainian negotiator said on Thursday that a second round of ceasefire talks with Russia had not yielded the results Kyiv hoped for, but the sides had reached an understanding on creating humanitarian corridors to evacuate civilians.
Twenty-two people died on Thursday when Russian forces hit residential areas, including schools and a high-rise apartment block in the northern Ukrainian city of Chernihiv, the emergency service said.
Russian President Vladimir Putin told French President Emmanuel Macron that he was determined to press on with his attack "until the end", according to an official in the French president's office. In a statement issued after the French and Russian presidents spoke by phone, the Kremlin made clear its goals included the demilitarisation and neutrality of Ukraine.
Follow all the updates here:
Mar 04, 2022 11:15 PM IST

Moscow's UN envoy says 'untrue' Russian military shelled nuclear power plant

Moscow's ambassador to the United Nations denied on Friday that Russian forces had shelled a nuclear power plant in Ukraine.

"These statements are simply untrue," news agency AFP quoted Vassily Nebenzia as telling the Security Council. "This is all part of an unprecedented campaign of lies and disinformation against Russia."

Mar 04, 2022 10:35 PM IST

Nearly 4,000 Indians brought back from Ukraine in last 24 hours

Nearly 4,000 stranded Indians brought back from Ukraine in the last 24 hours, reported news agency ANI, citing the government.

Mar 04, 2022 10:15 PM IST

Russian newspaper Novaya Gazeta says deleting content over new media law

Russian independent newspaper Novaya Gazeta said on Friday it would be removing content on Ukraine after lawmakers backed legislation that sets jail time and fines for "fake news" about Russia's army.

Mar 04, 2022 10:02 PM IST

BBC suspends news operations in Russia

The BBC said Friday it has temporarily suspended news operations within the Russian Federation while it assesses the implications of new legislation adopted by Russian authorities, reported news agency Reuters.

BBC News will continue its service in Russian from outside of Russia.

Mar 04, 2022 10:01 PM IST

Putin hopes Ukraine will take 'constructive' position in talks, says Kremlin

Russian President Vladimir Putin told German Chancellor Olaf Scholz on Friday he hoped Ukraine would take a "reasonable and constructive" position during the next round of talks, the Kremlin said in a statement.

Putin also told Scholz by phone that Russia was open for dialogue with Ukraine on condition that all its demands are met.

Mar 04, 2022 09:27 PM IST

Russian forces driven out of Ukrainian city of Mykolayiv, says governor

Russian forces were driven out of the Ukrainian city of Mykolayiv after attacking it on Friday but fighting continued around the city outskirts, news agency Reuters quoted regional governor Vitaliy Kim as saying.

Mar 04, 2022 09:06 PM IST

Putin speaks to Saudi prince Mohammed bin Salman, says Russian foreign ministry

"Putin holds a telephone conversation with Crown Prince of Saudi Arabia Mohammed bin Salman Al Saud. It was noted that OPEC+ member countries are consistently fulfilling their obligations to help ensure stability on the global oil market," Russia's Ministry of Foreign Affairs posted on Twitter.

Mar 04, 2022 09:00 PM IST

Pianist's musical treat to Ukrainians arriving at Polish border

A 40-year-old Italian pianist who lives in Germany, is travelling with piano on wheels to bring some musical joy to the Ukrainians who are arriving at the Polish border, news agency Reuters shared the video.




Mar 04, 2022 08:44 PM IST

US committed to do all necessary to make Ukraine war stop: Blinken

Washington is committed to doing every needed to stop the war in Ukraine, news agency Reuters quoted US secretary of state Antony Blinken as saying on Friday after his meeting with his EU counterparts praising the bloc for the "historic" steps against the Russian invasion.

Mar 04, 2022 08:26 PM IST

Ukraine planning to hold third round of talks with Russian officials this weekend: AFP

Ukraine is planning to hold the third round of talks with Russian officials this weekend, reports news agency AFP citing the President's advisor.

Mar 04, 2022 08:11 PM IST

NATO rules out policing no-fly zone over war-hit Ukraine

NATO countries refused on Friday to police a no-fly zone over Ukraine, warning that such a move could provoke widespread war in Europe with nuclear power Russia, news agency AP quoted the organization's top civilian official as saying.

Mar 04, 2022 07:41 PM IST

'Everything to depend on....': Russia on talks with Ukraine

Day after Russia and Ukraine conducted the second round of talks, the Kremlin informed that it was waiting for a response from Kyiv following the negotiations. Read more

Mar 04, 2022 07:14 PM IST

Russian lawmakers approve prison for 'fake' war reports: Report

Russians could face prison sentences of up to 15 years for spreading information that goes against the Russian government's position on the war in Ukraine, reported news agency AP.

The move came as Russian authorities blocked access to foreign media outlets.

Mar 04, 2022 06:42 PM IST

Highest attention on the eastern Ukraine: MEA in a press briefing

Highest attention on the eastern Ukraine particularly Kharkiv and Pisochin. We have managed to get some buses there. 5 buses already operational, more buses later in the evening; 900-1000 Indians stranded in Pisochin & 700+ in Sumy. We are concerned about Sumy: Ministry of External Affairs, India

Read more

Mar 04, 2022 06:35 PM IST

UNSC to hold emergency meeting, reports AFP citing diplomats

The United Nations Security Council has called an emergency meeting over Russia-Ukraine conflict, reports AFP citing diplomats.

Mar 04, 2022 06:16 PM IST

3,000 people evacuated from Budapest, 1,100 more to leave today: Hardeep Singh Puri

From Budapest, 3000 people evacuated till yesterday, another 1100 expected to leave today. We've asked for 7 more flights, which will make it another 1400 people being evacuated tomorrow: Union Minister Hardeep Singh Puri from Hungary-Zahony border

Mar 04, 2022 06:10 PM IST

'War crime to attack a nuclear power plant': Embassy of US in Kyiv

"It is a war crime to attack a nuclear power plant. Putin's shelling of Europe's largest nuclear plant takes his reign of terror one step further," tweets Embassy of the United States of America in Kyiv.

Mar 04, 2022 06:02 PM IST

10,800 Indian nationals evacuated from Ukraine

At least 10,800 Indians have been brought back by special flights from Ukraine's neighbouring countries under Operation Ganga, the Centre said on Friday. The evacuation process was carried out by three Indian Air Force C-17 aircraft and 14 civilian flights, with one more civilian flight expected to arrive later today. Read more

Mar 04, 2022 05:37 PM IST

Japan sends defense supplies to Ukraine

Japan is sending bulletproof vests, helmets and other defense supplies to Ukraine to help the country fight Russia's invasion, reported news agency AFP.

It is a rare move by Japan, which has a principle of not shipping defense supplies to countries in conflict.

Mar 04, 2022 05:12 PM IST

5,245 nationals airlifted from Romania to India till March 3: ANI cites govt of India

As many as 5,245 nationals have been airlifted from Romania to India till March 3, news agency ANI quoted the Indian government as saying.

Mar 04, 2022 05:09 PM IST

'No support from Indian embassy yet,' says a wounded Indian national stranded in Ukraine

"No support from the Indian embassy yet. I have been trying to get in touch with them, every day they say we will do something but no help yet," says Harjot Singh, an Indian who sustained multiple bullet injuries in war-torn Ukraine, receiving treatment at a Kyiv hospital.

Mar 04, 2022 05:03 PM IST

West eyes more pressure on Russia after Ukraine nuclear plant attack

Western allies on Friday condemned Russia over the shelling of a nuclear plant in Ukraine, but pushed back against calls for a no-fly zone from Kyiv to halt Moscow's bombardments. Read more

Mar 04, 2022 04:28 PM IST

UN rights council backs probe of violations in Ukraine war

The UN Human Rights Council on Friday overwhelmingly voted to create a high-level investigation into violations committed following Russia's invasion of Ukraine.

Thirty-two members of the 47-seat council voted to establish the highest-level probe possible into alleged rights violations, with an eye to holding perpetrators responsible.

Mar 04, 2022 04:26 PM IST

Indian students complaint of pets not being allowed on airplanes, trains

We're facing problems in taking our pets along with us as IndiGo didn't allow us to board with pets, we were told that we could take them only in an IAF plane. We brought them from Kharkiv with us & are in talks with the Indian Embassy: Stranded Indian Vaibhav in Rzeszow, Poland

Due to space constraints, pets were not being allowed in trains but we somehow brought them with us from Kharkiv after spending a lot of money. We're waiting for special flights for those with pets to be flown to India: Stranded Indian national in a hotel in Rzeszow, Poland

Mar 04, 2022 04:12 PM IST

Russia restricts access to BBC, Voice of America & other media outlets

Russia's state communications watchdog said on Friday it had blocked the BBC, Voice of America, Radio Free Europe/Radio Liberty, Deutsche Welle and other media outlets for spreading "fake" information, Reuters reported citing RIA news agency.

Mar 04, 2022 03:51 PM IST

No damage to reactors at Ukraine's Zaporozhzhia nuclear plant -IAEA chief

No damage has been done to the reactors at Ukraine's Zaporozhzhia nuclear power plant after a projectile hit a nearby building on the site overnight, UN nuclear chief Rafael Grossi said on Friday, adding he believed the projectile was Russian.

Ukrainian staff continue to operate the nuclear facilities while Russian forces control the area, Grossi told a news conference.

Mar 04, 2022 03:21 PM IST

NATO meets as Ukraine calls for no-fly zone to hinder Russia

NATO foreign ministers meet in Brussels on Friday to discuss Russia's invasion of Ukraine as Kyiv called on Western allies to implement a no-fly zone or provide them with more planes to protect civilians and infrastructure including nuclear plants, reported news agency Reuters.

Mar 04, 2022 02:56 PM IST

130 Russian buses ready to evacuate Indian students, reports ANI

130 Russian buses are ready to evacuate Indian students and other foreigners from Ukraine's Kharkiv and Sumy to Russia's Belgorod Region, Russian National Defense Control Center Head Colonel General Mikhail Mizintsev announced on Thursday.

Mar 04, 2022 02:44 PM IST

Asia stocks slump to 16-month low amid Russia-Ukraine tensions

Asian stocks tumbled to their lowest since November 2020 as signs Russia's attack on Ukraine is intensifying further roiled financial markets, reported news agency Bloomberg.

The MSCI Asia Pacific Index fell as much as 1.8% on Friday, as Ukrainian officials said Russian forces have occupied the site of Europe's largest nuclear power plant after an attack that caused fire. The gauge is now down 19% from a February 2021 peak, inching closer to bear market territory.

Mar 04, 2022 02:23 PM IST

Korean Air to cancel passenger flights to Moscow, reroute cargo flights

Korean Air Lines Co Ltd said on Friday it plans to cancel four passenger flights to and from Moscow for the next two weeks, adding that the airline could not refuel its planes in Moscow following Russia's invasion of Ukraine.

The South Korean carrier said it also plans to reroute cargo flights that originally passed through Moscow, sending them instead directly from Incheon, South Korea, to destinations in Europe without making stops in Russia until March 18.

Mar 04, 2022 02:06 PM IST

Russia introduces 15-year jail terms for 'fake news' about the army

Russian lawmakers approve laws providing up to 15 years in jail for any publication of fake news about the Russian armed forces, reports AFP.

The bill sets out jail terms of varying lengths and fines against people who publish "knowingly false information" about the military.

Mar 04, 2022 02:01 PM IST

China asks 'all sides to avoid escalation' after Russia captures nuclear plant

China's foreign ministry on Friday urged all sides to ensure the safety of nuclear facilities in Ukraine, after a fire broke out in a building adjacent to a nuclear plant that was later seized by Russian forces, according to Ukraine.

"We will monitor the situation and call on all sides to exercise restraint, avoid escalation and ensure the safety of relevant nuclear facilities," foreign ministry spokesman Wang Wenbin told a daily briefing, reports Reuters.

China has refused to condemn Russia's attack on Ukraine or call it an invasion.

Mar 04, 2022 01:44 PM IST

Over 160 educational institutions in Ukraine faced Russian aggression

More than 160 educational institutions in Ukraine have been partially or completely destroyed by the shelling of Russian troops, education minister of Ukraine stated.

Mar 04, 2022 01:42 PM IST

Ukraine says international aid will likely exceed $15 billion

Ukraine officials on Friday stated that international aid to the war-torn country is likely exceed $15 billion mark, reports Bloomberg.

Mar 04, 2022 01:37 PM IST

Russian media watchdog limits people's access to media

Russian media watchdog says it has restricted access to some media websites, including the BBC, tightening controls over the internet.

Mar 04, 2022 01:31 PM IST

Belarus to become military district of Russia: Romania Foreign Minister

Minister of foreign affairs of Romania, Bogdan Aurescu, said that the world needs to adapt to the fact that Belarus is becoming the military district of Russia, reported Reuters.

Mar 04, 2022 01:18 PM IST

Russia to introduce jail terms for spreading 'fake' info about the army

The lower house of the Russian parliament on Friday passed a law which makes it a jailable offence to spread "fake" information about the armed forces, Reuters reported.

The law, passed by the State Duma in the third and final reading, introduces fines and jail terms for those who intentionally spread false information about the armed forces that has a serious impact, according to a statement by the lower house.

Mar 04, 2022 01:05 PM IST

Over 624,500 people entered Poland from Ukraine since invasion

Around 624,500 people have crossed into Poland from Ukraine since Russia launched its invasion on Feb 24, the Polish border guard said on Friday.

It said that on Thursday around 99,200 people entered, and that on Friday about 25,200 people had crossed as of 0600 GMT, Reuters reported.

Mar 04, 2022 01:03 PM IST

London Stock Exchanges suspends more Russian firms

The London Stock Exchange said on Friday it had suspended with immediate effect the trading of stock listings of several Russian-based companies including Sistema and Magnit, reports Reuters.

"The London Stock Exchange notes the ongoing deterioration of market conditions since March 2 2022, and in order to maintain orderly markets, the exchange has suspended the admission to trading of the instruments," it said in a statement.

Mar 04, 2022 12:47 PM IST

Stocks sink as atomic plant shelling adds to Ukraine fears

Asian markets tumbled Friday as news that Europe's biggest nuclear power plant had been hit by Russian shelling fuelled a flight to safety and ramped up fears about the Ukraine war, Reuters reported.

Tokyo and Hong Kong led losses across Asia while Sydney, Shanghai, Seoul, Singapore, Mumbai, Taipei, Manila, Bangkok and Wellington were also well down.

The losses followed steep selling pressure in New York and Europe, and Wall Street futures were sharply down Friday, said Reuters.

Mar 04, 2022 12:29 PM IST

Russian forces seize Europe's largest nuclear plant hours after attack

Russian forces seize Europe's largest nuclear plant hours after attack sparked fire, reports Reuters citing local officials.

Mar 04, 2022 12:23 PM IST

IAEA says 'essential' parts of Ukraine nuclear plant not affected

Essential equipment at Ukraine's Zaporizhzhia nuclear power plant was unaffected after a fire there, with no change in radiation levels, the International Atomic Energy Agency (IAEA) said on Friday, citing the country's regulatory authorities.

Mar 04, 2022 12:22 PM IST

Biden meets Finnish leader as Russia rattles European nations

US President Joe Biden meets his Finnish counterpart Sauli Niinistö at the White House on Friday as Russia's invasion of Ukraine has roused fresh concern by Vladimir Putin's other European neighbors, reports Reuters.

Mar 04, 2022 12:20 PM IST

Have not learned from past mistakes and still resort to war: SC

Supreme Court says that it's unfortunate that we have not learned from past mistakes and still resort to war, news agency ANI reported. "We don't have much say but there is anxiety about students," apex court added.

Mar 04, 2022 12:14 PM IST

US waives COVID test for Americans leaving Russia, Belarus

The United States is waiving a requirement for negative COVID-19 tests from Americans leaving Belarus or Russia to travel home, the State Department said on Thursday as per news agency Reuters.

Mar 04, 2022 11:39 AM IST

Australia's biggest pension to sell remaining Russia assets

AustralianSuper Pty. will wind down its remaining Russian exposure after the nation's government said it expected its pension funds to divest Russian-linked assets, reports Bloomberg.

The A$260 billion ($191 billion) fund said in a statement it is "deeply concerned" about the unfolding events in Ukraine and has been "actively managing" its Russian exposure to address the changing and emerging risks. The fund is in "full compliance" with all relevant sanctions, it said.

Mar 04, 2022 11:19 AM IST

PM holds review meet on Ukraine situation, 8th meet so far

Prime Minister Narendra Modi holds review meet on the current situation in war-torn Ukraine.

Mar 04, 2022 11:05 AM IST

French cathedral bells ring out to call for peace in Ukraine

Mar 04, 2022 10:40 AM IST

Airbnb suspends Russia, Belarus operations amid Ukraine war

Airbnb Inc. is suspending its operations in Russia and Belarus, Chief Executive Officer Brian Chesky said in a tweet Thursday evening. The move comes days after Chesky said that "all things are on the table" with regard to responses to Russia's invasion of Ukraine.

Topics

Story Saved