Sri Lanka to default on external debt of $51 billion pending IMF bailout
Sri Lanka news: "… making debt payments are challenging and impossible," the country's central bank governor said.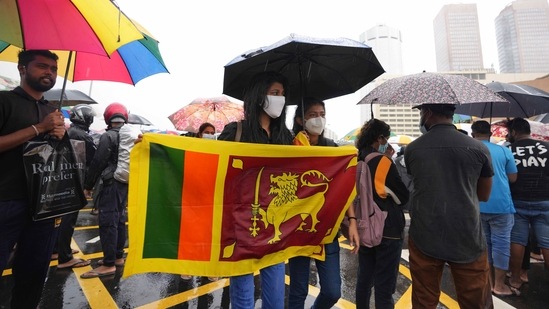 Updated on Apr 12, 2022 04:35 PM IST
Crisis-ridden Sri Lanka announced on Tuesday that it was defaulting on its external debt of around $51 billion pending a bailout from the International Monetary Fund, with whom talks are scheduled this month. Sri Lanka's finance ministry said creditors, including foreign governments, were free to capitalise interest payments due from Tuesday afternoon or opt for payback in Sri Lankan rupees. Officials earlier said the island nation would temporarily suspend foreign debt payments to avoid a hard default and conserve its limited foreign reserves for the import of essential items like food, fuel, and medicine.
"It has come to a point that making debt payments are challenging and impossible. The best action that can be taken is to restructure debt and avoid a hard default," Sri Lanka's central bank governor P Nandalal Weerasinghe said.
The governor said the action was being taken in good faith, emphasising that the country of 22 million people had never defaulted on its debt payments.
Sri Lanka defaults on $51 billion debt. Who else has defaulted?
"This will be on a temporary basis until we come to an agreement with creditors and with the support of a programme with the IMF," Weerasinghe, who took office last week amid growing public unrest triggered by the crisis, said.
"We need to focus on essential imports and not have to worry about servicing external debt," he added.
Sri Lanka to seek $3 billion in 6 months to stave off crisis: minister
Sri Lanka's foreign exchange reserves dropped 16.1 per cent to $1.93 billion in March from a month earlier, the central bank said last week.
Sri Lanka had about $2.3 billion of foreign reserves in February.
An estimated $8.6 billion in debt payments are due in 2022.
Sri Lanka reserves drop to $1.93 bn in March, $8.6 bn due this year
The country also faces a test later this month when interest payments on a 2023 dollar bond and 2028 note fall due; the two amount to $78.2 million.
"To get out of the crisis, the quick establishment of an effective government should be the first priority. Clinching a deal with the IMF should be next," Bloomberg Economics' economists Ankur Shukla and Abhishek Gupta wrote.
On Monday prime minister Mahinda Rajapaksa assured Lankans his government is working to address the situation and asked them to end their agitation. "Every second you protest in the road, we are losing dollars," he said.
Sri Lanka's forex reserves crisis erupted last month after a severe shortage of essential goods and surging prices of what little was left on the shelves.
Explained: Sri Lanka economic crisis and India's $2.5 billion line of credit
Clashes outside president Gotabaya Rajapaksa's Colombo residence (he was not home) left 15 injured and prompted curfews and a brief period of emergency.
The government has since been forced into a minority position after lawmakers from the ruling alliance quit, increasing pressure on the influential Rajapaksa family that holds both the presidency and the prime ministership.
The entire cabinet also walked out over pressure from the people.
Sri Lanka has reached out to India and China, in addition to the IMF, the World Bank and the Asia Development Bank, for debt relief.
India set up lines of credit worth over $2.5 billion, including a $500 million line for fuel aid that will run dry this month.
Fuel pumps may go dry in Sri Lanka by end-April as India's credit ends
With input from AFP, Bloomberg, Reuters
Close Story
Personalise your news feed. Follow trending topics