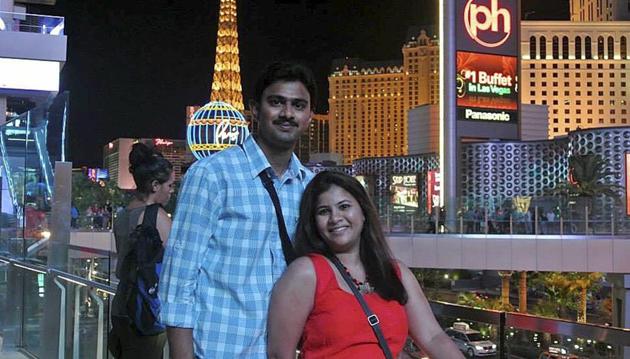 Srinivas Kuchibhotla's wife says didn't want death penalty for his killer
"Srinu would have also wanted the same," Sunayana Dumala said, using the name she used for her husband.
Hindustan Times, Washington | By Yashwant Raj
UPDATED ON MAY 06, 2018 11:52 PM IST
Adam Purinton murdered her husband in a premeditative and racially-motivated attack that changed Sunayana Dumala's life as she had never imagined. But she never desired for him to be made to pay for his crime with his own life.
"Neither me or my family never wanted a death penalty, because we did not believe in taking a life for life," Dumala said in an email to Hindustan Times on Saturday to a question on whether she would have wanted the death penalty for Srinivas Kuchibhotla's killer.
"Srinu would have also wanted the same," she went on to say, using the name she used for her husband.
"At the same time," Dumala added, "we would have respected the decision of (the) judiciary system if they decided on a death penalty."
Full statement by Srinivas Kuchibhotla's wife in US court: Our dreams turned short because of one person
Kuchibhotla was an Indian IT engineer working with GPS manufacturer Garmin.Purinton shot him fatally on February 22 last year, striking him thrice as he sat at a bar with colleague and friend Alok Madasani in Olathe, Kansas. Before the shooting, he had asked the Indians their legal status and yelled at them, telling them to "get out of my country."
Kansas has the death penalty but it's rarely used. No executions have been carried out in the state since 1965.
In the guilty plea deal entered by Purinton, the life sentence was the maximum he could get. And he was given the maximum sentence for each of the three charges against him — one count of first degree murder for killing Kuchibhotla, and two counts of attempted first-degree murder for shooting Madasani and Ian Grillot, a local man who had suffered grievous bullet wounds when he tried to intervene.
All three punishments will run concurrently, the court ordered, which will keep him in prison for all his life and more.
The 52-year-old will not be eligible for parole and thus will spend 930 months, or 77.5 years, in jail.
Purinton also faces federal hate-crime charges which carry the death penalty as the maximum sentence. But it was not clear if federal prosecutors will seek the capital punishment.
The US Navy veteran had earlier pleaded not guilty, and is scheduled to enter a fresh plea in a court appearance on May 21.
Dumala and the Kuchibhotla family may not want Purinton to pay with his life for what he did, but she wants him to spend his days in prison to reflect upon his actions, as she said in a victim-impact statement that was read out in the court by a member of the state prosecutors' team.
"What harm did he do to you that you grew so much animosity towards him? He was only enjoying a glass of beer with his friend," the prepared remarks said, addressing Purinton. "I wish you had the ability to see beyond my husband's skin colour and the beautiful and kind-hearted person underneath it. And how do you expect me to measure the impact of your ignorance on our lives and dreams?"
"I hope in the years that you must spend in the jail, you will one day realise the magnitude of your mistake and work towards your penance," Dumala said in the statement.
Close