Ex-Trump aide Cohen pleads guilty, implicates US president; Manafort found guilty
Trump aide Michael Cohen pointed to the US president as a co-conspirator, alleging that he acted "in coordination and at the direction of a candidate for federal office."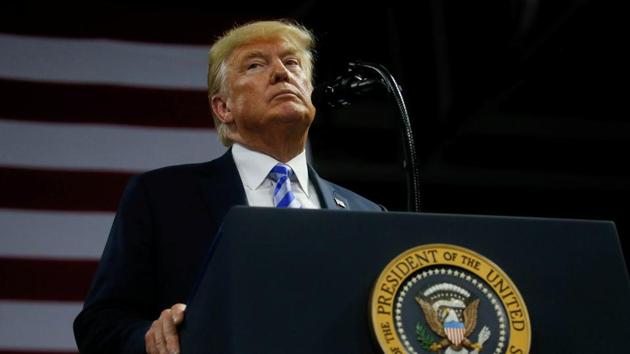 Updated on Aug 22, 2018 10:42 AM IST
Hindustan Times, Washington |
Yashwant Raj
US president Donald Trump's former personal lawyer Michael Cohen pleaded guilty in a New York court on Tuesday to campaign finance violation and bank fraud and implicated his then boss, without naming him, for payments made to two women for their silence about their affairs with Trump.
At about the same time, Paul Manafort, a former chairman of Trump's presidential campaign, was found guilty by a jury in Virginia of eight counts of bank and tax fraud that could put him in jail for up to 10 years. The jury was deadlocked on 10 other counts. The trial judge, TS Ellis III, declared a mistrial on those charges.
Cohen's guilty plea to eight counts of federal crimes, which could together get him from four to five years in jail, is perhaps the more damaging of the two developments for Trump as it directly implicates the president in a federal crime, which even his allies acknowledged was a "serious issue".
Cohen, Trump's former "fixer" who had once boasted he would take a bullet for his boss, told the trial court judge William H Pauley III under oath that he had made one payment "in coordination and at the direction of a candidate for federal office" and the second was made "under direction of the same candidate".
A court paper filed by prosecutors said Cohen made the payments "in order to influence the 2016 presidential election" and that he had "coordinated with one or more members of the campaign, including through meetings and phone calls, about the fact, nature, and timing of the payments".
A prosecutor later said Cohan had acted "for the principal purpose of influencing the election".
Cohen did not name Trump or the two women in the court and neither did the court documents nor the press statement from the office of the US attorney of South District of New York, which is prosecuting the case. But he had by implication.
"Today he (Cohen) stood up and testified under oath that Donald Trump directed him to commit a crime by making payments to two women for the principal purpose of influencing an election. If those payments were a crime for Michael Cohen, then why wouldn't they be a crime for Donald Trump?" his attorney Lanny Davis made it clearer, up front, in a statement.
As the sitting president, Trump cannot be indicted, or criminally charged, according to current guidelines from the department of justice. But he could be charged the moment he leaves office, either after the first term or the second should be he re-elected. Chances of these charges leading to impeachment proceedings would depend on whether or not they could constitute, experts said, "high crime and misdemeanor".
Cohen had arranged for a news publication in the summer of 2016 to pay former Playboy model Karen McDougal $150,000 for her story about an affair with Trump, which the president has denied. The article never ran.
The same publication later alerted Cohen about an adult film star Stormy Daniels, whose real name is Stephanie Clifford, who had offered her story about her relationship with Trump, which the president has also denied. The former fixer had paid her $130,000 for her silence. These payments violated campaign finance laws.
He has also pleaded guilty to bank fraud and tax evasion of $4 million in connection with a taxi-permit business. Trump's lawyer Rudy Giuliano denied Cohen's plea deal and the charges implicated the president.
"There is no allegation of any wrongdoing against the president in the government's charges against Mr Cohen. It is clear that, as the prosecutor noted, Mr Cohen's actions reflect a pattern of lies and dishonesty over a significant period of time," he has said in a statement.
The president himself has not yet remarked on Cohen, but he did say Manafort is a "good man" and that "it's a very sad thing" he has been convicted. As before he maintained tax evasion and bank fraud charges against Manafort had anything to do with the campaign. "It doesn't involve me, but I still feel -- you know, it's a very sad thing that happened. This has nothing to do with Russian collusion," Trump said.
Manafort was found guilty of bank fraud and tax regarding his personal financial transactions and payments he had received working as a lobbyist for the government of Ukraine. Though he has been investigated and charged by special counsel Robert Mueller, who is probing Russian interference in the 2016 elections, charges pressed against him showed no connections, unlike the others such as former national security adviser Michael Flynn and campaign aide George Papadopoulos.
In a trial lasting three weeks, prosecutors had argued Manafort had hidden millions in overseas banks, concealed taxable income and had portrayed him as a big-spender who, among other things, spent $15,000 on an ostrich leather jacket.
Though disappointed by the verdict, Manafort's attorney said in a short statement later, his client thanked the judge and the jury for giving him a fair trial and that he is "evaluating all options at this time".
Manafort is also on trial in a federal court in Washington DC for not registering himself an agent for a foreign government and for witness tampering.
Close Story