Trump gets rough ride in EU, NATO talks
May 25, 2017 06:02 PM IST
Trump was to take a "tough" stance with NATO -- the US-led military alliance he once dubbed "obsolete" -- to push it to take more action on Islamist terrorism and to pay its way.
US President Donald Trump on Thursday ran into the first problems of a landmark European trip, embarrassingly called out in public over Russia and on leaks into the Manchester terror attack.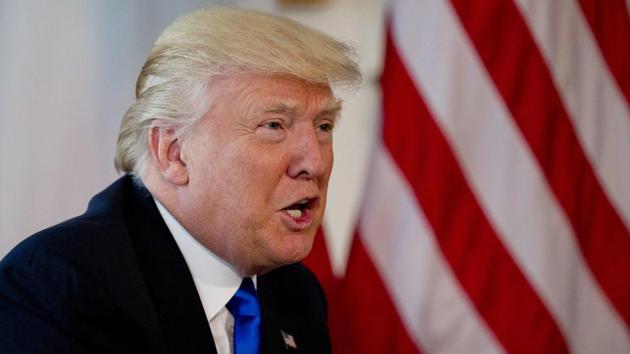 His carefully choreographed visits to the EU and NATO in Brussels were designed to heal divisions caused by the billionaire's harsh campaign criticisms of both institutions.
Trump was to take a "tough" stance with NATO -- the US-led military alliance he once dubbed "obsolete" -- to push it to take more action on Islamist terrorism and to pay its way.
But differences immediately emerged after his talks with the European Union's top officials Donald Tusk and Jean-Claude Juncker on climate change, trade, and above all Russia.
"I'm not 100 percent sure that we can say today -- 'we' means Mr President and myself -- that we have a common position, common opinion about Russia," former Polish prime minister Tusk said.
Trump on the campaign trail made restoring relations with Russia a key promise but he has faced bitter opposition in Washington and has since become embroiled in a scandal over alleged links to Moscow.
He had also previously alarmed the EU by backing Britain's Brexit vote last year and by calling the bloc a vehicle for German domination of the continent.
After the meeting of what has been dubbed the "Two Donalds", EU leader Tusk said the EU and US "agreed on many areas, first and foremost on counter-terrorism."
But in a combative line, Tusk also called for "Western values" to be promoted, challenging former tycoon Trump's world view that self-interested deals best settle international problems.
- Manchester intel row -
Britain's Prime Minister Theresa May said meanwhile she would raise directly with Trump the issue of leaks from a probe into the Manchester terror attack that have left British authorities infuriated with their US counterparts.
Speaking ahead of her departure for the NATO summit in Brussels, May said she would "make clear to President Trump that intelligence which is shared between our law enforcement agencies must remain secure."
Trump has made enlisting NATO in the US-led coalition fighting Islamic State a key objective of the summit, saying the Manchester killings showed how dangerous the threat was and that there was no option but to defeat the jihadists completely.
NATO chief Jens Stoltenberg said early Thursday the alliance would formally endorse joining the coalition at the summit, despite reservations in France and Germany about getting involved in another conflict.
"This will send a strong political message of NATO's commitment to the fight against terrorism," Stoltenberg said, stressing that it would not involve the alliance in a combat role.
Stoltenberg said the allies would also meet Tusk's demands to share more of the security burden and reaffirm a commitment to spend 2.0 percent of annual GDP on defence.
In return, the allies hope Trump will make an unequivocal and public commitment to Article 5, the alliance's one-for-all collective defence pledge. Trump had suggested this could depend on whether allies paid their defence dues.
Trump's entourage warned that the billionaire president would push allies heavily on the 2.0 percent GDP spend on defence, which was agreed in 2014.
"I think you can expect the president to be very tough on them," Secretary of State Rex Tillerson told reporters travelling with Trump.
- 'Hellhole' protests -
Trump came to Brussels direct from a meeting with Pope Francis at the Vatican, after visiting Saudi Arabia, Israel and the Palestinian Territories.
On his arrival on Wednesday in Brussels, the city he once said had been turned into a "hellhole" by Muslim immigration, the president was greeted by around 9,000 protesters saying "Trump not welcome."
Further rallies were expected Thursday and security was tight across the city with helicopters flying overhead and key roads shut down.
Trump had a private lunch with new French President Emmanuel Macron, whose recent victory over far-right leader Marine Le Pen has been seen as a beacon of hope by Brussels, before heading to NATO.
The NATO summit will be full of pomp and symbolism, with the keen-to-impress alliance showing off its new $1.2-billion (1.1 billion-euro) headquarters and staging a flypast.
At a ceremony with German Chancellor Angela Merkel, Trump will unveil a memorial to the September 11, 2001 attacks featuring part of the destroyed World Trade Center, while Merkel does the same for a fragment of the Berlin Wall.
9/11 was the only time that Article 5 has been triggered, a fact NATO leaders have repeatedly pointed out to Trump.
Trump's wife Melania, meanwhile, is set to visit a museum dedicated to the surrealist artist Rene Magritte and a leading leather store while in Brussels.