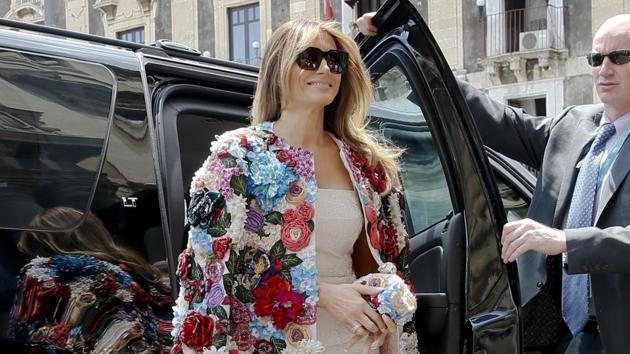 From secret plastic surgery to Mueller investigation, Melania Trump's vanishing act sparks speculation
The Melania mystery over her absence from public eye only deepened when a White House event on Monday took place with no media access, and another day went by with no press sighting of her.
UPDATED ON JUN 05, 2018 06:13 PM IST
She is known for her privacy and White House independence, often breaking with her husband's schedule. But Melania Trump's unusual 25-day absence from public view following surgery for a "benign" kidney condition has raised questions.
The first lady had been scheduled to re-emerge in the public eye late Monday at a private reception for families of US soldiers killed in action – her first public appearance since being hospitalized last month.
But the Melania mystery only deepened when the White House event took place with no media access, and another day went by with no press sighting of her.
After that reception, Mrs Trump put out a tweet that said she and Trump "were honoured to pay tribute to our fallen heroes. Thank you to the Gold Star families that joined us in celebration & remembrance." Accompanying the text were photos of the reception, including one of her sitting next to the president.
Mrs Trump, 48, has not been spotted since May 10, when she joined the president in greeting three American hostages released by North Korea.
Shortly afterwards, she entered Walter Reed National Military Medical Center for what the White House described as a benign kidney procedure.
Despite the operation's routine nature, Melania remained there for five days, returning to the White House on May 19.
On Sunday, her spokeswoman Stephanie Grisham confirmed that Melania will not accompany the president to the G7 summit in Canada, nor to planned North Korea nuclear talks in Singapore.
It is a noticeable shift from weeks prior to her kidney surgery, when she engaged in several high-profile events.
In April, she represented the Trumps at former first lady Barbara Bush's funeral, rolled out her "Be Best" awareness campaign to help children, and orchestrated an elaborate state dinner for the Macrons of France.
Following her surgery, her absence at events where the public has come to expect to see her alongside the president was well documented, leading her to take to Twitter to castigate reporters.
"I see the media is working overtime speculating where I am & what I'm doing," she tweeted Wednesday, assuring she was "here at the @WhiteHouse w my family, feeling great, & working hard."
The tweet sparked a conspiracy theory that Trump himself may have written Melania's message, given that "working overtime" is a favourite phrase of the president when he tweets about the press.
Comedian Sarah Silverman retweeted the first lady's post, adding: "Who is this? where's Melania?"
The first lady skipped ceremonies, including a Memorial Day wreath-laying.
And she was not seen Friday boarding the helicopter that shuttled the president, Donald Trump Jr, and daughters Ivanka and Tiffany to Camp David for a weekend retreat.
Spokeswoman Grisham dismissed the media speculation about Melania as "nonsense."
"Mrs. Trump has always been a strong and independent woman who puts her family and certainly her health above all else, and that won't change over a rabid press corps," she told Fox News.
Imagination 'running wild'
Meanwhile, the rumour mill churns online.
Some have speculated she has moved back to New York or is cooperating with special counsel Robert Mueller, while others offer she may be healing after some secret plastic surgery.
Such a weeks-long disappearance by a modern-day first lady is indeed rare, said Ohio University history professor Katherine Jellison, an expert on president's wives.
"I'm amazed Mrs Trump has been able to do it," she told AFP.
The first lady is not an elected position, and Melania Trump is under no obligation to keep the American people abreast of her health, activities or whereabouts.
Several 19th century first ladies spent long periods out of view. But over the past half century, it has become the expectation that people know the basic narrative of the first lady's activities.
Melania Trump, never one to obsess like her husband about media attention, has laid low before.
She went quiet in March as a media storm raged about revelations that her husband's lawyer paid porn star Stormy Daniels $130,000 before the 2016 election to keep silent over her alleged affair with Trump years earlier.
White House silence, including about why Melania spent five days in hospital for a routine procedure, is only fuelling the speculation.
"Without greater detail about her 'benign' condition, the public imagination is running wild," Jellison said.
"For most of the 20th century and certainly in the 21st century, a first lady hasn't had the option of not being a public figure – regardless of unfortunate personal circumstances."
Close