US storms, floods kill 28 people, 24 of them in Texas
As record-breaking storms batter the southern part of the United States, nearly 30 people have died as a result of the tremendous floods.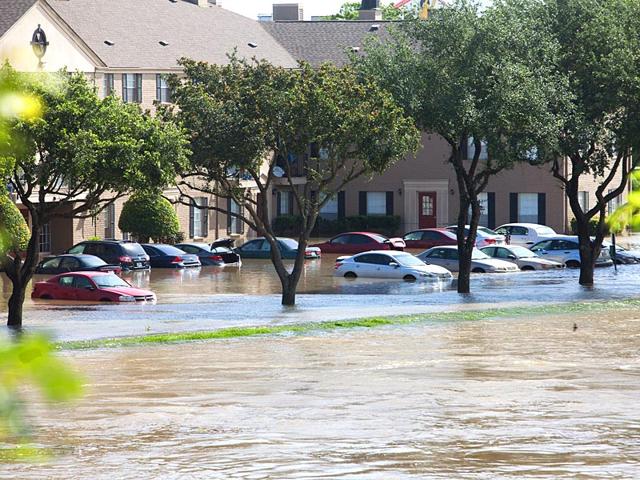 Updated on May 30, 2015 04:16 PM IST
US authorities reclaimed four more bodies from Texas waters, adding to the growing death toll inflicted by record storms that are submerging highways and flooding homes. At least 28 people have been killed nationwide with 24 of them in Texas alone, and at least 11 are still missing in the southern state.
More than 17.8 centimeters of rain fell overnight from thunderstorms that stalled over Dallas, which is in its wettest month ever recorded, at 40.8 centimeters.
The National Weather Service reports rainfall records have been smashed across Texas from Corpus Christi along the Gulf of Mexico to Gainesville near the Oklahoma border. Even Amarillo in the dusty Texas Panhandle is in its second wettest month on record, said meteorologist Dennis Cain.
The downpour has inundated a state that until recently was suffering a severe drought. Swelled rivers and lakes may not recede to normal levels until July.
"In a lot of places, we've exceeded the wettest year ever," Cain said. "You're talking maybe a 150- or 200-year event. It is quite astounding."
A handful of volunteers, meanwhile, trudge along the muddy banks of the Blanco River in central Texas, searching for the missing. A soggy teddy bear caught in a tree provided a stark reminder that children were among them. The volunteers, led by Toby Baker, marked where the bear was found and talked about the pajamas the children were wearing the night the river crested.
Baker had come as a childhood friend of one of the missing. "I've got a young family," he said. "I'd like to think someone would come out and do the same for us."
The greater Dallas area was one of the hardest hit yesterday. Firefighters in the suburb of Mesquite recovered the body of a man who drowned in his truck after it was swept into a culvert. Houston-area authorities found the bodies of two other men.
The body of 87-year-old Jack Alter, who was swept away when a boat attempting to rescue him from a bayou overturned, was found in the Houston Ship Channel.
A storm system last weekend that prompted the initial flooding also killed 14 people in northern Mexico when a twister hit the border town of Ciudad Acuna.
Close Story
Personalise your news feed. Follow trending topics