Disaster management: India is not completely ready
Sep 03, 2018 01:24 PM IST
Disaster management plans exist on paper, but implementation remains a challenge
Floods are becoming a common phenomenon in India. Over the past few decades, areas facing recurring calamities have become relatively better prepared, with an increased understanding of the risks. This does not hold true for areas that have not experienced a major calamity in the recent past. Ignoring all the safety guidelines, dwellings, factories and infrastructure facilities have been constructed in areas that are potentially vulnerable to natural hazards like floods.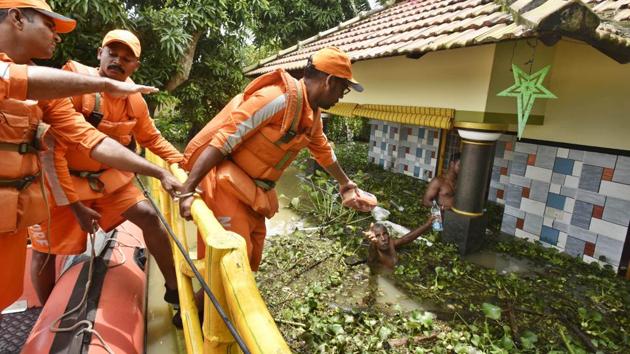 This year, Kerala received unprecedented rainfall, forcing the authorities to open the gates of all major dams, resulting in the worst flooding in 100 years, with 86% of the territory (12 out of 14 districts) affected. The floods in Kerala highlighted an emerging threat in the country: the danger from dams. A report published in 2017 by the Comptroller and Auditor General (CAG) about India's performance audit on flood control and management schemes categorically stated that only 7% of dams (349 out of 4,862) have Emergency Action Plans. Kerala has 44 rivers and 61 dams, but as per the CAG report none of these dams have Emergency Action Plans and Operation and Maintenance manuals. The audit also draws attention to the absence of flood forecasting systems in 15 states and Union Territories.
Stay tuned with breaking news on HT Channel on Facebook.
Join Now
Until August 2016, only 5% dams (231 out of 4,862) had an operational maintenance manual. Various committees have been formed for flood management, such as the Rashtriya Barh Ayog. But their recommendations, with regards to identification of flood prone areas, have not yet been put into action.
After every disaster, its aftermath and adverse impacts raise a lot of questions about the status of preparedness. It is important to acknowledge that we are still not completely ready. This is because disaster management agencies continue to be reactive in their actions. Following the Uttarakhand floods in 2013 and Kashmir floods in 2014, it was only after a lot of questions were raised and criticism directed at preparedness practices that flood forecast stations were set-up in these two states. The same should have been done for all the flood prone states, but it seems that we did not learn from our mistakes. We continue to be reactive rather than focusing on preparedness.
The non-structural measures for flood forecasting — provide early warning in flood prone areas — have proved to be successful for flood management. However, for the early warning systems to be effective, continuous and collaborative efforts are required, rather than a one-time action. For instance, high-tech warning systems on the ground will not be useful until the authorities, key stakeholders and communities are trained to act upon the information obtained from these facilities. People affected by the Kerala floods reported that they had heard a faint announcement on the loudspeakers, but the message could not be heard clearly, so they were unsure about what it meant till the water entered their houses.
Different stakeholders need to come together for mapping risks, vulnerabilities, and resources; engage in regular preparedness actions like drills and capacity building; develop and update emergency plans; check the availability of resources at the local level; and act upon early warning intimations. While the government works towards strengthening systems and mechanisms for preparedness and response, civil society has a major role to play, at the community level, for disaster preparedness.
Disaster management plans exist on paper, but implementation remains a challenge. Despite the emphasis on a paradigm shift to a preparedness approach by the government, most parts of the country continue to follow a relief-centric approach in disaster management, rather than a proactive prevention, mitigation and preparedness path. There is a need for investing in disaster preparedness and mitigation across the country, irrespective of whether any state has been hit by a disaster or not. India needs to adopt a collaborative approach, where the roles of the government, corporations, academia, civil societies and communities are recognised, and all actors work hand-in-hand towards achieving disaster resilience.
Eilia Jafar is Head – Disaster Management Unit at CARE India.
The views expressed are personal