Why states must back Modi govt's new tribal outreach plan
The Centre plans to reach remote villages to open value addition centres in tribal households, organise tribal people in self-help groups, set up godowns for storage and initiate massive awareness programmes involving state governments and elected representatives.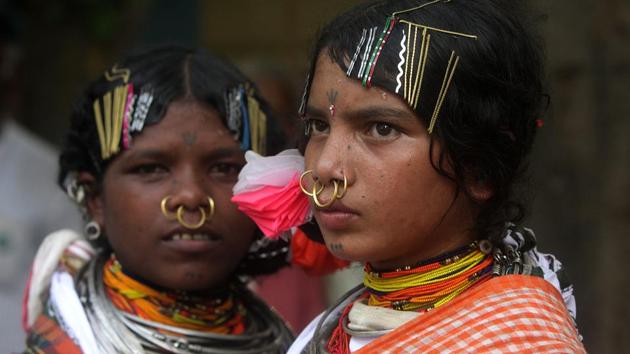 Updated on Feb 06, 2018 04:29 PM IST
All those who watched the Republic Day Parade might not have noticed the ministry of tribal affairs tableau, which had the theme: "Uchit Daam Hak Se Maang" (Fair and Equitable Deal to the Tribals). Expand the thought and it means: Tribals, one of the poorest communities in India, must get a fair price for the Minor Forest Produce (MFP) they collect from jungles and sell at the 5,000-odd weekly pop-up markets that dot the country's rural landscape.
Minor Forest Produce (MFP) includes non-timber forest products such as bamboo, canes, tusser cocoons, honey, waxes, tendu/kendu leaves, and medicinal plants . While the economic value of raw MFPs is about Rs 2 lakh crore per year, the tribals hardly earn much because of two reasons: first, their reach is limited to the village markets, and second, they don't do any value addition to the products. Instead, middlemen make a killing by buying these MFPs, adding value to them, and then selling at larger markets.
The ministry plans to break this vice-like grip of middlemen on the supply chain to ensure better income generation opportunities for tribals from the sale of the MFPs. This scheme is important because it could change the lives of India's 100 million-strong tribal community that depends on MFPs for food, fodder, shelter, medicines and cash income. The economic activity also has strong linkages to women's empowerment as most of the MFPs are collected and sold by women. The Centre has also announced that it will double the number of MFPs for a guaranteed minimum support price.
A critical component of the plan to increase the incomes of tribals is the idea of setting up value-addition centres for MFPs. Here's why: "Raw tamarind doesn't fetch any price. But if deseeded and the outside husk removed, it can fetch double the price," Tribal Cooperative Marketing Development Federation of India (TRIFED) managing director Pravir Krishn said recently. TRIFED is the nodal agency for rolling out the scheme. Krishn should know. As the collector of the tribal-dominated Bastar region in Chhattisgarh (then a part of Madhya Pradesh) in the late-1990s, he tried to eliminate middlemen from the MFP trade by creating self-help groups through the panchayats. The scheme took off well but collapsed after Madhya Pradesh was bifurcated.
Twenty states have agreed to team up with TRIFED to roll out the new MFP programme. But for it to succeed, states will have to play a much stronger role. They must invest heavily to streamline the forests-mandi linkage, build procurement and value-addition centres and godowns in rural areas, set up self-help groups, creating an auctioning system and the technology backbone to integrate and run this project..
@kumkumdasgupta
Close Story
Personalise your news feed. Follow trending topics