Why Indian techies need crash course in liberal arts
Updated on Oct 07, 2015 09:05 AM IST
If innovative liberal arts education sails full steam, India's new entrepreneurs and inventors will be artistic visionaries, writes Saikat Majumdar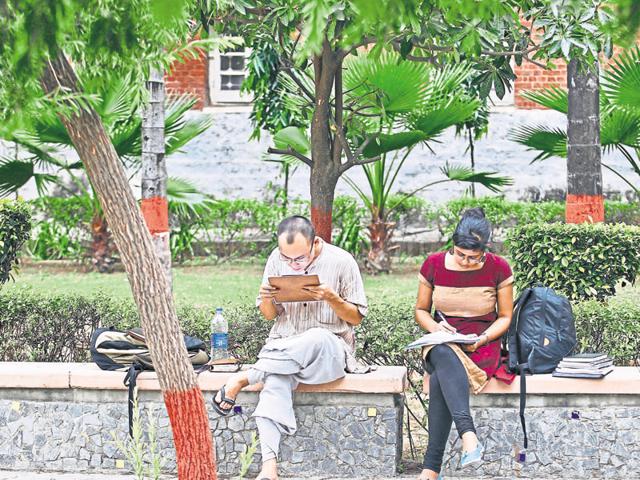 Hindustan Times |
Saikat Majumdar
Recent Silicon Valley festivities over 'Digital India' seamlessly unite the private impulse of upward mobility with the political conscience of technology as mass development. Next to Prime Minister Narendra Modi, the figures of Satya Nadella and Sundar Pichai embody the global vindication of the intense engagement with science, technology, engineering and mathematics (Stem) education that has practically come to define the independent nation's quest for modernity and progress.
But now that the United States seeks to play catch up with Stem training, and obituaries of liberal arts education pop up on just about every academic and mainstream radar, a phenomenon most curious has gone relatively unnoticed: The rise of the liberal arts and sciences in Asia.
Multiple new liberal arts and sciences colleges have appeared in China, Japan and South Korea in the last few years, several of them with US collaboration (NYU-Shanghai, Duke-Kunshan, and perhaps most famously, Yale-NUS). These are beyond the more home-grown initiatives such as the new liberal arts colleges and curricula in institutions such as Seoul National University, Chinese University of Hong Kong, Kyung Hee University, Waseda University, and Ewha Womans University.
Sociologist Andre Beteille's argument about the British colonial origin of the modern Indian university was at the same time an insightful account of the mandate of such universities to produce an increasing flock of graduates to feed into the colonial government and emerging professions. Their mission had nothing to do with research, which was concentrated in institutes that have historically ranged from the Asiatic Society to the Tata Institute of Fundamental Sciences. Neither was there a real focus on teaching, which was left to the colleges. The unique fusion of original research with innovative pedagogy that defines the leading western universities was never a concern of the great colonial universities spread across the regional presidencies of British governance, such as Bombay, Calcutta and Madras, and beyond them, such as in Punjab and Allahabad.
Since it has become clear that more than 60 years past Independence has done little to change this now-anachronistic mandate, a key responsibility to depart from this heavily bureaucratised, colonial model must fall on the private universities. Private but not-for-profit. There will be a range here, as quickly evident in such institutions as Azim Premji University and its mandate of social development, Shiv Nadar University and its focus on the holistic education of engineers, and the OP Jindal University and its emphasis on the same for legal professionals. But the nucleus of this revolution of the mind will be tangible in the Ashoka model, with its exclusive focus on the liberal arts and the fundamental sciences.
The American equivalent of this model is Princeton rather than Harvard, Yale or Stanford. All three schools in the latter group, as indeed most universities in the US, have strong professional schools ranging from medical and business schools to faculties of law and engineering. In contrast, Princeton combines a deep focus on liberal undergraduate education with an emphasis on mind-bending fundamental research. The ivy-entwined New Jersey campus, long the most sought-after undergraduate institution in the nation, has no business, medical or law school, but nurtures some of the most legendary venues of advanced thought, such as the Institute of Advance Study that was home to Albert Einstein in some of his most miraculous years.
But in the long run, the Ivy League institution will provide a limited model for the high-powered liberal arts and sciences university in India. In spite of the incredible buffet spread of the intellect, the Ivy League obsession with the high-powered corridors of and finance and management consulting is widely known. In 2010, Michael Gibson from the Thiel Foundation wrote last year in Forbes, 'Close to 36 percent of Princeton graduates with full-time jobs went into finance, down from a pre-financial crisis high of 46 percent in 2006, but still more than one-third of an entire class. If you add management consulting to the count, it's more than 60 percent.' Graduates from Harvard (which Gibson cheekily calls "Wall Street's HR Department") are just as likely to choose finance and consulting over all other career paths. On their part, too, US universities, with their distinguished history as part of the military-industrial complex, are just as much committed to shepherding talent to large corporations. Gibson reminds us that there is a Goldman Sachs Room in Columbia University's career services office. And the fact that firms must pay thousands of dollars to access job fairs at Ivy League schools necessarily excludes many small startups anxious to hire fresh talent.
This is the real limitation of Ashoka's self-description as a venue of Ivy League education in India. A true spread of the mind — and the trajectories of life that it excites — includes the corridors of management and high finance, but it also includes careers in fundamental research, public policy, nonprofits, the arts and entrepreneurship, and much beyond. Indian institutions like Ashoka, and hopefully more like it, are far better poised to explore the broad range of the incredible buffet spread of careers than its counterparts in the elite athletic league in the American northeast.
This might happen purely because the majority of Ashokans will graduate without the crippling burden of student debt that weighs down the average Ivy League graduate, leaving her with no choice but to pursue the world of investment banking and management consulting and their astronomical salaries that promise release from the debt-cycle.
Steve Jobs liked to say that but for the calligraphy class he took at Reed, a liberal arts college (where he never finished his degree), the Macintosh would have never happened. If innovative liberal arts education sails full steam in India, the next generation of entrepreneurs and inventors may well be artistic visionaries of the highest order.
Saikat Majumdar teaches world literature at Stanford University and is a visiting faculty at Ashoka UniversityThe views expressed are personal
Personalise your news feed. Follow trending topics