Of China, terror and US trade: Why Hillary will be a safe bet for India
Sep 07, 2016 09:18 AM IST
Hillary Clinton has been understanding towards India's concerns with respect to its neighbours
Barring any last-minute surprises, Hillary Clinton is well on the road to winning the US presidential election in November. She has surged ahead in the latest public polls while her Republican rival, Donald Trump, is falling behind each day. Her electoral victory will be as historic as was Barack Obama's. She will be the first woman in US history to serve as president, just as Obama was the first black to occupy the highest office. This should be cause for celebration not only in the US but in democracies across the world, including India.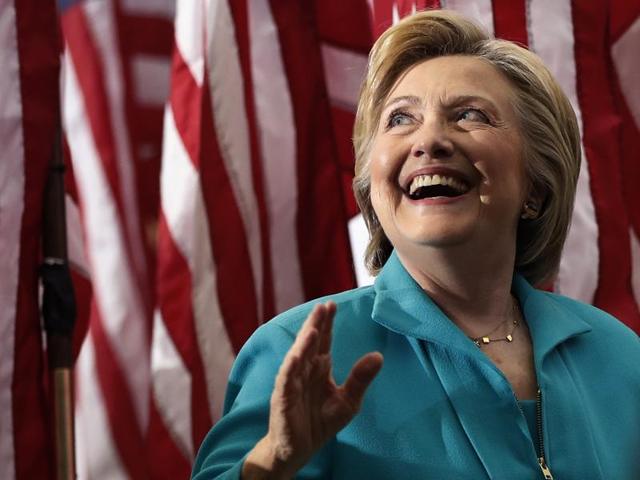 What would a Clinton presidency mean for India?
Stay tuned with breaking news on HT Channel on Facebook.
Join Now
India-US relations will gain from Clinton's long familiarity with India. She visited India with her daughter Chelsea in 1995 as First Lady and has made several visits since. She was directly engaged in building relations with India as Obama's secretary of state during 2009-13. I had an opportunity to interact with her during her visit to India in 2009 while I was still serving as the Prime Minister's Special Envoy on Climate Change. During the delegation to delegation level meeting I was also asked by the then external affairs minister, SM Krishna, to brief her on the situation in Myanmar, where I had served as ambassador. I explained the reasons why India had chosen to engage with the country's military regime and why isolating it was not an effective policy. When I added that Myanmar's relative isolation had led to China establishing a dominant position in that country, which was of concern to India she nodded in agreement. Later during dinner the same evening, she focused attention on China and exchanged perspectives on its rising power and influence in Asia. When I mentioned to her the growing feeling among countries in our region that the US was preoccupied elsewhere, she was insistent that the US would reinforce its security and economic profile in Asia rather than retrench as it was seeking to do in the Gulf and Afghanistan. She also conveyed that the US saw India as a key partner in upholding maritime security in the Asia-Pacific region and welcomed the growing naval ties between the two countries.
Read: Breakthrough on n-deal boosts India-US ties
A few years later she led the change in US policy towards Myanmar, even though the military remained entrenched in the country's governance structure.
In a speech she delivered in Honolulu in October 2010, Clinton used the phrase "Indo-Pacific" to describe the ocean space linking the Indian and Pacific Oceans, echoing a description that had become part of Indian security discourse. From a geo-political perspective, the inclusion of the Western Pacific within the scope of India's security interests had been a recent development but it was now being endorsed by the US secretary of state, who added that the US "was expanding our work with the Indian Navy in the Pacific because we understand how important the Indo-Pacific is to global trade and commerce".
A year later when she visited India again, she made an important speech in Chennai, where she reaffirmed the convergent interests the two countries have in the Asia-Pacific region: "The United States has always been a Pacific power because of our very great blessing of geography. And India straddling the waters from the Indian to the Pacific Ocean is, with us, the steward of these waterways. We are both deeply invested in shaping the future of the region that they connect."
Read: Pranab, a strong partner to America: Hillary Clinton
Under a Clinton presidency, expect a renewed and enhanced emphasis on maritime cooperation between India and the US.
As secretary of state, Clinton had taken a tough stand on Pakistan's nurturing terrorist groups and had infuriated her Pakistani hosts in October 2011 by declaring that "…you can't keep snakes in your backyard and expect them only to bite your neighbours. Eventually those snakes are going to turn on whoever has them in the backyard." India may take comfort from having a US President who is likely to put enhanced pressure on Pakistan to deliver on the cessation of cross-border terrorism, on which hinges the future trajectory of India-Pakistan relations. However, there is little prospect of the US risking a rupture in its relations with Pakistan, which remains important to US interests in the region.
Read: Clinton, Rao discuss N-cooperation, Iran, Afghan
It is on economic and trade issues that there may be a change in US position under Clinton and this may indirectly impact on India. India has been concerned about the US effort to implement the Trans Pacific Partnership (TPP), a mega trade grouping of 13 Asia-Pacific countries, in which India is not included. The TPP threatens to create a new global trade and investment regime with an emphasis less on tariffs than on standards, norms and regulatory coherence. India is ill-prepared to align itself with the TPP criteria and fears being marginalised as a trading nation. During the presidential campaign, Clinton broke with Obama in opposing the TPP, mainly on grounds that it would impact adversely on US businesses and employment. If the TPP is not implemented before the end of the present US administration, Clinton may well put it on ice for the time being or seek to renegotiate some of its terms. This will give India some breathing space, which will be welcome. It is also possible that with the current US Trade Representative demitting office, the US will drop its opposition to India's membership of the Asia Pacific Economic Community (APEC).
Clinton has long-standing and close relations with influential Indian-Americans, a majority of whom support the Democratic Party. On this count, too, a Clinton presidency augurs well for India-US relations.
Our bilateral relations have, in the past decade, acquired significant breadth and depth and are on a long-term upward trajectory. Clinton as President will impart both predictability as well as momentum to these relations.
Read: Obama trip a clear statement of US' support to India: Clinton
Shyam Saran is a former foreign secretary and currently chairman, Research and Information System for Developing Countries, and senior fellow, Centre for Policy Research
The views expressed are personal