Section 377: SC has distinguished itself as an institution invested in protection of all Indians
Sep 06, 2018 08:40 PM IST
This is what real freedom feels like. It is what it felt like many monsoons ago in 1947 when it made its tryst with destiny.
What is freedom? Does it smell different, or feel different from a time lacking it? A new freedom is a sparkle in the eye, that spring in the step, that confidence of being recognised as a citizen worthy of the protection of a supreme court, a Constitution and a country.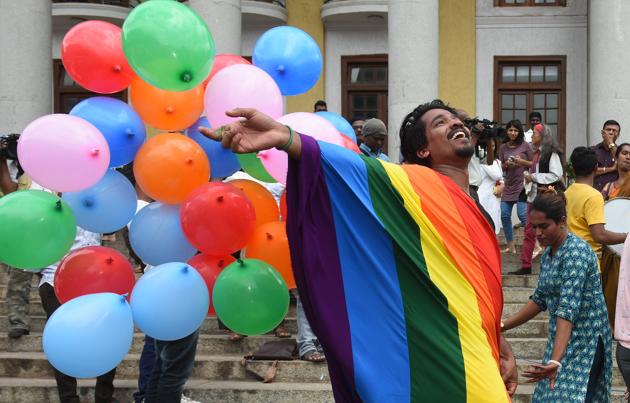 On Thursday, the Supreme Court, through a unanimous decision, said that LGBT Indians were entitled to equality and equal protection, protection from discrimination, freedom of expression and liberty — in short, the full range of fundamental rights that our Constitution secures. Importantly, all four judgments make it clear that it is constitutional morality, and not societal or majoritarian morality, that would be legally definitive in India. Justice DY Chandrachud explains that constitutional morality will impact any law that deprives LGBT individuals of their entitlement to a full and equal citizenship.
Each of the four judgments has their own particularly memorable moments. The Chief Justice of India, Dipak Misra, starts with quoting Goethe: "I am what I am, so take me as I am." This perfectly captures much of what the human quest for acceptance and love is — be they from a minority and majority. But, it is not only at a conceptual level that the justices proceed. They also look to the practical. For instance, Justice Rohinton Fali Nariman directs the government to initiate sensitisation of their officials, especially the police, in light of the judgment.
Finally, Justice Indu Malhotra rounds off the judgments, saying that history owes an apology to the members of the LGBT community and their families for the delay in providing redressal for the ignominy and ostracism that they have suffered. That members of the LGBT community were compelled to live a life of fear, because of the ignorance of the majority to recognise homosexuality as a natural condition.
With these four judgments, the Supreme Court has fulfilled some of the many promises of India's radical and reparative constitution for LGBT Indians who had been left out of its embrace for long. By doing so, the SC also upturned what it had done in 2013 when a smaller panel of judges upheld the constitutionality of the now infamous colonial-era unnatural sex penal provision.
With its judgment, the Supreme Court has distinguished itself not only as an institution invested in the protection of all Indians, but also a deeply introspective one.
In a swift five years from 2013 to 2018, India has gone from being the world's largest democracy, which criminalised its LGBT citizens to one which not simply decriminalised them, but also affirms their constitutional rights of equality, dignity, life, liberty and protection from discrimination.
What accounts for India's swift five-year turn around? The journey of the court case began in April 2016, when five brave LGBT Indians led by nationally acclaimed Bharatnatyam dancer, Navtej Singh Johar, his partner of over two decades, the journalist Sunil Mehra, renowned chef, Ritu Dalmia, hotelier, Aman Nath, and businesswoman, Ayesha Kapur, came together and agreed to fight the law. Their courage in the face of a recently upheld sodomy law was exemplary given that by becoming petitioners they were proclaiming their own criminality. They put at risk their reputations, their businesses and their safety.
They believed it was most necessary for them to speak in their own voices, using that most classic of all constitutional remedies, a writ petition filed under Article 32, alleging violation of one's constitutionally protected freedoms. Dr BR Ambedkar, the chairman of the Drafting Committee of India's Constitution, himself the son of a so-called untouchable, knew well the potential of this reparative Constitution. He called this provision the soul of the Constitution. For a petitioner could trigger this instrument to tell her story, asking for emancipation by the court. It is the most intimate way to approach the constitutional court of your land.
Five other petitions would follow in 2018. These petitions would herald the beginning of a journey to freedom for LGBT Indians, who would now and forever take their stories to their court in their names. It indicated a confidence in not only their court, but also a commitment to being visible as constitution rights holders and constitutional agitators.
Hotelier Keshav Suri, one of the few prominent Indian corporate figures who is openly gay, petitioned the court and told his story of being rejected when he first came out to his family. LGBT students and alumni of India's reputable Indian Institutes of Technology (IITs) came to court. Jawaharlal Nehru, the country's first prime minister, and a key drafter of India's Constitution, would call the IITs, a temple of modern India. LGBT Indians were asking their court for a long overdue emancipation.
What a story they enabled telling in court. From Johar and Mehra who had been together for over two decades, who loved each other so strongly that they opted to be unconvicted felons rather than give up on each other, to these young IITians, who entered elite institutions of higher education for whose 2,000 seats over one million Indians apply every year. It made sense to ask our court, how would these expected builders of modern India — its scientists, its teachers, its researchers and its inventors — discover and invent when they themselves were fearful of who and how they love? If litigation is storytelling, then we lawyers had our perfect protagonists, to move and inspire this tale of freedom.
This jurisprudence of freedom will have resonance all over the Commonwealth, in the many countries that the colonial raj left behind unnatural sex laws inspired by Victorian, not local, morality. For the judgment in the Navtej Singh Johar case will hopefully inspire introspection in Sri Lanka, Trinidad and Tobago, Belize, Pakistan and Malaysia, among others.
What does this freedom feel like in India today? It is the incoming monsoon, the smell of wet soil; it is the colourful kurtas and blue jeans of our young scientist clients amid the sea of black and white lawyers' gowns. It is the twinkle in their eyes as they bob up and down in expectation of their lives to come. It is what India feels like today. It is what it felt like many monsoons ago in 1947 when it made its tryst with destiny.
Menaka Guruswamy practises law before the Supreme Court of India, and is also Dr BR Amebdkar Research Scholar and Lecturer in Law at Columbia Law School. She represented multiple petitioners in the case against Section 377.
The views expressed are personal