What the Catalan crisis means for the larger Europe project
Oct 12, 2017 10:55 AM IST
In the coming weeks and months, how the Catalan issue is going to unfold and resolved will have serious implications for many other separatist movements in Europe and around the world.
The immediate crisis in Barcelona is averted, at least for the moment. After a disputed referendum, the Catalan President Carles Puigdemont has signed the declaration of independence. However, it has been suspended for a few weeks to open a 'period of dialogue' with Madrid. It seems that the European elite has prevailed over Catalan leaders. Already struggling with many issues, they did not want another crisis in Europe. Earlier the European Council President Donald Tusk urged Puigdemont not to announce such a decision which makes any dialogue impossible. There were clear indications from both France and Germany that they are not going to support the independence of Catalonia. The cold response from the EU and other European leaders must have tempered the ambitions of the Catalan leadership.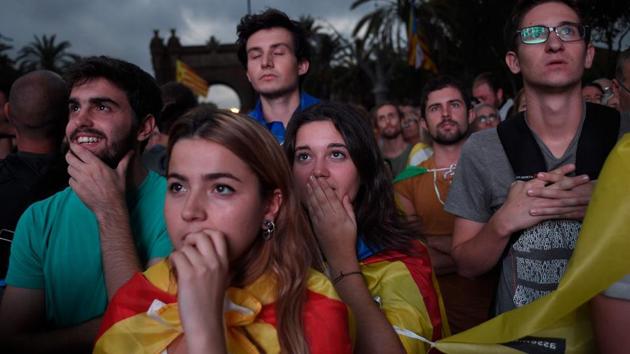 Through negotiations, the Catalan government seems to be looking for a legally binding referendum. So far Madrid has shown no indication of any compromise with an administration, which they feel has broken the law by organising 'illegal' referendum. They were preparing for suspension of Catalan autonomy and taking direct control over Barcelona in case of full declaration of independence. That of course would have created a crisis and further fuelled separatist sentiments.
One of the richest parts of Spain, Catalonia has enjoyed significant autonomy before the Spanish civil war. During Franco's dictatorship, which lasted for about 35 years till 1975, autonomy was suppressed. After Franco's death, some autonomy was granted in 1978 which was further strengthened in 2006. Much of these provisions were reversed in 2010, which angered Catalan authorities. Earlier in an unofficial referendum in 2014, 80% of those who voted backed independence. In the latest referendum on 1 October, turnout was 43% and about 90% voted for separation. The vote was declared illegal by Madrid and suspended by the Spanish Constitutional Court. More than 800 people were injured in referendum related violence. The EU response, even to the Spanish crackdown and violence, was very mild.
In the coming weeks and months, how the Catalan issue is going to unfold and resolved will have serious implications for many other separatist movements in Europe and around the world. Many other movements in Europe will be watching carefully. These include the Basque country (Spain); Flanders in Belgium; Padania and Sardinia in Italy and of course Scotland in the UK. The possible destabilisation effect of an independent Catalonia will be felt throughout Europe. Kosovo and Crimea were more or less a continuation of the process of disintegration of Yugoslavia and the Soviet Union. Still it has not stopped the Serbian President Aleksandar Vucic from criticising the EU for its 'hypocrisy' in dealing Kosovo and Catalonia differently. The issues of national sovereignty and territorial integrity of an established constitutional state are at stake. The EU and major European countries have taken a more 'balanced' view of Catalonia compared to their earlier positions concerning other independent movements in the world. Of course, the 'context' can always be explained differently, yet it will have some indirect impact on EU's future positions on various independent movements. Now that the territorial integrity of one of its own member states is at stake.
The way the situation is unfolding in Catalonia shows that efforts are being made behind the scenes to find some compromise. The official representative of the Spanish government in Catalonia has already apologised for the use of violence by the police. The main bargaining will be on the possibility of a legally binding referendum or further autonomy. Already Catalonia has its own government, presidency, parliament, flag and anthem. Both Catalan and Spanish are official languages in Catalonia. Catalonia has international representation in Brussels, London and Washington. It also has a significant tax autonomy and powers to manage its education as well as healthcare systems. It has its own police force, the Mossos d'Esquadra, which at the moment is bound to respect central government instructions. The Spanish government may be willing to grant more autonomy. But there are no easy answers. In the past, more autonomy have resolved some independent movements in the world. However, in many cases it has also led to further erosion of central authority. In Catalonia a long period of negotiation between Barcelona and Madrid is predicted. Some constitutional changes and participation of the EU may stabilise the situation in the coming years.
Gulshan Sachdeva is Jean Monnet Chair & Director, Europe Area Studies Programme at JNU
The views expressed are personal