Why India is failing to minimise monsoon flood destruction
Jul 26, 2017 06:16 PM IST
India must improve its flood forecasting capability hugely to minimise loss of lives and property
In India, floods are a common occurrence every monsoon. This year the situation is dire in Gujarat, Rajasthan, Assam, Bengal and Manipur.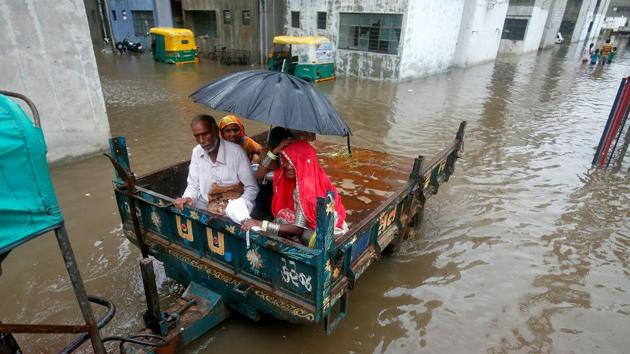 According to the National Disaster Management Authority (NDMA), on an average every year, 75 lakh hectare of land is affected, 1,600 lives are lost and the damage caused to crops, houses and public utilities due to floods is worth Rs 1,805 crore. To date, the maximum number of lives (11,316) was lost in 1977. The frequency of major floods is more than once in five years.
FLOODS IN RAJASTHAN: IS IT NORMAL?
This year's intense flooding in the desert state of Rajasthan has led to an obvious question: Is climate change the culprit?
"While there is evidence that climate change is causing disruptions in rainfall patterns, there is nothing unusual in the current spell of rains as similar rains had happened in the past," explained PG Dhar Chakrabarti, former executive director, National Institute of Disaster Management.
This is because ---- and many people don't realise this ---- flooding is not just about rainfall. Flooding is rainfall+. "The rainfall+ factors include: Sudden release of large quantities of water from dams/ water reservoirs; breach/damage in major reservoirs/ dams; limited holding capacity and urbanisation," added Dhar Chakrabarti.
The problem is that these factors are not considered for flood risk mapping, which still remains an unaccomplished task of disaster risk management experts in India.
Even the Vulnerability Atlas of India has stopped short of doing flood zonation. A task force set up by the Central Water Commission (CWC) in 2006 did not complete the task and recently an expert body has been constituted to collect data for flood risk mapping at settlement level. But thus may take time before this work is completed.
According to a report in Scroll.in, the reason behind this year's heavy rains is this: An unusual formation of the monsoon trough, an area of low pressure, has generated intense rainfall. Low-pressure regions develop frequently over the Bay of Bengal and move West or North West, drawing rain to the northern regions of the country. This year, the pattern has been different, with two separate depressions present at the Arabian Sea and Bay of Bengal at the same time.
CAN WE MINIMISE FLOOD DESTRUCTION?
Flood-related destruction can only be minimised only if flood forecasting is accurate.
Unfortunately, like flood risk mapping, India fails miserably on this score too.
The Comptroller and Auditor General's recent report said a majority of India's flood forecast systems have either been washed away or their parts have been stolen. "Nearly 60% of the 375 telemetry stations set up between 1997 and 2016 are non-operational which defeats the purpose of investing in the modernisation of flood forecast network.
The issue of investing in better flood forecasting policy has also been raised in water policy expert and former plan panel member Mihir Shah's report to the government on "A 21st Century Institutional Architecture for India's Water Reforms".
"In addressing the problem of floods, the central focus over the years has been on engineering/structural solutions. Apart from the massive investments in large dams, India has already constructed over 35,000 km of embankments. But these are rapidly reaching their limits... Instead, [India needs better weather and flood forecasting is required, along with flood insurance and possibly the designation of flood diversion areas...".
It goes on to add that the existing flood forecasting network of the CWC is not sufficient to cover the country adequately and that there is an urgent need for the extension of the organisation's flood forecasting network in consultation with states and India Meteorological Department to cover non-metros.
"The lead-time for flood forecasting can be improved through the use of hydraulic and hydrologic models which are linked to the weather forecasting system, the real time data acquisition system, and the reservoir operation system. It's possible to improve the current forecasting methods by using satellite-based information for better estimates of rainfall and snowmelt," it adds.
Experts also point out that Bangladesh has better forecasting capabilities than India. Its Flood Forecasting and Warning Centre website gives a good idea about the rivers and the forecasting sites. The home page also provides information on the sites where water level is currently on the rise or above the danger mark.
The choice for India is obvious but snail's pace progress in setting up these critical forecasting systems is only leaving the administration at the local level without any advance warning to prepare for the surge of the rivers.
@kumkumdasgupta