A new play explores the Taj Mahal as a metaphor for censorship and autocracy
Apr 29, 2017 10:20 AM IST
Set in 1648, Guards at the Taj is inspired by a legend.
When actor Vrajesh Hirjee (46) was scrolling through his Twitter timeline last year, he stumbled upon an idea for his next production. He came across British-Indian novelist Salman Rushdie's tweet praising Pulitzer finalist Rajiv Joseph's award-winning play, Guards at the Taj. As he started reading the play, he was fascinated by the script and the issues that it highlights in a humorous vein.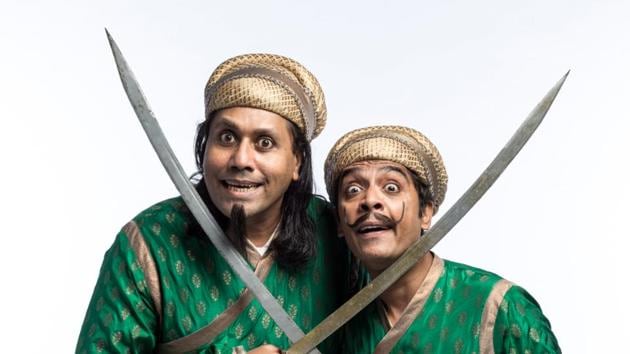 This weekend, Hirjee and his director friend Danish Husain, will stage the piece as part of the third edition of the theatre initiative, Aadyam. Set in 1648, the play (starring Hirjee and Joy Fernandes) is inspired by a legend. It that states that Emperor Shah Jahan ordered the hands of the artisans who built the Taj Mahal to be chopped off, so that nothing as beautiful is built again.
Guards at the Taj also explores theories about the relationship between money, labour and creation, and prompts audiences to question censorship, and autocratic governance.
READ MORE: A puppet show will trace the Brahmaputra river's journey
"I like texts that use satire and humour to convey an idea. Joseph's play is a dark comedy that makes a relevant point. Even though it's set in the 17th century, the language and themes that it tackles are contemporary and universal," says Husain.
The duo is trying to push the envelope by staging it in a black box format. It allows for flexible staging, alternate lighting configurations, and gives viewers an immersive experience. "We were planning to stage it as a proscenium play [a regular stage play format]. But now, the stage is divided in a way that makes the audience an eavesdropper overhearing the guards' conversation," adds Husain.
Fernandes, who is known for his comic timing, points out that black boxes are challenging. "It's like a blank canvas. But with that kind of freedom comes a huge responsibility and that inspires us to rise to the occasion," he says.
For Hirjee, who also turns producer with the play, it has been a learning experience. "As an actor, one is constantly searching for good scripts and strives to come out of their comfort zone," he says.
Be there
What: Guards at the Taj will be staged on April 30 (4pm and 7.30pm), May 3 to 5 (7pm), May 6-7 (4pm and 7.30pm)
Where: G5A, Mahalaxmi
Tickets: Rs 500 on bookmyshow.com
Call: 2490 9393