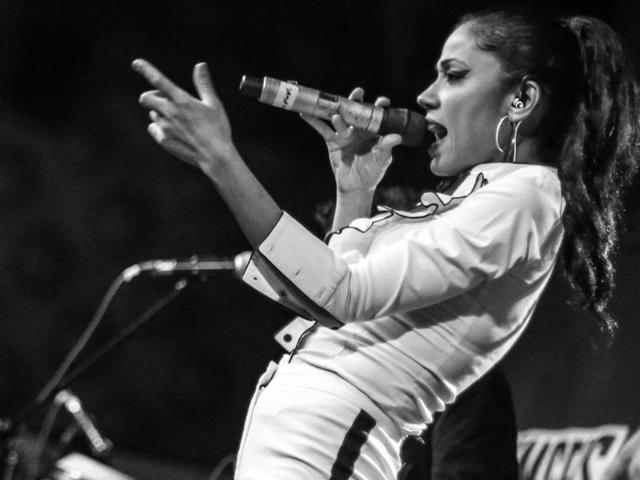 Frontwoman for The Ska Vengers is also a full time yoga instructor. How does she do it all?
Samara Chopra, aka Begum X of The Ska Vengers, juggles two full-time jobs
Hindustan Times | By Arundhati Chatterjee
, Mumbai
UPDATED ON JUL 16, 2016 10:43 AM IST
Last year, I attended the Red Bull Bus Tour in the city on the day when the gigs were called off due to a cloudburst. Composer Amit Trivedi and DJ Nucleya's segments were cancelled. However, I did listen to the earlier acts, featuring Ganesh Talkies and Delhi Sultanate and Begum X. Delhi-based vocalist Samara Chopra aka Begum X's reggae act with Delhi Sultanate was quite the surprise package. In her four-inch red stilettos, dark red lipstick and bobbed hair, Chopra looked like a person dressed for the Roaring Twenties. And her vocal style oscillated between jazz and reggae.
However, when I looked her up on Google, there seemed to be a Clark Kent-Superman situation going on. The 33-year-old vocalist of The Ska Vengers turned out to be a full-time yoga instructor. The jazz singer has been practising yoga since the age of 13. She has also hosted a yoga television show on NDTV (in 2011) and worked in theatre, before embarking on her musical journey with an eight-member band, The Ska Vengers.
"I tap into different aspects of my personality. One is a more aggressive, extroverted and sexy, and the other, I'd like to think is more compassionate and calm. One is a day-time profession and the other happens at night. It might look like a personality shift from an outsider's point of view, but it's all me," says Chopra.
Ska is not the limit
Last week, we learnt that The Ska Vengers' new album, called XX (which was in the works for three years), is out later this month. The new album features most of the songs they have composed between April 2013 and May 2016. "The genres and sounds on this are quite diverse. It's not strictly ska. You will find elements of psychedelia, jazz, punk, latin and hip hop on this one," adds the band's prima donna.
But what remains unchanged is the outfit's rebellious vibe and politically-charged lyrics. Some of the compositions on the album throw light on the issues of government surveillance and modern-day politics.
Chopra says the band has a hectic year ahead. They are set to embark on a long UK tour until September. During their stay there, they will also play at festivals such as BoomTown Fair, Secret Garden Party, Riverside Festival and Bestival. After their return, they have more shows lined up across India.
On a different trip
Since her creative pursuits will not allow her much time this year to follow her spiritual journey, earlier this week, the singer was vacationing at Bodhi Zendo, a zen centre outside Kodaikanal, Tamil Nadu. Chopra, who follows the Krishnamacharaya Yoga School, says she doesn't get the chance to visit these centres as often as she would like to.
"Guidance from teachers is important. I try to visit an ashram once a year. I also try to organise my own retreats in the mountains," she says, adding that she fails to gauge her students' reactions when they see her perform on stage. She is unsure if they are pleasantly surprised or shocked.
The vocalist, however, is glad that she never had a student who left the class after seeing her on stage. "Someone once told me that a lot of good actors are often shy about having a rich inner life. Performances to me have always been ritualistic with something primal about them. Perhaps, the stage gives an avenue to channel our energies — confident, empowered, sometimes aggressive or even our sexual energy — in a creative setting," says Chopra.
TUNE IN
Visit : oklisten.com/album to buy The Ska Venger's lastest album XX
Price: Rs 120
Close