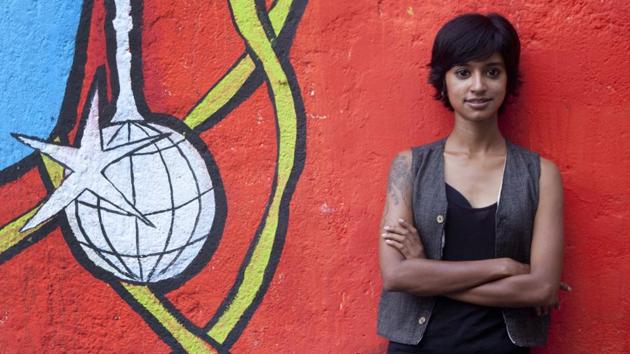 Kodaikanal Won't rapper Sofia Ashraf is back. This time, in a new avatar
Called Sista From The South, Ashraf's new work is nowhere close to her activist image
By Arundhati Chatterjee
, Mumbai
UPDATED ON MAY 04, 2017 06:44 PM IST
When we speak to rapper Sofia Ashraf (30) at 10am, she sounds energetic. We're surprised at that because she arrived in Mumbai at 3am the night before. Ashraf was in Chaibasa, Jharkhand for a forum for Dalit and women's rights. It's not the caffeine powering her; it's the three-day exchange of dialogues and ideas. "We celebrated the women's resistance movement across India. It was a thrilling experience," she says. Ashraf's songs have always been laced with commentary on social, political and environmental issues.
Writing meaningful lyrics, she says, is a way of life for her. She went viral with Kodaikanal Won't (2015; protest song against Hindustan Unilever Limited, set to the tune of Nicki Minaj's Anaconda), and continued to make politically-charged music. However, for the past year, she has taken on a different approach. Under the alter ego, Sista From The South, she has been making music videos that take on social issues in a humorous vein. For instance, in a video called Any Good News, she parodies how Indian mothers are never really happy until their daughters are pregnant.
Her latest video in the series, I Can't Do Sexy (released on April 19; over 87,700 views so far), is about body positivity. While writing it a year ago, it was meant to be self-deprecating. Along the way, it also became a step towards glorifying the beauty of the ordinary and the mundane. "Over time, I realised I simply cannot subscribe to the dressing up and selfie culture. I am not one of those perfectly tanned Bollywood stars. For the video, I approached a few friends to play the sexy kind, while I sing about how I cannot pull off that look. It was supposed to be a juxtaposition but all of them told me that they relate to my character more," she says. To keep the realism intact, the video is set across everyday locations such as markets, streets, parks and building terraces.
Read more: What's the Kodaikanal Won't rapper been up to?
From out-and-out protest lyrics, Ashraf's newer set of songs is now satirical and funny. It's a conscious move: "Women often take themselves too seriously. The popular culture realm has left us out too — most humour is unfortunately still catered to the male audience. I started Sista From The South to sow the seeds of revolution, but laced with humour," she says.
When it comes to pop culture, the Tamil musician has another grouse. "There's hardly any representation of south India and its varied cultures. I am just trying to find a voice for the two," says Ashraf. In I Can't Do Sexy, she often puts on an exaggerated Tamil accent for comic effect. Her upcoming videos deal with sexting, and menstruation. "The YouTube channel [Blush, which produces the videos] has a young viewership, and the youth turn to the internet for sex education. The aim is to start a dialogue, and equip people with information," she says.
Read more: Rapper Sofia Ashraf is back with a song about the Bhopal gas tragedy
Close