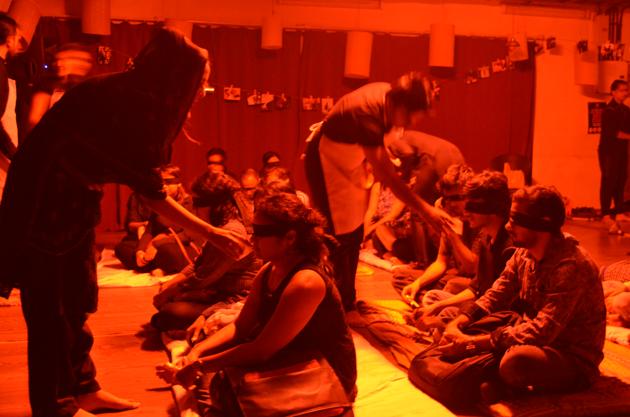 #WeekendFix: Watch a play blindfolded, become part of the plot
Tushar Dalvi and his Rangaai group are offering an immersive theatre experience in Mumbai.
Hindustan Times | By Deepa Gahlot
PUBLISHED ON MAY 05, 2017 06:21 PM IST
The opening up of alternative performance spaces in the city, particularly in the northern suburbs, has made it possible for theatre practitioners like Tushar Dalvi and his group Rangaai to do truly experimental work.
With The Darkroom Project, they present an immersive performance that expects the audience to not remain passive, but absorb the sights, sounds and smells that enhance the script's spoken words and emotions. This requires intimate spaces rather than conventional auditoriums where the performers remain at a distance through the show.
In the first run of the Darkroom Project, Dalve picked venues like Andheri Base and Pitaara (in Goregaon). The performance included stories by Premchand, Manto, Ismat Chughtai, Hans Christian Andersen and one true story from the writer's life. For part of the performance the audience was blindfolded.
In Version 2.0 of the production, the Andersen piece has been dropped (after feedback by the audience) and the sensory experience has been amped up.
The performance can vary depending on the space. "In Pitaara, for instance," says Dalvi, "We were able to use the kitchen, so we could add smoke and smells to the story being enacted."
Another venue allows for all four corners of the space to be used, so four stories are performed at each and the audience has to turn around to watch.
This tests the skills of the actors to the maximum and does not allow the audience to slacken either. Dalvi picks from shadow acts and Artaud's theatre of cruelty to dastangoi to present the stories. "The main thing is that the barriers between performer and audience are removed."
Close