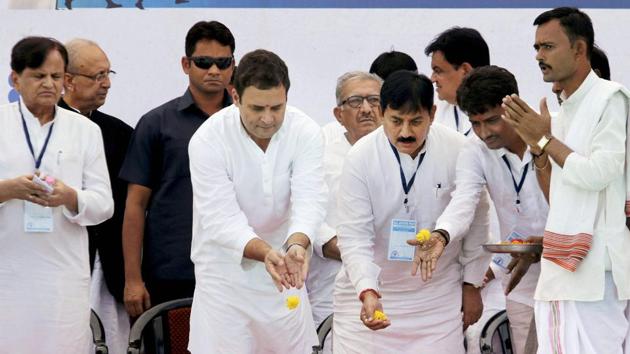 Ease of doing business: Rahul Gandhi, Arun Jaitley take potshots at each other over India's ranking
The Congress vice president targeted finance minister Arun Jaitley, saying the "entire country will shout to say that there is no ease of doing business in India".
UPDATED ON NOV 01, 2017 11:30 PM IST
Congress vice president Rahul Gandhi and finance minister Arun Jaitley sparred on Wednesday over whether it had become easier to do business in India, a day after a key World Bank index showed that business climate had improved in the country.
Gandhi targeted the finance minister , saying the "entire country will shout to say that there is no ease of doing business in India". He was addressing a public rally in Gujarat, which goes to the polls in December.
Within the hour, Jaitley retorted on Twitter: "The difference between the UPA and NDA- The ease of doing corruption has been replaced by the ease of doing business."
In its Ease of Doing Business report for 2018, an annual 190-country assessment of competitiveness, the world Bank said India had for the first time jumped a record 30 places into the top 100 .
The report comes as a shot in the arm for the Narendra Modi government that has been battling a negative narrative around the economy which has slowed to a three-year low of 5.7% in the quarter ended June. It will also help blunt political criticism ahead of elections in Gujarat and Himachal Pradesh, which go to polls in the next month and a half.
In Gujarat, Gandhi said: "Jaitleyji sits in his office and listens to outsiders. I would request him that he visits small traders or mid-sized business persons and ask them whether ease of doing business has improved for them or not...What is spoken abroad is truth for this government but what the poor say in India is farce for them."
Earlier in the day, the Congress leader had tweeted in Hindi, taking off from a verse by Urdu poet Mirza Ghalib to attack Jaitley.
"Sabko maloom hai ease of doing business ki haqeeqat, lekin khud ko khush rakhne ke liye Dr Jaitley ye khayal achha hai (Everybody knows the reality of ease of doing business, but this thought is good Dr Jaitley to keep yourself happy)," wrote Gandhi.
At a press conference on Tuesday, after the World Bank ranking was made public, Jaitley said India is the only major country named for pursuing structural reforms.
"In 2014, we were 142nd and then (in) last two years, we improved to 131st and 130th. These are not generalised rankings. It happened in specific areas and they take tough parameters for that ranking," he said.
According to the World Bank, India's improved ranking was helped by a slew of reforms in taxation, licensing, investor protection and bankruptcy resolution.
The benchmark, based on data from New Delhi and Mumbai for the year to June 2017, puts India among the top 10 "improvers" globally, having done better in eight of 10 business indicators. But India still lags in areas such as starting a business, enforcing contracts and dealing with construction permits.
(With PTI inputs)
Close