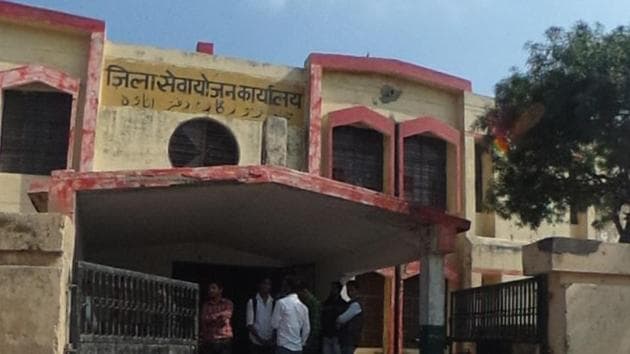 UP polls: Youth in Yadav bastion of Etawah want jobs, not laptops or cell phones
Etawah, the pocket borough of SP supremo Mulayam Singh Yadav and his extended family, will vote in the third phase of the ongoing assembly polls on February 19.
UPDATED ON MAR 06, 2017 06:52 AM IST
Rizwan Khan, 30, had returned from Saudi Arabia in 2013 hoping to find a job in his hometown Etawah, 250 km from Uttar Pradesh capital Lucknow. It's been four years now and Khan is still jobless. He visits the employment office thrice a week looking for updates on his application for a driver's job.
"The Samajwadi Party (SP) had promised jobs when it came to power in 2012. I am still waiting for a call," says Khan, an arts graduate and a trained driver, as he waits outside the district employment office in Etawah.
This pocket borough of SP supremo Mulayam Singh Yadav and his extended family will vote in the third phase of the ongoing assembly polls on February 19.
"I was happy earning 2,100 Saudi Riyals (about Rs 37,000), I would send half that money home. Now I have nothing to earn. I will go back now," he says. Every time he visits the office, he is told he will get a call when selected.
In Etawah and its neighbourhood there are several unemployed youth like Khan who are disenchanted with the ruling party. Their aspirational hopes dashed more so because they belong to the Yadav family stronghold.
"If we want to go for higher studies, we have to go to Lucknow or Delhi. We do not have educational facilities, forget about jobs," says Shivam Kumar, son of a government employee, who is looking at a non-SP option this time.
There are 75 employment exchanges across Uttar Pradesh with 15.5 Lakh unemployed youths registered with them officially. "On an average 50,000 people are employed through job fairs annually," says PK Pundir, assistant director, employment. "There has been no direct recruitment in the past five years," he adds.
Read | UP election: In a Rae Bareli beauty parlour, women say safety is an election issue
As on January 31 this year, 94,407 unemployed were registered with the Etawah exchange. The numbers have come down from 1,36,000 in May 2015 after the system went online. Officials says not a single applicant registered at this exchange could make it to any government job in the last five years.
"The unemployed figures came down after duplications were removed in the online system," says Arshad Ali, district employment exchange officer. In the last job fair held in 2016, 223 people were employed in private firms across UP from among 1,392 applicants.
Unemployment is a big concern, but what vexes voters here more is the nepotism in government recruitments and lack of higher education avenues.
Diploma-holder Shivam Dubey, 28, another job aspirant, submitted his application in 2014. A year later, he was told to file the same application online. Kumar has given up now.
"First they gave us unemployment allowance in 2012 which was stopped two years later. Then they asked us to register at employment exchanges but they have no jobs to offer," says Dubey. "We do not need laptops or smart phones. Why can't they give us jobs, we can buy these gadgets once we are employed."
Read | UP polls: In Bijnor's Kanshi Ram colony, votes split between Akhilesh, Mayawati
The SP gave free laptops to Class 12 pass outs as part of its poll promise in 2012. This time, it has promised free smart phones to youths if it is elected again.
Not everyone is unhappy, though. Abhishek Yadav, an undergraduate resident Bichpura Khera village in Jaswant Nagar is a fan of 'young' chief minister Akhilesh Yadav. "Who would have thought that we would reach Lucknow in two and a half hours?" asks Yadav, referring to the new Lucknow-Agra Expressway."
Etawah is among the many districts impacted by the SP family-feud in ticket distribution. While on two reserved seats the sitting MLAs, both Mulayam loyalists, were replaced by candidates chosen by Akhilesh, the only clear result is expected from Jaswant Nagar seat, which Mulayam's brother Shivpal Yadav has been winning since 1996.
Close