Venus transit in Aquarius: Do this to make your love life better
Jan 22, 2023 10:09 AM IST
On January 22, 2023, Venus, the planet of love and beauty, will make her passage into the sign of Aquarius. Aquarius is an airy sign ruled by cold Saturn. Venus in Aquarius represents a forward-thinking and tolerant attitude.
On January 22, 2023, Venus, the planet of love and beauty, will make her passage into the sign of Aquarius. Aquarius is an airy sign ruled by cold Saturn. Venus in Aquarius represents a forward-thinking and tolerant attitude. Those in relationships need attention, so they'll do everything to stand out as different and even a bit provocative. They prefer to take their own paths in romantic relationships and aren't afraid to shake things up. Let's investigate how the current Venus placement affects the romantic prospects of each zodiac sign.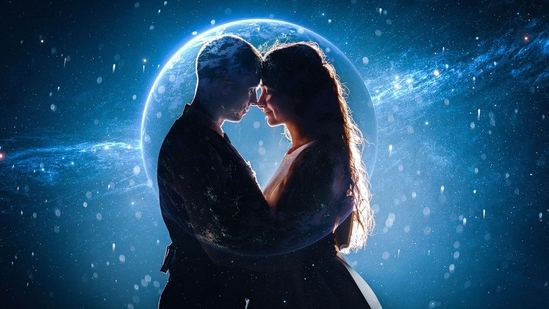 Aries: Your goals and connections are deserving of further focus. Join the community and mingle with the people. Try to interact with others more often. This is a wonderful opportunity to consider and explore the factors that make romantic relationships fascinating for you. Your significant other, or the person you've had your sights on, may feel compelled to reach out to you out of the blue.
Taurus: Your love plans for the foreseeable future will need to be put on hold. Because of the dramatic shift in your professional trajectory, you and your partner will need to refocus your relationship. Both your personal and professional lives are likely to be impacted by your work schedule. Plan things out more methodically, giving special attention to maintaining a healthy work-life balance.
Gemini: Your love life will gain clarity if you have a firm grasp on your romantic goals. You may have had feelings of ambivalence over the sort of romantic relationship you desire and the activities you envision doing with a potential partner. But perhaps, things are starting to click into place again for you. Maybe it's time to start making preparations for the long road together.
Cancer: It's not easy to express your deepest, most personal emotions, yet doing so is the correct thing to do. Avoid withdrawing into yourself at the moment. Even if your partner or prospective love interest genuinely cares about you and wants to get to know you on a deeper level, they will never be able to do so if you continue to keep parts of yourself hidden from them. Have the confidence to open up!
Leo: Your thoughts will most likely be occupied with the value you place on your personal connections with others. Focus your feelings on the idea of a relationship that is mutually beneficial. Learn if that sort of collaboration is valuable and suited for you by asking the right questions. There is no better time than now to iron out the knots in a long-term relationship.
Virgo: It's important to try to go back to some semblance of regularity and peace in your current relationship. In addition to behaving strangely, your partner may also share some previously undisclosed facts, which might throw a wrench into your well-laid plans. You might not know how to respond to these revelations. Don't just brush off your feelings about it; give them some thought.
Libra: Believe that the future of your romantic relationships is full of promise. Relax, and work on deepening your connection with your present love partner. Adopting a wholly romantic outlook is the best course of action. Your goal should be an uninhibited expression, and the world affords you many opportunities to do just that. Let your loved one see the true romantic side of yours.
Scorpio: The level of emotional satisfaction in your relationships will be overwhelming. You may get to spend some quality time with that particular someone, but you may feel a strong need for safety. Creating a peaceful home environment will give wings to your love aspirations. Your partner will respond positively to your passion, so use this as a chance to become closer to them.
Sagittarius: Make an effort to enhance your romantic exchanges. Aim to be heard and to share genuine thoughts and feelings about your relationship. It's possible that when you do communicate your emotions, you do it in a much more intense fashion. You and your partner may feel uneasy at first, but you should allow yourself to be as loud as you need to be to make your point.
Capricorn: Don't be modest about your accomplishments; rather, show them out. This might give you the confidence boost you need to put yourself out there and find a new partner. The commitment level of a couple can benefit greatly from each partner knowing and appreciating their own sense of worth. In any case, you'll be able to take your romantic life to the next level.
Aquarius: Try to be more affectionate with your sweetheart. At times, you may feel stifled in your attempts to be yourself. Don't keep anything back from the love of your life; they want to know everything about you and get to know you. Don't waste your time trying to fit into anyone else's expectations of who you should be. You'll have far more success if you just act naturally.
Pisces: This is the right time to delve deep into your psyche. Sharing your feelings with your partner will help your relationship flourish. Being vulnerable may be challenging when there are so many conflicting feelings floating about. Put your worries aside and open up. Don't isolate yourself, rather share your deepest thoughts and feelings with someone you trust.
By: Neeraj Dhankher
(Vedic Astrologer, Founder - Astro Zindagi)
Email: info@astrozindagi.in, neeraj@astrozindagi.in
Url: www.astrozindagi.in
Contact: Noida: +919910094779