Articles by Sriram Srirangam
With UPSC civils services Mains 2023 just around two months away here are some tips for you to score well in the examinations.

Published on Jul 11, 2023 07:44 PM IST
UPSC Prelims 2023: Students preparing for exam should have profound understanding India Constitution. Here is list of important articles from Constitution:

Published on May 22, 2023 02:05 PM IST
UPSC exam 2023: Candidates must be careful and not make any mistakes while applying for the UPSC examination.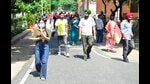 Published on Apr 05, 2023 04:32 PM IST
Before one even steps into the interview room, preparation is the key. Only 5% of the total number of candidates becomes eligible to appear for the interview, and successful candidates spend significant time researching and preparing for it.

Updated on Mar 14, 2023 02:11 PM IST
The Union Public Service Commission exam is undoubtedly India's noblest and most prestigious examination conducted every year.

Updated on Feb 21, 2023 01:30 PM IST
UPSC civil services exam 2023: ​ ​On average, successful candidates take three to four attempts to clear the exam, but if done correctly, the UPSC CSE is very much manageable in the first go.


Published on Nov 28, 2022 12:12 PM IST
UPSC Civil Services Exam: You might have done brilliantly in your graduation in a certain subject, but it might not be the best for the UPSC Civil Services.


Published on Jul 14, 2022 07:17 PM IST