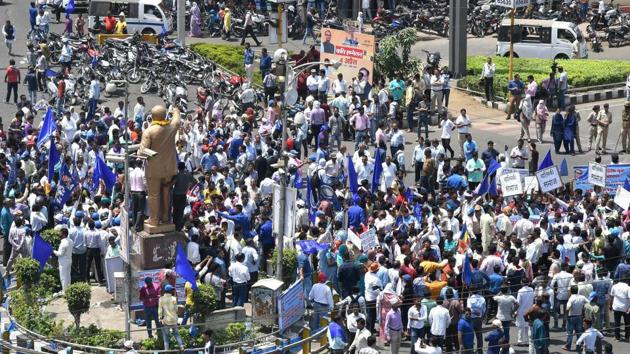 Dalit protests: Body of man found in Bhind, death toll rises to 8 in MP
Four people were killed in Bhind, three in Gwalior and one in Morena and over 70, including four police officers, have been injured in the violence.
UPDATED ON APR 03, 2018 10:22 PM IST
The death toll in the violence that broke out during Dalit protests in Madhya Pradesh on Monday rose to eight after the body of a man was found in Bhind on Tuesday, police said.
Inspector general of police (intelligence) Makrand Deouskar said the body, which was fished out of a well, has been identified as that of Dashart Daure. It appears that he was beaten to death, he added.
Four people were killed in Bhind, three in Gwalior and one in Morena and over 70, including four police officers, injured in the violence.
The violence in several districts of the state, which emerged as the epicentre, erupted when Dalit groups were enforcing a 'Bharat bandh' on Monday to protest the Supreme Court's March 20 ruling on the Scheduled Castes and Scheduled Tribes (Prevention of Atrocities) Act, 1989.
Read | Supreme Court refuses to stay order on SC/ST Act, asks for replies within two days
The Dalits allege the court's ruling diluted the legislation meant to protect marginalised communities from abuse and discrimination.
There were no reports of major violence on Tuesday but Gwalior, Bhind and Morena continued to remain on the edge despite the curfew. There were clashes between police and protestors in Gohad town, some 50km from Bhind, and also in Ater area of Bhind. Personnel of the Rapid Action Force were deployed in Gohad.
Reports of clashes between protesters and police were also reported from Morena town on Tuesday morning.
Deouskar said the death of Rahul Pathak in Morena, a student leader, was due to personal enmity. He said only one person was killed in police firing in Bhind.
"So far 29 cases have been registered in Gwalior, 12 in Morena and 10 in Bhind. Of those 50 plus injured, there are around half-a-dozen policemen including two additional SPs and two deputy SPs. The number of cases registered will increase," Deouskar said.
Two policemen were also booked for attempted murder under section 307 of the Indian Penal Code in Bhind for shooting at over 500 protesters, who surrounded a police post and set some things on fire.
Seven people killed in the violence have been cremated since Monday night under heavy police deployment.
Close