Bharat bandh over apex court order on SCs/ STs Act: 6 killed, over 50 injured during Dalit protests in MP
Updated on Apr 02, 2018 07:06 PM IST
Three killed in Gwalior in firing, two in Bhind and one in Morena in clashes between protestors and right-wing activists.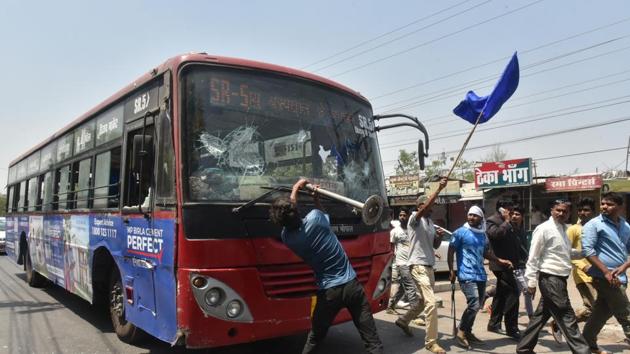 At least six people were killed and more than 50 injured on Monday in Madhya Pradesh in clashes between the police and members of Dalit organisations protesting the Supreme Court's ruling that, they say, dilutes a law protecting their rights.
At least five people have also been admitted to hospitals with bullet injuries at different places, according to police.
Inspector general of police (law and order) Makrand Deoskar said the death toll may increase.
Twenty-five-year-old Rahul Pathak received bullet injuries while he was watching the protests on the street in Morena from the balcony of his house near the bus stand. He was rushed to a hospital where he was declared brought dead.
Two men identified as Rakesh, a resident of Bhim Nagar, and Deepak from Gwal Mohalla were killed during clashes in Gwalior as police resorted to firing to control the situation. It was not clear as yet if the men were killed in the firing by the police or mob. Another person succumbed to injuries late evening in Gwalior, said inspector general (intelligence) Makrand Deouskar.
In Bhind, a man identified as Mahavir Singh Kushwaha was killed in a firing during a clash between the protesters and those opposing them at National Highway 92. Three people reportedly sustained injuries after the police resorted to firing.
Another death was reported from Mehgaon in Bhind but the identity of the person, who police said was shot dead, is yet to be established. However, it was not immediately known who killed him.
"Most of those killed are Dalits. The situation went out of control due to the indifferent attitude of the central government during the hearing on SC/ST act in the Supreme Court," National Dalit Mahapanchayat president Indresh Gajbhiye said.
Police said a curfew has been clamped in Morena district and in four police station circles of Gwalior and prohibitory orders were issued in Bhind, Sagar, Shajapur, Datia, Balaghat and some other districts after the violence.
Internet services were suspended in Gwalior, Morena, Bhind, the worst affected districts in Gwalior-Chambal region, and Sagar in Bundelkhand region.
"Social media played a key role in the spread of violence in the state. For the past 10 days, messages were being circulated for and against the protest. All the SPs had been alerted. The situation worsened in Gwalior due to a clash between two rival groups. Police have arrested some people. However, we cannot disclose the number right now," Deoskar said.
As many as 552 sub-inspectors and 25 deputy superintendents of police, who had their passing out parade on Monday morning, were rushed to Gwalior-Chambal region to control the situation given the magnitude of violence, police said.
Slogans, demands
The Dalit organisations' protest, led by Bhim Sena, was a part of their Bharat bandh called to protest the Supreme Court ruling on March 20 that banned automatic arrests and registration of criminal cases under the act, a legislation meant to protect the marginalised communities from abuse and discrimination.
It ruled that no arrests can be made under the act without prior permission. It also held that a court can grant a pre-bail arrest (anticipatory bail) if it, prima facie, finds the complaint is an abuse of the law, false, motivated and intended to blackmail or harass a person.
Government employees also took to the streets along with Bahujan Samaj Party workers. The protesters raised slogans against the Prime Minister Narendra Modi and demanded changes in the act to redress their grievances.
"The protesters were anti-social elements, who indulged in violence to disturb peace and order in the state," Lal Singh Arya, minister of state for general administration department and the Dalit face of the ruling party, said.
Chief minister Shivraj Singh Chouhan called an emergency meeting in Bhopal of the top brass of the police and administration to review the situation.
"The government of India has filed a review petition in the Supreme Court. I make an appeal to people to maintain peace. My government is committed to protecting the rights of Scheduled Castes and Scheduled Tribes," Chouhan said as he made an appeal to people to maintain peace and order.
Union minister for rural development Narendra Singh Tomar, who represents Gwalior in the Lok Sabha, reportedly met Union home minister Rajnath Singh in Delhi to demand adequate paramilitary force to assist the police in Madhya Pradesh.
Half a dozen districts affected
Public life was thrown out of gear and schools, cinema halls and markets were closed in more than half a dozen districts, including Gwalior, Morena, Bhind, Datia, Sagar, Sheopur, Guna, after the violence.
Several vehicles were damaged and set on fire in the violence in several places across the state.
The violence was first reported in Morena and Gwalior, where members of Dalit organisations took to streets in the morning and asked traders to close their businesses for the day in deference to their call for the all-India shutdown. Clashes soon ensued between the protestors and those opposing it.
The protesters uprooted railway tracks in Morena, blocked railway traffic and also the traffic on roads. They went on the rampage at the railway station forcing passengers on the platforms to seek protection.
A journalist and a son of an education officer were attacked in Morena.
"There were a large number of protesters who surrounded me in the morning. Some of them then asked me my name and when I told them my name they attacked me with stones, fists and kicks. It was a police team which saved my life," Satyendra Tomar, the journalist who was injured in Morena, said.
Violence was reported at Thatipur and Morar areas of Gwalior city during the protest. An additional superintendent of police (ASP) was attacked and his vehicle damaged in Dabara town of Gwalior.
Sagar, Indore, Bhopal, Alirajpur, Sheopur, Ratlam, Guna, Balaghat and some other places were also affected by the violence. According to police, licenced guns too were used in the Gwalior-Chambal region.
Sources in the Indian Railways said at least two trains — 01703 Secunderabad-Jabalpur and 01704 Jabalpur-Secunderabad — were cancelled due to the violence.
(With inputs from Mahesh Shivhare in Gwalior and Anupam Pateriya in Sagar)
Personalise your news feed. Follow trending topics