Teaching ex-convicts Gandhigiri through Bollywood flicks
Oct 04, 2018 10:21 PM IST
For first time jail department is teaching Gandhigiri and patriotism through a three-day counselling session of prisoners through Bollywood flicks before their release on October 5
Who will be your idol after you serve your term - Munna Bhai of 'Lage Raho Munna Bhai' or Baiju, Johny or Khairuddin of 'Karma'. Make your own choice, but take inspiration from these characters and make positive changes in your life, jail officials are telling their prisoners who are going to be released under an amnesty scheme introduced by the central government, as per official sources.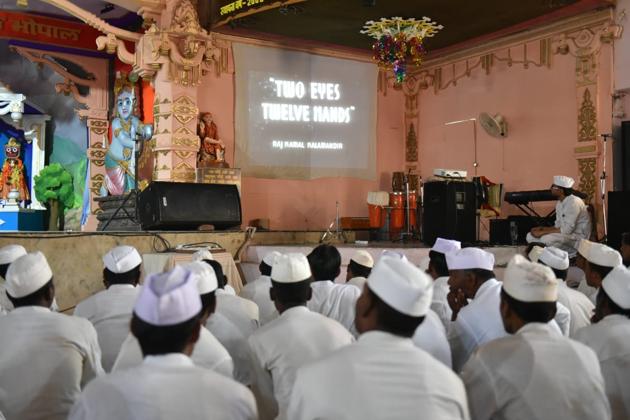 For the first time in Madhya Pradesh the jail department is teaching such prisoners Gandhigiri and patriotism through a three-day counselling session through Bollywood flicks before their release on October 5, as per sources.
As many as 92 prisoners of Madhya Pradesh, who are going to be released under the amnesty scheme of central government introduced in July this year are watching Bollywood movies and attending lectures on Mahatma Gandhi's life organised by jail department to inspire them, said director general of police (Jail), Sanjay Choudhary.
Under the scheme, the prisoners, who are not convicted of dowry death, rape, human trafficking and other serious offences, will be released in three phases during the year provided a female prisoner has attained the age of 55 and a male prisoner 60 and they have completed half of their sentence, as per jail department officials.
Movies like Do Aankhen Barah Haath, Karma, Lage Raho Munna Bhai, Gandhi and certain other films will be exhibited for them in the duration of three days.
"Most of the prisoners, who are being released are in jail for petty crimes or the female prisoners are 55 years of age and male prisoners 60 years of age. Many of these ex-convicts are disillusioned with their life. That's why we are trying to inspire them through Bollywood movies and motivational lectures to help them live a new and better life . We will also give them Mahatma Gandhi's autobiography- My experiments with Truth- as a gift," said PD Shrivastava, jailor, Bhopal Central jail.
A 62-year-old ex-convict who was in jail on attempt to commit murder charge said, "I don't know what I am going to do in my life but these movies are definitely inspiring me to restart my life with a new meaning."
Another convict said, "It is not easy to forget the past and get the respect in the society but the lectures and movies have made us to realise that the society can accept us if we don't regret our act and start doing good work in society."