Aishwarya Rai was asked why she lived with parents. Her reply's as fierce as Abhishek's
Before Abhishek Bachchan shut down a troll, Aishwarya Rai had told off David Letterman for asking if living with parents was normal in India.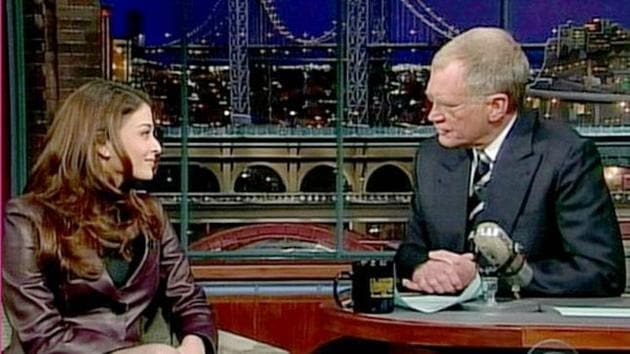 Updated on Apr 19, 2018 12:44 PM IST
It was all about Abhishek Bachchan's sarcastic, yet on point, retort to a Twitter user who tagged the actor while talking about a subject close to many of us Indians' hearts – living with our parents. While we all said a yaay, probably quietly, as Abhishek spoke of the reasons why he stays with Jaya and Amitabh Bachchan, only a few would remember that his wife Aishwarya Rai had fielded the same question with equal amount of sass over a decade ago on American television.
The year was 2005 and Aishwarya was making her foray in Hollywood with films such as Bride and Prejudice and The Mistress of Spices. She would go on to do Provoked, The Last Legion and Pink Panther 2. In 2005, while promoting Gurinder Chadha's take on Pride and Prejudice, she also appeared on The David Letterman Show where the host asked her the old chestnut: "Do you still stay with your parents and is it normal in India?"
Her answer was just perfect: "It's fine to live with your parents, because It's also common in India, we don't have to take appointments from the parents to meet for dinner." While Letterman's question was met with a laugh in the studio, Aishwarya's answer got her applause.
In today's world when Indian film industry and its exports are easily recognizable, it is strange to see Aishwarya explaining India, its ethos, Bollywood and musicals in the video. Of course, this video happened long before Aishwarya married Abhishek. The couple has a daughter, Aaradhya, together.
On Wednesday, a Twitter user, @stillyoungest had written, "Don't feel bad about your life. Just remember @juniorbachchan still lives with his parents. Keep hustling everyone!." Abhishek had a proud, prompt reply: "Yes! And it's the proudest moment for me to be able to be there for them, as they have for me. Try it sometime, you might feel better about yourself."
Close Story
Personalise your news feed. Follow trending topics