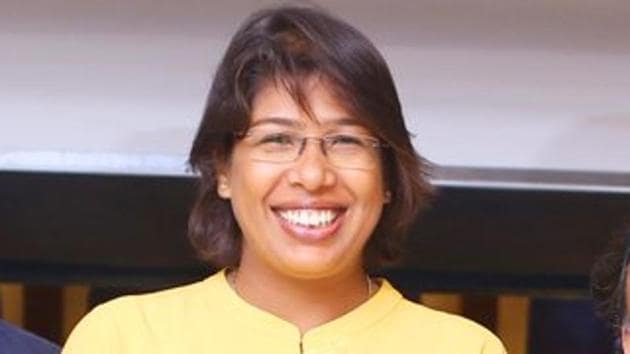 Cricketer Jhulan Goswami on her biopic: Along with my achievements, the film should also show my mistakes
Cricketer Jhulan Goswami is hopeful her biopic will inspire women in India to take up professional sports.
UPDATED ON JUL 18, 2018 05:13 PM IST
One of the best fast bowlers in the world, she is also the first woman ever to claim 200 wickets in One Day International. Yes, Jhulan Goswami needs no introduction. Her journey from a small city in West Bengal to the National women cricket squad is an inspiration to many. So, when a film based on the cricketing star's life was announced, it got many interested. But not many know that Jhulan was not keen on the film.
Read| Biopic on cricketer Jhulan Goswami announced
So the obvious question is why was she not interested? "Well, I never felt that a film on my life was necessary. And I kept on turning down offers," she continues, "But this time around I said yes because the film is more about how if you dream and work harder towards that dream then it does come true. If a small town girl like me can do it and that too at a time when not everyone knew about women cricket, then everyone can. The film will inspire women to take up professional sports, and I am hoping that it does."
Apart from this, the 35-year-old Goswami is also very clear that the film should be closer to her life and touch upon both the achievements and mistakes she has made. "I won't be on screen to tell my story, someone else will portray me. Also, it's really not possible to show everything in just three hours. So, on my part, I will be narrating my story to the makers and I want to make sure nothing wrong goes out there. Along with showing my achievements, the film should also show the mistakes I made that helped me learn and grow. That's very important," she says adding that the work on the film is going to start soon.
+ +
While the production house has announced the film, the director and the cast are yet to be finalised. Ask her about the actor she thinks can portray her well on screen? Jhulan pauses before adding, "I don't have a name in mind. This is something I know nothing about. Except I think they need to rope in someone who is tall (Laughs)." Jhulan is 5 feet 11 inches, so you know what she means. Prod her about the actors she admires and the Padma Shri awardee says, "Amitabh Bachchan, Prosenjit Chatterjee, Kajol, Aamir Khan and Priyanka Chopra are my favourites. I love watching their films."
Along with the film, a book on the bowler is also in the making. "Yes, I am writing my autobiography with a friend. We have just started working on the book. Hopefully it will be out sometime next year," she signs off.
Author tweets @Shreya_MJ
Follow @htshowbiz for more
Close