I had lost interest in life: Kangana Ranaut
On the first ever International Day of Yoga, Kangana Ranaut reveals how she'd lost interest in life, and the way yoga and spirituality helped her overcome.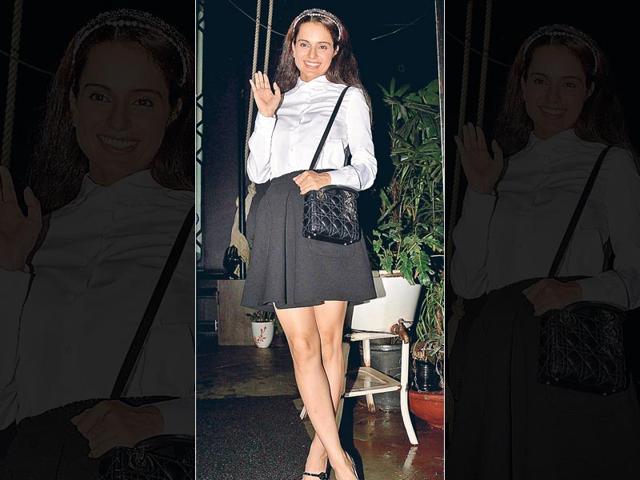 Updated on Jun 23, 2015 03:35 PM IST
Not many know that Kangana Ranaut has been an avid follower of yoga for about a decade now. In fact, the way she got introduced to the discipline is interesting.
"When I was about 18, and was struggling to get a chance in the industry, I saw a man named Surya Narayan Singh, balancing his entire body on one hand, and doing gymnastics at Juhu Beach. I was so impressed that I asked him to teach me the art. I gave him whatever money I had at that time. Although he wanted to become a fighter after learning yoga, he started teaching me and dedicated his life towards yoga. He is my yoga guru even now," says Kangana.
Kangana, who is currently one of the most successful actors in Bollywood, says that there was a point when she had lost hope in life. "I had lost interest in life. I used to think, 'what's the purpose of life?' Also, around Fashion (2008), since I was doing depressing roles, I started thinking about mortality, and things like 'why were we born?' and 'what will happen to us?' At that point, my guruji (Surya) introduced me to the teachings of Swami Vivekananda. I started finding strength within myself and my inner voice. I started doing yoga in a big way. I did Raja Yoga, which is a very difficult practice and it requires you to be a celibate. So, I lived a monk's life for a year or two (smiles). I also did Kundalini Yoga, and studied all its chakras too," says Kangana.
Watch: Why Kangana Ranaut refused to endorse fairness creams

The actor adds that Vivekananda's preaching also helped her overcome the difficult phase. "Earlier, I wouldn't be able to shut my eyes even for a minute, but now, I can do it for 40 to 45 minutes. I have studied Vivekanandaji's Karma Yoga, Bhakti Yoga, Jnana Yoga and Raja Yoga. According to me, he was a spiritual scientist, who educated people about nervous system and chakra awakening in a scientific manner. There was a time when I had also lost interest in colours, so I used to wear only black or white. So my guruji had told me that it could be due to the awakening of a chakra. So, I stopped doing kundalini yoga as it was too intense," says
.
Kangana says that she is now "personally contributing" to various ashrams of Vivekananda. "I have contributed in establishing a hospital for them. Although I am working as an actor, I am also doing full-time work for Vivekananda's ashrams. I regularly visit the Ramakrishna Math (in Sakwar, Thane). I also take classes there, in which I talk about the entertainment industry. Anyone can contribute these ashrams the way I do," says Kangana, who says she owes her life to Swami Vivekananda. "Vivekananda has been the biggest influence. I will always be grateful to my yoga guru for introducing me to Vivekananda's teachings when I was at a weak point in life," says Kangana.
Close Story