Kangana Ranaut on Saif Ali Khan's 'no concept of India before British' comment: 'If there was no Bharat, what was Mahabharat?'
Kangana Ranaut, who has worked with Saif Ali Khan in Rangoon, talked about what she thought of his recent comment about the identity of India.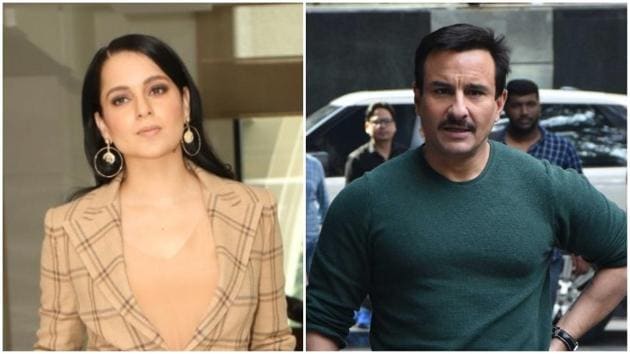 Updated on Aug 29, 2020 06:45 PM IST
Actor Kangana Ranaut has weighed in on the controversy surrounding actor Saif Ali Khan's recent comments about India's history and identity. Kangana said people are following 'smaller narratives' that they have created to suit themselves.
In an interview with film critic Anupama Chopra, Saif had talked about the current social climate in the country and the polarising politics of his latest film Tanhaji: The Unsung Warrior. "I don't think this is history," Saif said "I don't think there was a concept of India till the British gave it one."
Kangana was asked to comment on the same by Zee News when she said the existence of Mahabharata proves that a united India existed before the British took over the country. "This is not true. If there was no Bharat then what was Mahabharat? That 5,000-year-old text that was written, what was it? What did Ved Vyas write? Some people have just created these narratives that suit them. Sri Krishna was in Mahabharat. So there was a Bharat, that's why it was mahaan (great). All the kings of India came together to fight that war. So it's natural...," she said.
ALSO WATCH | Saif Ali Khan promotes upcoming film 'Jawaani Jaaneman' in Juhu
"You see even Europe has these small nations. But these had a collective identity, that's why Sri Krishna went to all these places with Pandavas and the Kauravas, to ask them who will be a part of the war," she added. Kangana's sister Rangoli Chandel shared the video on Twitter and wrote, "Kangana asking Saif Ali Khan a very important question ... over to you Saif."
Saif had said that he could not refuse the 'delicious' role offered to him in Tanhaji but 'may take a stand next time'. "For some reason I didn't take a stand. Maybe next time I would. I was very excited to play the role because it's a delicious role. But when people say this is history, I don't think this is history. I am quite aware of what the history was. I don't think there was a concept of India till perhaps the British gave it one. I don't think there is really any constructive point in arguing about loudly, provided you yourself know why you're doing it," Saif had said.
He is now being criticised by some for his remarks while many are also supporting him. Some even trolled him for naming his son Taimur. "I am sure 'History buff' Saif Ali Khan never heard or read about Taimur/Timur , a Turko-Mongol conquerer who devastated much of Asia in the period around 1400 .. otherwise he wud have never named his cute son Taimur Ali Khan .. just saying," wrote a Twitter user.
Also read: Bigg Boss 13: Sidharth Shukla says he is 'done' with Asim Riaz and wants to quit, fight divides Twitter
Kangana's Panga co-star Richa Chadha, who was sitting next to her in the same interview, defended the actor's son on Twitter. "Ummm 3 year old child," she wrote. When someone said that she should get a 'lesson in history', she replied: "Unlike the lot of you, I did my honours in History...now if only you bothered to study it, we wouldn't be repeating it. The degree took me 3 years at St Stephen's... ummm so am saving you the embarrassment because this IQ thing would definitely be a grossly unfair contest."
Previously, Kangana and Saif got involved in a controversy when Saif made fun of her on IIFA stage for her comments against nepotism in 2017. In an open letter, Saif wrote that he had "apologised" to her, and he doesn't "owe anybody else an explanation. The issue is over."
Follow @htshowbiz for more
Close Story
Personalise your news feed. Follow trending topics