Off screen, AK Hangal loved telling tales
Updated on Aug 27, 2012 01:42 AM IST
News about AK Hangal's ill-health had been floating for a while, so one was expecting this, considering age had invaded his being. He was too frail towards the end. Ramesh Sippy writes. Bollywood's favourite grandpa | Life and times of AK Hangal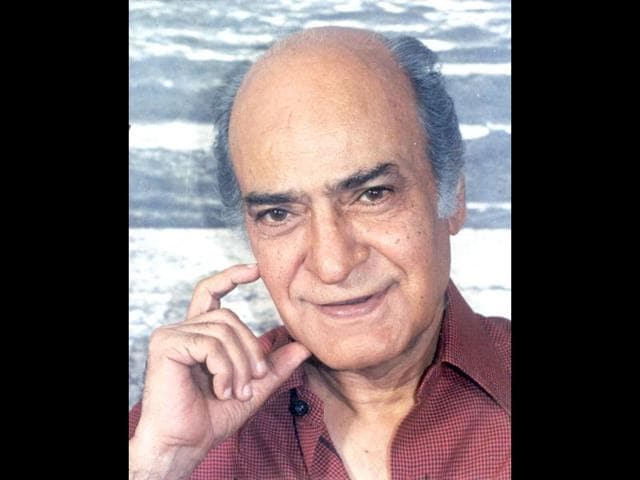 Hindustan Times |
, Mumbai
Ramesh Sippy
News about his ill-health had been floating for a while, so one was expecting this, considering age had invaded his being. He was too frail towards the end. But still, it is painful to know that someone you loved and respected so much is not there with you anymore.


I don't have to assert, but it is undeniably a great loss to the film industry.
AK Hangal Saab was a man of indomitable spirit, great ideals and someone who was passionate about everything till his last breath.
Hangal Saab played the famous role of Rahim Chacha in my film Sholay. Like every character and dialogue in the film, his dialogues too became iconic.
Hangal Saab was perfect for the role as he had an impeccable good man's look. Casting him felt right all through.
His frailty, ideals and beliefs came through on his face, which had a serene and gentle quality.
I especially like the scene where his character discovers that his son has been killed and the emotions that pour out in dialogue, 'Baap ke khandhon pe bete ka janaza sabse bada bojh hota hai' (a father carrying his son's body is the biggest burden).
And his other dialogue in the film, 'Itna sannaata kyun hai bhai' (Why is it so quiet?) also became iconic. Hangal Saab will always be counted as one of the important characters in Sholay.
The secular aspect in his character was well conveyed through his emotions, which were so effortless.
Off screen, he loved telling tales and would always come up with interesting and remarkable nuggets about his experiences, especially India's freedom fight which he was a part of.
I also worked with him in Sagar, where he played a lighthouse guard. After the edit, not much of his role was left. We had to let go of some really lovely scenes.
In the last few years, we kept in touch. He was a vibrant theatre personality who people lovingly remembered. His work was so impactful that one can never forget him. He lived a long and happy life mostly.
The last couple of years, though, were hard and difficult for him. I wish he finds everlasting happiness. I will always cherish the moments we spent together. May his soul rest in peace.
The writer is director and producer of Hindi film




MORE ON A K HANGAL
Hangal cremated; Bollywood biggies miss funeral
With prayers on their lips, friends and family members bid a tearful adieu to distinguished character actor AK Hangal at his funeral here.
Incidentally, none of the prominent Bollywood personalities attended Hangal's last rites, performed by his son Vijay at the Pawan Hans crematorium in Vile Parle, Mumbai, at around 1pm. READ MORE

Hangal's death leaves sannata in Bollywood, say artistes
Bollywood fondly remembered the grand old man of Hindi cinema and distinguished theatre artist AK Hangal, saying his demise has left a sannata (silence).
Hangal breathed his last at 9am on Sunday following a brief illness aggravated by a fracture on his thigh bone at Asha Parekh hospital in suburban Santacruz.
His funeral took place at Pawan Hans crematorium in Vile Parle.
"AK Hangal no more. An era comes to an end. Theatre and films were enriched by him. Funeral at 1pm near Pavan Hans opp Nanavati hospital," actress Shabana Azmi wrote on micro-blogging site twitter. FULL STORY
Celebs pay tribute to A K Hangal
Filmmaker Mahesh Bhatt posted, "Adieu Hangal Saab! What an innings!!!"
"AK Hangal no more, an era comes to an end. Theatre and films were enriched by him," singer Abhijeet Bhattacharya said.
"Veteran Actor AK Hangal no more... just passed away. Had great moments with him at IPTA...may his soul rest in peace," filmmaker Ashok Pandit said. READ STORY

Hangal: Bollywood's favourite grandpa
Hailed once as the 'uncrowned king of theatre', AK Hangal was not very keen to join films but ended up playing roles of the loving father or grandfather and doting servant of Bollywood with elan. MORE ON THIS
Personalise your news feed. Follow trending topics