Pooja Bhatt brings back memories of Dil Hai Ke Manta Nahin with these rose-tinted stills. See pics
Updated on Jul 12, 2018 03:17 PM IST
It's been 27 years since Dil Hai Ke Manta Nahin released and the film's lead actor Pooja Bhatt has shared stills from the film. Watch them here.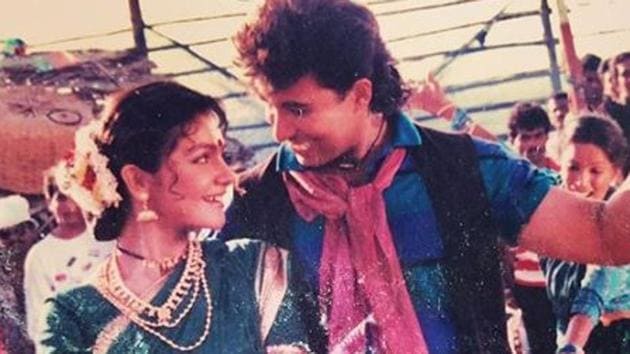 This day, 27 years ago, came a film that will remain etched in our hearts. The film was Dil Hai Ke Manta Nahin, which starred Aamir Khan and Pooja Bhatt in lead roles. Directed by Mahesh Bhatt and inspired by Frank Capra's celebrated film, It Happened One Night, the film was a superhit when it released on July 12 in 1991.
Now, actor Pooja has shared pictures from the film. Posting a picture from the hit song 'Galyan Sakli Sonyachi Hi Pori Konachi?' and wrote: "We shot this hit song which appears in the beginning of the film at the fishing village in Madh Island. I wore a Traditional Nauvari Sari for the first time in my life and shared screen space with my buddy Deepak Tijori who made the shoot truly easy for me by taking me through the paces with such patience and generosity. We shot daily from 7am to 6pm in the sweltering sun with the entire village cheering us on. Those were the days where make-up vans did not quite exist so I got changed and ready in one of the Koli fisherwoman's homes who was delighted to see me dressed in the traditional garb and fed me a delicious, Koli style, sea food lunch! #galyansaklisonyachi #DHKMN #27yearsofdilhaikemantanahin #maheshbhatt #mukeshbhatt #nadeemshravan #deepaktijori #poojabhatt #aamirkhan #anupamkher #anasingh #kolivillage #madhisland #traditionalgarb #nauvarisaree #downmemorylane #dilhaikemantanahin #ajourneyintoawomansheart."
Wearing a traditional Nauvari sari, she recounted fond memories from the shoot--of the time when they shot the song in Madh Island's fishing village, of how the entire village was out, cheering them at the sets, of how in those days their weren't any makeup vans and how she dressed up in a Koli fisherwoman's home and how they fed her to tasty sea food lunch.
Pooja also shared yet another photo, which was a still from another famous song from the film called 'O mere Sapno Ke Saudagar'. Sharing it, she wrote: "... a song that defined my fairy tale idea of love... Shot in the forests of Ooty that were drenched with the fragrance of eucalyptus, it was a song rendered beautifully by Anuradha Paudwal..."
Dil Hai Manta Nahin's songs became just as famous as the film. Nadeem-Shravan, famous for their work in Aashiqui, was the music director duo behind the hit songs.
Follow @htshowbiz for more