Priyanka Chopra to Huma Qureshi: These desi actors will be seen in important Hollywood roles
Updated on Jan 31, 2017 07:47 PM IST
2017 will see a bunch of desi stars such as Priyanka Chopra, Ali Fazal, Dhanush and Huma Qureshi portraying lead characters in some of the most-anticipated international projects.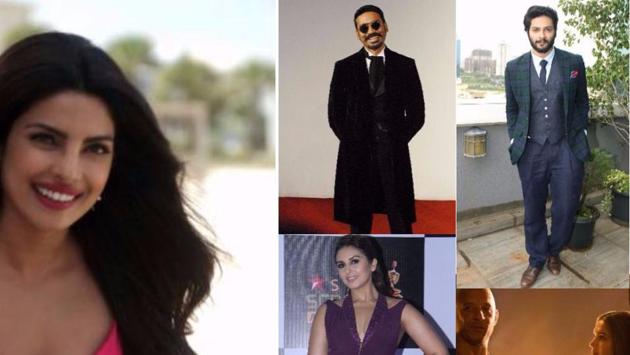 Gone are the days when Bollywood actors had blink-and-miss roles in films abroad. Deepika Padukone enjoyed almost as much screen time as American star Vin Diesel in the recent Hollywood film, xXx: Return of Xander Cage. Taking the baton forward are noted names such as Priyanka Chopra, Ali Fazal, Dhanush and Huma Qureshi.
Deepika's colleague and touted rival, Priyanka will be seen as the antagonist in the remake of American series, Baywatch, featuring Hollywood actors Dwayne Johnson and Zac Efron. "I love being bad! Victoria Leeds is a different kind of villain," Priyanka had told us earlier. The actor — who plays the lead in the American TV series, Quantico — added: "My character is evil but she makes being bad look so good! I had so much fun playing her," she had told us earlier.
Then, Ali Fazal's working with veteran English actor Judi Dench in Victoria and Abdul. The film's about the unexpected friendship between Queen Victoria and an Indian clerk in her court in the 1800s. "It doesn't get better. I've known about this beautiful story for ages. I can't wait to take on Judi. She's the cherry on this wonderful pudding... The most loved woman in Britain and probably the world," he had said.
Tamil star Dhanush will be seen in the comedy, The Extraordinary Journey Of The Fakir Who Got Trapped In An Ikea Cupboard, alongside Kill Bill star Uma Thurman. The 33-year-old will play the role of Aja, a conjurer from India, who is sent on a secret mission by his mother to Paris. Huma Qureshi and Manish Dayal (of The Hundred-Foot Journey fame) will depict a love story of a Hindu boy and Muslim girl during partition in 1947, in Gurinder Chadha's film, Viceroy's House. The film also stars Hugh Bonneville (Downton Abbey) and Gillian Anderson (The X Files).
Another British film, Definition of Fear, will see Jacqueline Fernandes make her international debut with a meaty role. The film will see Jacqueline's character and her three girlfriends set off to spend their weekend in a cabin.
Trade expert Atul Mohan believes that India's talent is the primary reason why international filmmakers are casting Bollywood actors in lead roles.
"Filmmakers in the West want to work with diverse cast and want to take on different stories. Indian actors have proved that they can work in all genres of movies, and that's the reason why they are in so much demand in the West. I believe it's only the start and one will see more actors from Indian film industry who will work in big projects abroad," he says.
Follow @htshowbiz for more