Rs. 2,200 cr in 14 years: Is Aamir Khan the real badshah of Bollywood?
With PK's thumping victory, Aamir has proved that he is the real boss of Bollywood. It has also taken him one step ahead of the other Khans in the numbers game. But, is he really as successful as he has been projected by trade figures?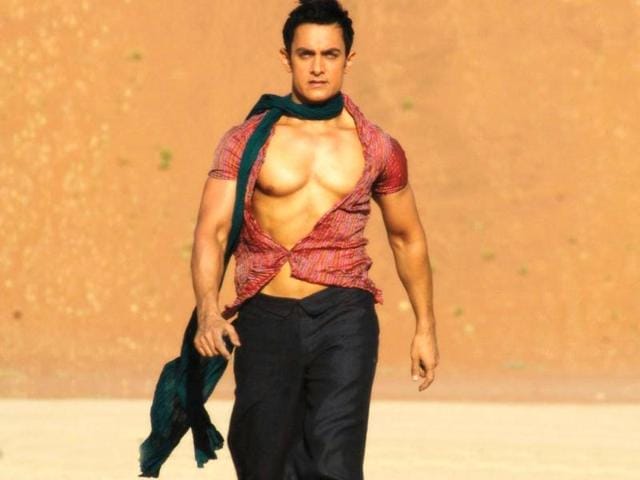 Updated on Jan 13, 2015 12:23 PM IST
Hindustan Times |
, New Delhi
Pratyush Ranjan/Rohit Vats
Trade analysts expected a great success for Aamir Khan's PK on the very first day, but what they had not fathomed was its magnitude. The film crossed the 'new' Rs. 300 crore-mark within 17 days of its release, an unheard of achievement in Bollywood.
It also made Aamir the first actor to enter the Rs. 100-cr, Rs. 200-cr and Rs. 300-cr club. Ghajini (net earning Rs. 180 cr) was the film which started the trend of the boastful Rs. 100 cr club and 3 Idiots (net earning Rs. 405 cr) raised the stakes with Rs. 202 cr India business.
With PK's thumping victory at the box office, Aamir has proved that he is the real boss of Bollywood. It has also taken him one step ahead of the other Khans in the numbers game. But, is he really as successful as he has been projected by these trade figures?
To find out, let us take a look at his films released since 2001.
Lagaan (2001)
Lagaan was a major critical and commercial success, and received a nomination for Best Foreign Language Film at the 74th Academy Awards. In fact, this is the only Hindi film which came really close to winning an Oscar. Lagaan earned close to Rs. 54 crore.
Dil Chahta Hai (2001)
Farhan Akhtar's Dil Chahta Hai changed the way we looked at characters in Bollywood films. The movie broke new grounds by showing Indian urban youth as they really were. The suave and cosmopolitan characters won at the ticket window as well by gathering more than Rs. 26 crore.
Mangal Pandey: The Rising (2005)
Aamir then took a four-year break citing personal problems, and returned in 2005 with Ketan Mehta's Mangal Pandey: The Rising playing the titular role of the real-life sepoy and a martyr who helped spark the Indian rebellion of 1857. However, Aamir's moustache made more news than the film's content as it received only the moderate success at the box office. Still, it garnered Rs. 54 crore worldwide.
Rang De Basanti (2006)
In Rang De Basanti, Khan's role was critically appraised earning him a Filmfare Critics Award for Best Actor. The film went on to become one of the highest grossing films in 2006, and was selected as India's official entry to the Oscars. Although the film was not shortlisted as a nominee for the Oscars, it received a nomination for Best Foreign Film at the BAFTA Awards. Commercially, it made more than Rs. 95 cr, including the overseas market.
Fanaa (2006)
Khan's next release in the same year was Fanaa in which he co-starred with Kajol. The film was one of the highest grossing films of 2006. Good songs and presence of stars added immense value to it helping it earn Rs. 101 crore worldwide. Technically, Fanaa was the first Aamir film to hit the Rs. 100 cr mark, but the overseas market contributed mostly to it.
Taare Zameen Par (2007)
In 2007, Khan produced and directed Taare Zameen Par which opened to excellent responses from critics and audiences alike. However, the seriousness of the content kept the 'masala'-seeking audience at bay, it still emerged as a hit and collected close to Rs. 88 crore.
Ghajini (2008)
It was a game changing venture as it started the concept of the Rs. 100-cr club. Aamir's chiseled physique worked in favour of the film and it became the first one to earn more than Rs. 100 crore in the domestic market. Later, it went on to gross Rs. 180 crore, including all markets.
3 Idiots (2009)
Director Rajkumar Hirani's film relied heavily on Aamir and a huge promotional drive. He wasn't disappointed as 3 Idiots became the first film to fetch Rs. 202 crore in the Indian market itself and had a net business worth Rs. 405 cr.
Dhobi Ghat (2011)
Directed by Aamir's wife Kiran Rao, this is Aamir's most 'different' film till date. It had a specific target audience and thus the makers were satisfied with Rs. 15 crore market figures. After all, it was made at a budget of less than Rs. 10 crore. Of course, Aamir didn't charge for it as Dhobi Ghat was his home production.
Talaash (2012)
It is the only Aamir film which did not do as well as anticipated in recent times. Mixed reviews hampered its chances and restricted its business to Rs. 93 crore in India and Rs. 145 crore worldwide.
Dhoom 3 (2013)
Dhoom 3 was released on more than 3,600 screens worldwide in December 2013. This film broke all existing records and was declared 'the biggest hit of 2013'. Trade figures suggest that Dhoom 3 has done a business of Rs. 545 crore till date. The dubbed versions are still releasing in some countries and thus the tally is likely to go up.
PK (2014)
Nothing is left to talks about Aamir's brand value after PK. It is thriving for the numbers which will be difficult to beat even for Aamir himself in the future. At the time of writing this report, it has already become the first Hindi film to cross the Rs. 300-cr mark in the domestic market. Overall, it has gathered more than Rs. 575 crore and enthusiasm around it does not seem to die down.

PK won the Best Film along with Best Director, Best Dialogue and Best Sound Mixing at the the Renault Star Guild Awards 2015 in Mumbai.
The awards ceremony took place Sunday night at Reliance Mediaworks in Film City and it was "PK" that took the maximum awards at the gala night.
This is only about Aamir Khan the actor. Some of his productions such as Peepli Live and Delhi Belly have also hit the jackpot, and adding them would only mean extending his authority over the box office to unprecedented heights.
(With inputs from agencies)
Close Story
Personalise your news feed. Follow trending topics