Saif Ali Khan wants Taimur to make money with nappy ads, Kareena Kapoor tells him not to be cheap. Watch video
Oct 28, 2018 02:31 PM IST
Saif Ali Khan is all up for son Taimur to start his career even though he is not even 2 years old yet. In a hilarious new interview, the actor says he wants to put this money to good use by taking trips to Switzerland.
The biggest nawabs among us cannot let go of an easy money making opportunity when they see one, not even chote nawab Saif Ali Khan. The actor revealed in a hilarious new interview how the producers of his films are always asking him to use his adorable son Taimur to promote his movies and even Saif agrees that it is not a bad idea.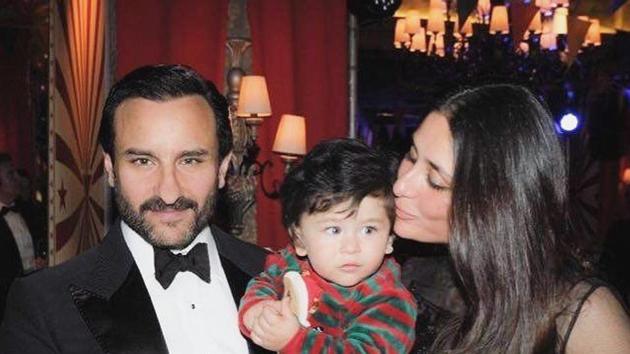 While promoting his new film, Baazaar, Saif said that the movie producers know Taimur's star power quite well. "Every producer I am working with has half-jokingly said, 'Haha can we put him?' With white in his hair (he sports salt and pepper hair in Baazaar). With Kaalakaandi, they wanted to put rubber bands. In Hunter, they want to put that Naga Sadhu wig on this poor guy," he said. His co-star from the film Chitrangada Singh felt sorry for Saif's baby.
However, his wife and Taimur's mom Kareena Kapoor is not open to such suggestions. "My wife says, 'Don't be so cheap. You can't sell your son (Taimur)'. I am like, 'Why not? Let's sell him'. Seriously yaar, he is anyway there on the internet. I am just using this platform to say if anybody has any good nappy ads or anything... at a very reasonable price...it's not reasonable, it's quite expensive actually. And, I won't give him the money also. I'll give him some cash for his education, I am already giving it to him. And I'll spend the rest!"
Chitrangada asks him "On what?" He replies, "On holidays in Switzerland yaar!"
Jokes aside, Saif does have quite a few thoughts about the country's obsession with his son. "Media's constant attention to him does not really bother me, but it would be better if it was not there. If the media likes it, people like it, I am okay with it; but I won't be interested in someone else's kids so much."
"On one level, it is nice that he makes people laugh and smile; but on another level, why is so much attention given to a kid? Why are we so interested in a little kid so much? I don't understand it," told IANS.
"Our job is to keep him balanced. I think Indian parents like us, like my parents, have a slightly tough time trying to put good moral values and basic family values into kids who grow up with too much attention. And it is possible. So, we hope that he is going to grow up fine and we're very conscious of it," he added.
Saif's latest film Baazaar opened to negative reviews and has made Rs 7 crore in two says. He portrays a rich Gujarati stock trader in the film.
Follow @htshowbiz for more