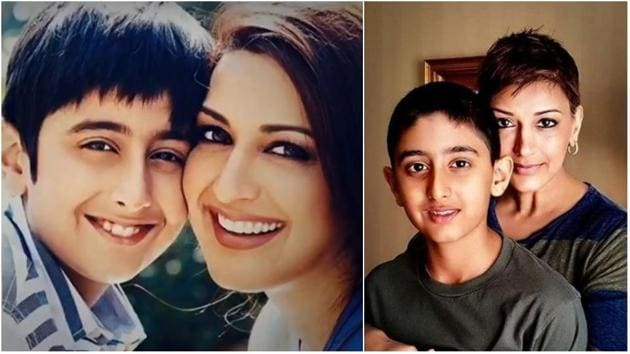 Sonali Bendre's son Ranveer thanks people for their support as his mother fights cancer
Sonali Bendre's son took to Instagram to thank everyone who stood in their support as his mother fights cancer in US.
UPDATED ON AUG 16, 2018 11:45 AM IST
Sonali Bendre is going through the toughest time of her life right now but she does have the support of her friends and family. Since her cancer diagnosis, her husband Goldie Behl and son Ranveer have stood behind her like pillars.
On Wednesday, Ranveer took to Instagram to share a note of thanks for all those who have given him strength in the tough times. "U all have created a ring of light all around me. Thanks too everyone for all the support you all have given me," he wrote in a photo caption with words far too mature for his age. In the picture, Ranveer is seen with a light ring around him.
Ranveer turned 13-years-old earlier this week. Sonali wrote a beautiful message for her son and called him her moon and stars. "Ranveeeeer! My sun, my moon, my stars, my sky... Okay, maybe I'm being a bit melodramatic, but your 13th birthday deserves this. Wow, you're a teenager now... Will need some time to wrap my head around that fact. I can't tell you enough how proud I am of you... Your wit, your humour, your strength, your kindness, and even your mischief. Happy happy birthday, my not-so-little one. It's the first one that we're not together... I miss you terribly. Lots and lots of love always and forever.... biiiiig hug!," she captioned a video of sweet memories.
Sonali also wrote a post dedicated to her son asking people to give their kids more emotional credit. "From the moment he was born 12 years, 11 months and 8 days ago, my amazing @rockbehl took ownership of my heart. From then on, his happiness and well-being have been the centre of anything @goldiebehl and I ever did. And so, when the Big C reared its ugly head, our biggest dilemma was what and how we were going to tell him,"
She says that instead of trying to protect Ranveer from reality, she and husband Goldie Behl decided to be honest with him. "As much as we wanted to protect him, we knew it was important to tell him the full facts. We've always been open and honest with him and this time it wasn't going to be different. He took the news so maturely… and instantly became a source of strength and positivity for me. In some situations now, he even reverses roles and takes on being the parent, reminding me of things I need to do!"
Sonali also reflected on the need to keep children involved in the situation rather than keeping them hanging. She adds in her post, "I believe that it's imperative to keep kids involved in a situation like this. They are a lot more resilient than we give them credit for. It's important to spend time with them and include them, rather than make them wait on the side-lines, not being told yet instinctively knowing everything. In our effort to protect them from the pain and realities of life, we might end up doing the opposite."
The actor revealed her diagnosis in July with a social media post. "Sometimes, when you least expect it, life throws you a curveball. I have recently been diagnosed with a high grade cancer that has metastised, which we frankly did not see coming. A niggling pain led to some tests, which led to this unexpected diagnosis. My family and close friends have rallied around me, providing the best support system that anyone can ask for," she wrote. She is currently in US, undergoing chemotherapy.
Follow @htshowbiz for more
Close