Taimur reacts to his name being called, not the cameras, says mom Kareena Kapoor Khan
Kareena Kapoor Khan says her work priorities have changed since the birth of her son Taimur.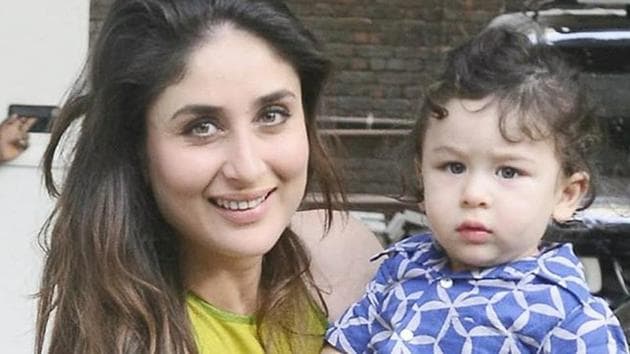 Updated on Jun 13, 2018 04:57 PM IST
Hindustan Times | By Monika Rawal Kukreja
, New Delhi
Basking in the success of her latest film, Veere Di Wedding, actor Kareena Kapoor Khan can, at the moment, have only person steal the limelight from her — that's her own son, little Taimur, the Internet-breaker.
While promoting the film, Kareena faced as many questions about Taimur as about the plot and her co-stars. Though she did say in a recent interview that she was getting "bored" of fielding the Taimur questions, she's happy to chat with us about the country's most famous infant (as he has been since his birth in December 2016), how he's growing up, why she has never tried to block the media glare, and her hopes for a "normal upbringing".
You recently said you don't want Taimur's life to be documented, but looks like he's already getting used to the camera.
(Laughs) I feel it's getting used to his name being called out [by paparazzi] and not particularly the cameras around. I don't think he can make out that he's being clicked. He's still too small for that [right now].
+ +
But people love to see his pictures on social media, so what's the harm if there's more of him out there?
Honestly, I've never held back anything. He's practically all over the place. But he's just 17 months old, so, let him grow up and have his life. I want him to have a normal upbringing and I totally understand that it's tough to have it in today's time but it is okay. I am letting him be. I can't stop him from anything and I will not stop him from having a normal life at all.
You started working soon after Taimur was born. Was there ever guilt that you weren't able to give him as much time as a new mother would otherwise do?
My time with my son, because it's not on social media or no one knows about it, does not need to be told. Just because I don't put a picture with him or I don't carry him at airports does not mean I don't spend time with my son. I believe in quality over quantity and what my time and my bond is with my son, I don't need to announce it to the world. Are we saying that mothers who work don't spend time with their children? It's not like that.
+ +
What keeps you away from social media and you even said that you won't be joining one anytime soon.
I think anyway, whatever I say, makes it to on social media, so it [my presence] doesn't matter. Now whether people love it, like it or troll it, everything related to me is practically all out there, so I don't need to physically on a platform for my presence.
Do you often search what's being written or posted about you on social media?
Not at all! I wouldn't want a day to start like that. It'll be sad if my life is just about googling myself and thankfully, it's not.
Have work priorities change because you want to spend more time with Taimur?
Of course they have! I have a son, a family and responsibility on my shoulders, so I will choose to do one film at a time because I need time for them. And since it's just one, I'd want to do something good and interesting and it'll be the one I choose rather than doing something for a friend or anything.
Interact with Monika Rawal Kukreja at Twitter/@monikarawal
Close Story