Tanushree Dutta sexual harassment claim: From Priyanka Chopra to Salman Khan, Bollywood finally speaks up
Sep 28, 2018 04:25 PM IST
From Priyanka Chopra and Farhan Akhtar's support to Salman Khan and Amitabh Bachchan's evasive answers, Bollywood is finally speaking up about Tanushree Dutta's alleged sexual harassment.
It took a while, but several major Bollywood personalities have finally begun speaking up about actor Tanushree Dutta's alleged harassment within the film industry. Actors such as Priyanka Chopra and Farhan Akhtar have urged authorities to take action and have stressed that believing survivors is of key importance.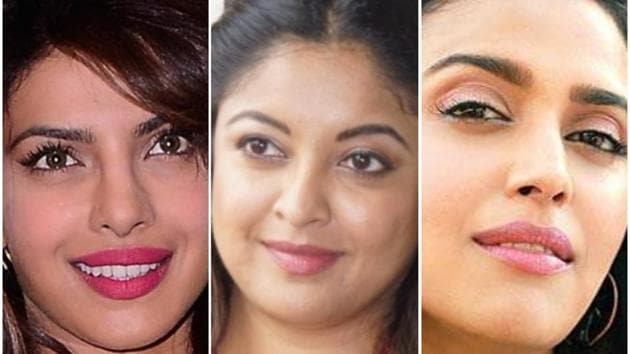 Farhan Akhtar on Thursday became one of the first Bollywood stars to voice support for Tanushree, who recently revealed that actor Nana Patekar and director Vivek Agnihotri had harassed her on set. Replying to a Twitter thread by journalist Janice Sequeira, Farhan wrote, "This thread is very telling. @janiceseq85 was there at the time of the incident being debated today. Even when #TanushreeDutta had career concerns to keep quiet 10 years ago she did not & her story hasn't changed now. Her courage should be admired, not her intention questioned."
Stay tuned with breaking news on HT Channel on Facebook.
Join Now
Farhan has been a vocal avocate for women's rights through his MARD campaign. Janice Sequeira in her thread had provided a detailed account of the incident Tanushree had spoken about in her statements, corroborating her allegations by saying that she was present at the scene. Tanushree had alleged that Nana, a Padma Shri and National Award winning actor, had inserted himself into a dance number, forced the choreographer Ganesh Acharya to include a lewd move, and threatened Tanushree with cops and goons when she resisted. He has since denied the allegations by laughing them off and contemplating legal action.
Echoing Farhan's statement, Priyanka Chopra wrote, "Agreed..the world needs to believe survivors."
Priyanka's cousin, actor Parineeti Chopra responded to her with a tweet. "I agree too. Survivors are survivors because they have dealt with something horrible and come out on the other side. So believe them, respect them," she wrote.
Meanwhile, actor Swara Bhasker, who was involved in a Twitter spat with Agnihotri recently, wrote simply, "I believe you Tanushree Dutta."
Comedian Kaneez Surka praised Tanushree's bravery. She wrote on Twitter, "Of course a lot of Bollywood stars and producers won't say anything - they are afraid and some of them should be. Be afraid, be very afraid - It begun. More power to women like #TanushreeDutta - for fighting the good fight for us."
Twinkle Khanna, in another response to Janice's tweets, wrote, "Please read this thread before judging or shaming #TanushreeDutta a working environment without harassment and intimidation is a fundamental right and by speaking up this brave woman helps pave the way towards that very goal for all of us!"
Meanwhile, another person on Twitter has claimed to have been present on set when the incident occurred. "Everything in this thread happened exactly the way it's written. It was my first film as an AD. I was proud of what you did then, @TanushreeDutta and I'm proud of you today," tweeted Shyni Shetty.
Actor Richa Chadha, who has previously alluded to the rampant casting couch problem in Bollywood, wrote on Twitter, "It hurts to be #TanushreeDutta rn. To be alone, questioned. No woman wants publicity that opens the floodgates of trolling and insensitivity.What happened to her on set was intimidation.Her only fault was she didn't back down-takes a special courage to be #TanushreeDutta."
At the trailer launch of their film, Thugs of Hindostan, actors Aamir Khan and Amitabh Bachchan were among the first to be asked about the allegations. While Aamir said that necessary steps must be taken if they're proved true, Amitabh avoided answering the question and said that he is neither Tanushree Dutta nor Nana Patekar.
Salman Khan, who was asked about the issue at an event on Thursday, said that he was not aware of it. "I am not aware of this. Let me know and understand what is happening," he said.
Sonam Kapoor rose to both Tanushree and Janice's defence. "I believe #TanushreeDatta and @janiceseq85 recollection of the account. Janice is my friend, and she is anything but an exaggerator or a liar. And it's upto us to stand together," she wrote on Twitter. "Many of my co-workers,female and male have been harassed and bullied, but it's their story to tell. If we don't encourage their voices and instead vilify and question them, how will victims ever become survivors? Let them speak up! Stand up with them!" she continued.
Director Hansal Mehta in a Twitter statement wrote that "India in general does not have a conducive work environment. Mental harassment, abuse and predatorial behaviour by people in positions of power are prevalent and considered perks of being in power. Years of oppression and colonial rule have permanently altered our DNA."
Director Anurag Kashyap also cited Janice's tweets as confirmation of Tanushree's allegations. "This should stop the speculation .. about the intention of the survivor," he wrote, noting that 'Janice is as credible as they come.'
Follow @htshowbiz for more