Thugs of Hindostan: Aamir Khan finally reveals his look as the goofy Firangi with new motion poster
Sep 24, 2018 11:24 AM IST
Aamir Khan has shared the first look at his character from upcoming movie Thugs of Hindostan. See it here.
Aamir Khan has finally revealed his look from the year's most highly anticipated film, Thugs of Hindostan. The actor took to his social media accounts to share an eccentric look from the film.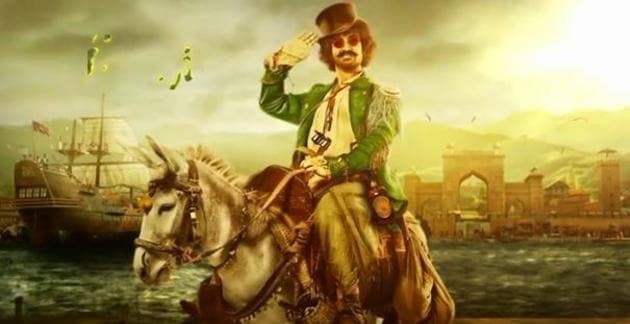 In a motion character poster shared on Monday, Aamir is seen in the weirdest outfit, sitting on a donkey. He is wearing a green jacket and a top hat. He has a big bottle of liquor by his side and red glasses on his eyes. He caption the photo in Hindi. "And this is me Firangi Mallah. You will not find anyone kinder than me on this planet. Truth is my second name and loyalty is in my work. I swear on my grandmother," he wrote with the post.
Previously, the motion posters for other three leads of the film—Amitabh Bachchan, Katrina Kaif and Fatima Sana Shaikh—were revealed last week. The trailer for the film will release on Yash Chopra's birthday on September 27.
They started with Amitabh, who will be seen as Khudabaksh. Sharing it, Aamir had called him the 'biggest thug of them all'. Sharing the same poster, YRF wrote: "Wading through storms & battles, the commander of Thugs has arrived. Amitabh Bachchan as #Khudabaksh."
The next was the poster featuring Fatima who was called Zafira. Katrina's poster introduced her as the sultry Surraiyya.
In an interview to South China Morning Post in April, Aamir has said that his character in the film isn't someone you could trust. "Thugs of Hindostan is a big action-adventure film. There's no message in that. I am playing a character who cannot be trusted at all – [so it's the] very opposite of Dangal … He's a very slippery character. He has no scruples at all – for money he can sell his mother out. He's like that," he said about the role.
"But [the character] is a very entertaining guy. So it's a very entertaining kind of a film. No message this time. Just have a good time," he added. Thugs of Hindostan is directed by Vijay Krishna Acharya of Dangal.
Thugs of Hindostan is based on Philip Meadows Taylor's 1839 novel, Confessions of a Thug. The film releases November 8 to coincide with the Diwali weekend.
Follow @htshowbiz for more