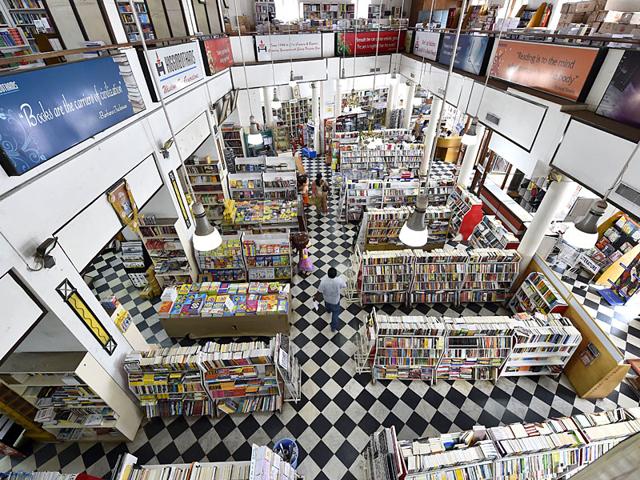 Forget e-books. Here are the oldest bookstores in India
If you are hooked to e-books or if you have not visited a bookstore, thanks to e-commerce, you might have forgotten the sheer smell of a book store. We bring to you the oldest bookstores in the country which have survived the pressure of rising e-commerce and still hold their charm.
Hindustan Times | By Simar Bhasin
UPDATED ON OCT 11, 2016 11:43 AM IST
Reading habits have changed a lot the years; from the soft rustling of paper and the beautiful smell that accompanies old novels reminding one of days gone by, to e-books and e-book readers which are supposed to make the entire experience of reading more convenient for bibliophiles.
Online portals and chains have more or less taken over the book buying experience as well.
From the mountains to the metros, here we bring to you a few gems that have survived the tests of time and are a true testament to the old world charm of reading the written word.
1 Higginbotham's - Chennai




Higginbothams in Chennai. (Mint/Saisen)


Chennai, a city that boasts of a rich cultural heritage owing to its history as an important administrative centre over the centuries, is also home to the country's oldest known bookstore.
Few know that Higginbotham's that opened its doors in 1844, actually started out as a religious bookstore but has since then grown, housing books from various different genres. The store also started publishing books in the 1960's.
Higginbotham's was started by a man named Abel Joshua Higginbotham, an alleged British stowaway, who began his journey into the business of selling books- in then called Madras- by selling copies of Bibles to Soldiers.
Throughout its long standing existence, this architectural beauty situated in Anna Salai, has made its name as one of the quality bookstores in India. In fact in 1859 John Murray, in his Guidebook to the Presidencies of Madras and Bombay, described Higginbotham's as the "premier bookshop of Madras".
2 Giggles - Chennai




Giggles Bookstore, Chennai (HT Photo/ Simar Bhasin)
Popularly referred to as 'The Biggest Little Bookshop' in Chennai, Giggles is hidden away beside Taj Vivanta on Binny road.
The bookstore, which its owner Nalini Chettur refers to as 'her baby', will turn 41 this year. Giggles was originally situated inside the Taj Vivanta hotel but after renovations, Chettur was asked to vacate in 1993.
She refused and fought for the book shop and got a tiny place (about 100 sq feet) just beside the hotel.
This marvel of a book shop has many loyal customers who swear by Nalini's knack of getting them exactly the book that they were searching for without themselves knowing what it was!
3 Strand Book Stall - Mumbai




Strand Book Stall was established in 1948. (Facebook/ Strand Book Stall)
Sixty six year old Strand Book Stall has stood the tests of time and has set a benchmark for being one of the most affordable book stores.
Founded by the late Padmashri T. N. Shanbhag on a capital of Rs 450, Strand is regarded highly by Mumbai's literati with figures like JRD Tata, Nani Palkhivala, G.D. Birla, Keshub Mahindra, Sir Ambalal Sarabhai, Dr. Vikram Sarabhai, Dr. Abdul Kalam, Jayaprakash Narayan being known to have walked through its doors.
The bookstore started out with a simple thought by a man who wanted to make knowledge affordable without compromising on quality. The store, established in 1948, is living proof that he was indeed successful.
4 Ram Gopal Sharma & Sons - Delhi




Ram Gopal Sharma & Son in Shankar Market, Delhi. (HT Photo/Simar Bhasin)
A fantasy straight out of a bookaholic's dream, Ram Gopal Sharma & Sons is filled with books from the roof to the floor.
Little known fact about this book heaven hidden away in Shankar Market is that it was the first lending library in Delhi.
Established in 1952, Ram Gopal Sharma & Sons is THE place to go for second hand books especially if you are a Mills and Boons hoarder. The shop boasts of having the largest collection of the romance series which was all the rage in the 70's and 80's.
Moving ahead with the times, the bookstore began an online portal for renting out books.
Aptly named 'bookmeabook.com', the site allows book lovers easy access to a wide range of books encompassing several genres.
Manjula Sharma, the daughter in law of the namesake founder, took over the responsibility of the store and its online presence after Ram Gopal Sharma passed away a while ago.
5 Bahrisons Booksellers - Delhi




Bahrisons Booksellers in Delhi. (Facebook/Bahrisons Booksellers)
Any true Delhiwallah is well aware of this store located in Khan Market that has been passed on from generation to generation, becoming a landmark in the capital city.
The store is almost as old as the Market in which it is situated. After opening its shutters in a post-partitioned India by a refugee whose family was forced out of their ancestral village, the bookstore has made a name for itself as one of the most reputed book establishments and has expanded into publishing as well.
The collection at Bahrisons is one of the best in the capital, and if they don't have what you are looking for, the staff makes in that extra effort to order the book and keep you informed about its arrival.
6 College Street - Kolkata




College Street, Kolkata (Mint/Indranil Bhoumik)
Any debate or discussion on literature is incomplete without the mention of the birthplace of one of the great literary masters of India, Rabindranath Tagore.
The city of joy is known for its rich literary tradition and the College Street is a testament to that very tradition.
Academic books, second hand books, rare editions, everything and anything related to the written word is available on this street that houses various prestigious institutions such as the Hindu school, Calcutta University, Presidency University and many more.
The 1.5 Km long street also houses one of the most famous hangouts for Kolkata's intellectual elite – The Indian Coffee House.
Rabindranath Tagore and Subash Chandra Bose are said to have been frequent visitors to the coffee house which is a on the bucket list of any book lover.
College Street also has the honour of being featured on Time Magazine's 'Best of Asia' list in 2007.
7 Cambridge Book Depot - Mussoorie




Ruskin Bond (centre) at Cambridge Book Depot. (Facebook/Cambridge Book Depot, Mussoorie)
The hills are famous for inspiring great literary traditions like the Gothic and many authors have taken their abode there as it provides them with the sanctuary that they require. One such place is where Ruskin Bond found his home – Mussoorie.
The Cambridge Book Depot in Mussoorie opened up in 1952 and is situated on the Mall Road near the Main Post Office. This bookstore, that houses everything that you would need to make your stay in the hills enjoyable, is also Bond's favourite haunt and he can be found there most Saturdays.
The proprietor, Sunil Arora, also maintains a special section devoted exclusively to Mussoorie authors to promote and encourage them.
8 Maria Brothers - Shimla




Maria Brothers in SHimla has one of the 27 copies of the American Declaration of Independence, printed in June 1776. (HT Photo/ Santosh Rawat)
If you have ever taken a walk down Shimla's Mall Road, you might have noticed a quaint little store painted all blue with a sign 'Maria Brothers' outside of it.
If you have and if you managed to take a peek inside, you would know that it is exactly what one would imagine a museum of books to look like.
Shimla houses many bookstores that are a favourite among the tourists and residents alike, what sets Maria Brothers apart is its collection that includes very rare editions exciting any book lover.
It is also said that the bookstore, which was set up in 1946, has one of the 27 copies of the American Declaration of Independence printed in June 1776.
We live in a fast paced, globalized world where technology rules or dictates atleast a small portion of our daily existence. These bookstores, established in a different era, a different world, still have the magic to take one back to an older, simpler time; sans television, sans internet, sans all technology. So the next time you find yourself looking to escape the mundanity of everyday life, make a visit to any of the bookstores on the list. I promise you won't be disappointed.
The author tweets as @simarb_92
Close