Govt to sell 76% stake in Air India, invites expression of interest
As part of the disinvestment process, the government will offload 100% of its stake in Air India Express, 76% in Air India Limited and 50% equity stake in AISATS.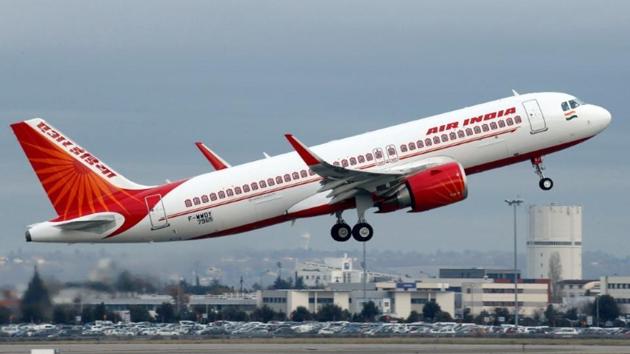 Updated on Mar 28, 2018 11:54 PM IST
Hindustan Times/LiveMint, New Delhi |
Gireesh Chandra Prasad, Asit Ranjan Mishra and Faizan Haider
The National Democratic Alliance (NDA) government on Wednesday moved a step closer to privatizing state-run Air India Ltd by inviting expressions of interest (EoIs) from potential buyers to acquire a 76% stake in the stricken national airline.
The government plans to sell the stake in the airline on the condition that its control will vest with Indian entities and the brand name Air India is retained. It will also sell 100% of its low-cost international carrier Air India Express Ltd and a 50% stake in Air India SATS Airport Services Pvt. Ltd, an airport ground-handling joint venture. Out of the 24% stake the government will be left with in Air India, it will offer employee stock options to the airline's employees.
The civil aviation ministry has invited expressions of interest from interested parties by 5 pm on May 14.
The sale will help the government achieve its ambitious Rs.80,000 crore disinvestment target for the next fiscal year and rid it of the necessity of infusing yearly bailout funds into the airline, laden with Rs48,781 crore of debt at the end of March 2017.
For customers, Air India in private hands is expected to offer better services and respond swiftly to changing market conditions. One reason for Air India's poor financial performance are delays in decision- making under a bureaucratic set-up and the red tape it entails. This is expected to change after the sale. "The idea of the sale is not to make revenue, but to make the company more efficient and agile," said a civil aviation ministry official, who spoke on condition of anonymity.
Non-core assets including real estate will not be a part of the sale, but will be transferred to a separate company that will also take on the working capital part of Air India's debt.
According to the EoI document released by the ministry of civil aviation, potential buyers need to have a minimum net worth of Rs5,000 crore and should have reported a profit after tax in three of the five previous years. It also allows companies with negative net worth to submit a bid, as long as they are in a consortium which satisfies the net worth and other requirements.
The highest bidder will have to remain invested in the company for three years before any stake sale, except for a compulsory listing of Air India. The government will also offer a proportionate stake in the eventual listing process aimed at making the company a widely held one to the extent possible. The government's residual stake sale in Air India in the market will not be a block sale, said the document.
Air India, which reported a ₹5,765 crore loss in 2016-17, has been struggling amid intense competition from airlines such as IndiGo and Jet Airways.
Full foreign ownership is allowed in Indian airlines although overseas carriers can't buy more than a 49% stake. The government has already exempted potential Air India investors from the market regulator's takeover code, which prescribes an open offer in case of acquisitions beyond 26%.
Finance minister Arun Jaitley, in his February budget speech for 2018-19, said the government has initiated the process of strategic disinvestment in 24 state-run companies including Air India.
Prior to the sale, Air India's other arms such as Air India Engineering Services, Air India Air Transport Services, Airline Allied Services and Hotel Corp. of India will be transferred to another holding company. Carried-forward business losses of around Rs32,194 crore and unabsorbed depreciation of around Rs31,805 crore in Air India are likely to give the benefit of reduced tax liability to the company in the future, EY, the transaction adviser for the sale, said in the information memorandum.
Close Story