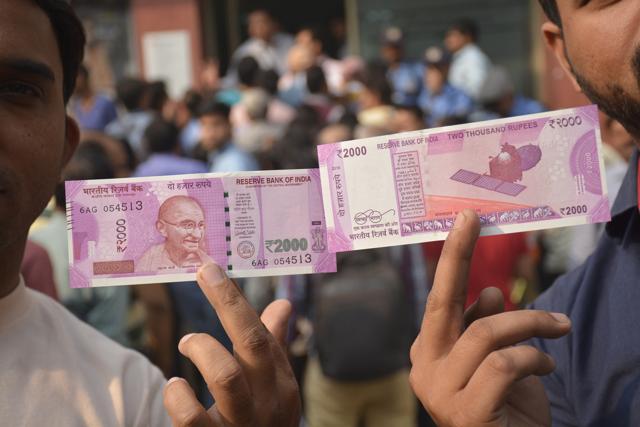 Just 35,000 personnel to replenish
₹

16 lakh crore in ATMs

In long meetings with the Reserve Bank of India for the past two days, ATM companies and other stakeholders rolled out the plan to pull out

₹

500 and

₹

1,000 notes out of the system and meet the unprecedented demand for

₹

100 notes.

PUBLISHED ON NOV 11, 2016 12:56 PM IST
Mumbai
Just over 35,000 staff of seven logistics firms will handle the mammoth task of replenishing around ₹16 lakh crore worth of currency notes at over 2.2 lakh ATMs across the country.
"One in four currency notes have to be pulled out of the system and substituted with higher number of notes. Our staff members are in the field working three times their daily working hours in service of the nation," said Rituraj Sinha, president of Cash Logistics Association of India.
In long meetings with the Reserve Bank of India for the past two days, ATM companies and other stakeholders rolled out the plan to pull out ₹500 and ₹1,000 notes out of the system and meet the unprecedented demand for ₹100 notes.
RBI deputy governor called it the biggest challenge in the history of the banking industry.
In an emotional appeal to the 40,000 staff members, Sinha said that after the PM's announcement and interactions with different stakeholders in the last 2 days, he told his staff to cancel their leaves, dedicate their Saturday and Sunday to serve the country.
"I could not give them any incentive but they are helping the nation fight against black money."
There are a total of 8,800 currency vans at present and 2,01,861 ATMs with an average of about 10,000 notes per ATM. However, with the change in configuration, only 100 rupee notes (or 50 rupee) can be accepted. This reduces the ATM's capacity to 10% as one ATM can load only 2,500 notes of 100 rupee denomination.
SBI chairman Arundhati Bhattacharya said, "There are many ATMs with only ₹100 configuration and they have to be reconfigured, it was done in the recent past. In ATMs that have one ₹100 cassette, we are trying to put another cassette (1 cassette holds ₹2,500 notes).
"Re-configurations takes time so it has to be done one by one. Things should be normal in ten days. You have to understand there are 2 lakh ATMs in the country but there are only three to four vendors."
Bhattacharya also pointed out the transport facilities and need for adequate security with the money in transit.
She said in several states, money had to be airlifted. So there could be some problems in the peripheral areas if the weather is inclement.
Sinha, who is also the co-chairman at FICCI Private Security, held a large conference call with all regional heads, content and ATM managers to plan out the functions efficiently. He said the industry handled 25,000 ATMs with ₹15,000 crore worth of money.
He said this activity would multiply three times, so they had to optimise their functions including the travel of thousands of kilometers to each ATM.
Cash management firm Securitrans India's business head, Anush Raghavan said, "Our plan is to pull out existing ₹500 and ₹1,000 notes, refill 1₹00 rupee notes, configure ATMs to limit the withdrawals at ₹2,000. Typically, there are 15 visits in a month for each ATM and now it will be 2-3 visits daily or maybe even more."
AGS Transact Technologies, another ATM manufacturer and technology provider, said it had 1,150 vans and has been removing the old notes since Wednesday midnight. A senior official said, "We cannot even employ more people as these are trained and trusted people. Our existing staff has been working from 5am till late evening."
Dipak Gupta, joint managing director with Kotak Bank, said, "From tomorrow, we forsee supply shortage of ₹100 notes at ATMs. In the north, there is sufficient supply, but in pockets of south and west there is some shortage."
Close