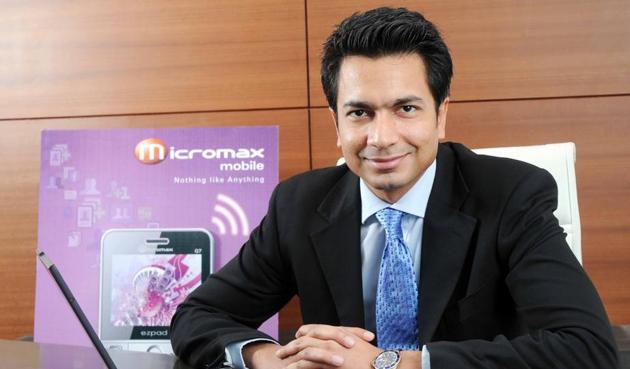 Micromax takes on Chinese assault, launches premium phone, plans IPO
Hit by Chinese handset makers, Micromax plans a come back with a range of premium phones, an IPO in mind and aggression in its heart.
UPDATED ON MAR 30, 2017 04:34 PM IST
Rahul Sharma was in dilemma – whether to jump into the battle against Chinese phonemakers, or to withdraw from it. Sharma is the co-founder of Micromax, the largest Indian handset maker. The rise of the Chinese mobile firms forced Sharma to retreat.
The Chinese phonemakers splurged on front page advertisements in newspapers and booked television ad slots. For instance, Oppo, a Chinese mobile maker bagged the title sponsor rights from Board of Control for Cricket in India (BCCI) for Rs 4.61 crore per bilateral match and Rs 1.56 crore for an ICC event match. The reserve price for every match was Rs 2.20 crore.
The Chinese know it well -- cricket is worshipped in India, followed by Bollywood. Oppo has Sonam Kapoor and Hrithik Roshan as its brand ambassadors. Other Chinese companies, too, have celebrities to endorse the brand.
Micromax did not want to participate in the fight, even if it would result in losing market share, revenue and profits. "If we would have done the same we would have burnt out by now," said Sharma. Some of the Chinese companies such as LeEco, too, could not continue with the money drain.
The Indian market was flooded with Chinese phones, and phonemakers. They had cornered about half of the mobile phones sales offering high quality phones at ultra-low cost. But moving away from the competition was not Sharma's character. "We have always been a fighter… but this time, we had to say 'no'," he said.
In 2016, Micromax's smartphone volume dropped by 37.9%, according to IDC. While it did have 8.8% smartphone market share by the end of the year, it dropped out of the top five smartphone list in the last quarter. Sharma agrees that Micromax's market share will remain stagnant.
If the feature phone volume is taken into consideration, Micromax ended the year with 10.1% market share, holding the second position after Samsung. However, in the last quarter it ranked fifth behind Samsung, Transsion, Intex and Lava.
That perhaps does not bother, Sharma much. "Haven't you made some chicken," he asks the person who is serving him lunch, who replies with an apologetic "no". So, he settles down with dal, rice, chapattis, bhindi, paneer and curd. Neither has he lost his sleep over competition. In fact, Sharma delayed the launch of the smartphone because he was travelling in February.
Sharma had decided to slow down in June 2016. He had planned aggressive attack on the Chinese competition after Diwali. His plans were pushed back when Prime Minister Narendra Modi announced demonetisation on November 8. Throw in launch of Reliance Jio's free internet services, Sharma said that "overnight" the market turned to 4G. Micromax struggled to clear its 3G phone inventory.
Chinese phones already came with 4G technology, which the buyers preferred. "We had to sell the 3G phones. How could we have anticipated, when a few building away, people at Airtel didn't anticipate the change," Sharma said. Micromax's office is down the same lane where Airtel's office is.
Meanwhile, Micromax has started four factories, with an annual capacity of 60 million mobile phones. The fifth factory is coming up in Madhya Pradesh. Sharma also ramped up the distribution, from 700 distributors to 1,000. He has made a lot of changes to the product portfolio.
On Wednesday, Micromax announced its foray into premium smartphones, with the Dual 5 flagship for Rs 24,599. He bets the phone on a few factors – the most secure phone in the world, very good camera and 128 GB inbuilt storage.
Even though it is not market share, which Sharma is confident, Micromax will regain, there is something else that is bothering him. "I don't want the whole of India to hold Chinese phones in their hands, otherwise it will become like the steel industry. The responsibility and the onus is on us, otherwise the Indian cricket team will have a Chinese companies sponsoring their jerseys," Sharma said.
But the change has already started. The Indian team will have Oppo's logo on its jersey, "which is not a good thing," Sharma explains. "When we went silent, our market share slipped. If you look at this quarter, too, we won't gain much. But in the next quarter, which is April to June, whatever we have lost we will gain that back."
That is a tall claim. What if the Chinese decide to continue to bleed?
Sharma might also plan to list Micromax on the bourses, if he needs a war chest to fight competition. That should not be difficult. The co-founders – four of them – own 80% of the company. "It is long due, maybe… Micromax is the only success story in India's consumer durable business," he said.
Indeed, apart from selling phones, Micromax also sells TVs, laptops, air conditioners, and sound systems.
Close