Axis Bank under I-T scanner for Rs 30-crore hawala link
With the Income Tax conducting searches after two men who were reportedly caught with Rs 3.5 crore new currency notes alleged that they got the money exchanged at the Kashmiri Gate branch of Axis Bank after paying gold bricks as commission to two managers.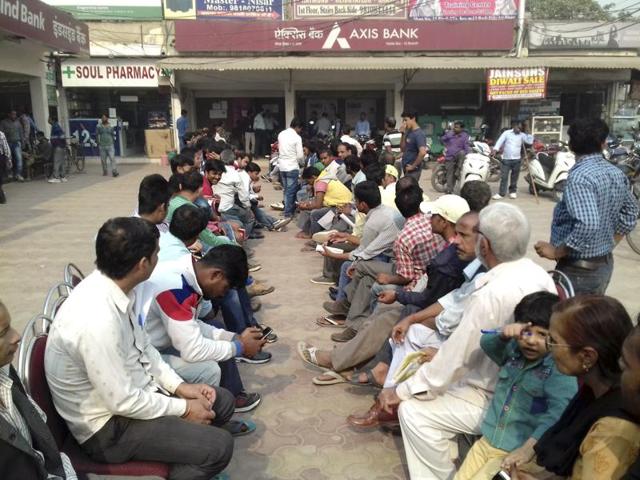 Updated on Nov 25, 2016 11:38 PM IST
An Axis Bank branch in Delhi's Kashmiri Gate converted old notes worth Rs 30 crore received from a hawala operator and converted it into new currency, the Income Tax (I-T) department has found. This confirms the fear among I-T sleuths that the bank managers would collaborate with hawala operators in converting the black money.
On Friday, the I-T department carried out searches on the bank premises and residences of two senior bank officials. The tip-off came from Delhi Police after they arrested a person with Rs 3.5 crore on November 21.
"These two bank officials received old notes worth Rs 30 crore from a hawala operator and converted it for newly minted Rs 500 and Rs 2,000 currency. The bank officials took 30% commission in gold bars," said I-T sources.
I-T sleuths said the two bank officials are the key link in the black money operations.
"It is the responsibility of a bank manager to ensure the bonafide of a customer through Know Your Customer (KYC) norm and alert suspicious transactions to I-T and Financial Intelligence Unit," said a finance ministry official.
However, the private sector lender said that the transaction was done after adhering to the know-your-customer norms.
Axis Bank sources said that the customer who deposited the amount has a running current account with the bank for the last four years. "The deposits were made in the existing accounts of our customer at Kashmere Gate branch, Delhi. The bank is investigating the matter in detail and is fully cooperating with the agency on ground," the bank's official spokesperson said.
The role of bank officials in hawala network was first exposed in the Bank of Baroda scam where `6,000 crore was transferred to foreign bank accounts by shell companies.
Friday's raid in Delhi is the first instance of a direct evidence of bank officials' role in converting old currency into new through back-door channels.
Senior officials in the I-T department said that red-flags were raised when a Gujarat official was caught taking 4 lakh bribe in new `2,000 denominations on November 18.
I-T department had sensitised intelligence bureau and other agencies to monitor the role of banks in converting old currency to new.
"We are getting multiple inputs from IB and other enforcement agencies but we don't have staff to conduct even 20% searches," an I-T official told HT.
Close Story