Petrol, diesel not under GST. Sitharaman explains why it was discussed
45th GST council meeting: States have unanimously rejected the proposal of bringing petrol and diesel under GST which will be conveyed to the Kerala high court, finance minister Nirmala Sitharaman said.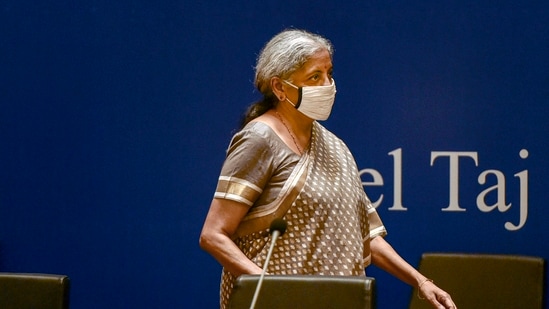 Published on Sep 17, 2021 07:05 PM IST
Finance minister Nirmala Sitharaman on Friday clarified that the petrol, diesel GST was on the agenda of the GST council only because of the Kerala high court order. "This item came on the agenda for today's discussion purely because Kerala high court order as some person approached the high court and the court said that this can be taken up by the GST Council. On the direction of the court, it was brought up and the members spoke very clearly that they do not want this under GST," finance minister Nirmala Sitharaman said, addressing the speculation of fuel prices going up if the proposal gets okayed by the Council.
The Council felt it was not time to bring petrol and diesel under GST, Sitharaman said. The decision will now be conveyed to the court, the minister said.
The finance minister announced the revised GST rate on several medicines, including for the treatment of cancer. "We have taken quite a few people-friendly decisions. I am very happy that some of them are long-pending," the minister said.
GST exemption has been given on expensive imported drugs like Zologensma and Viltetso, which are not for Covid, the minister said. Reduced GST rates on Covid medicines has been extended till December 31 from September 30, as decided by the GST council, the minister announced.
The meeting is crucial as the council was supposed to take up the issue of bringing petrol, diesel under GST. Reports said all states have unanimously rejected the proposal. Another contentious issue that was taken up by the GST council was imposing GST on Swiggy and Zomato which would make food ordering costlier. Reports said this proposal has been approved by the GST council.
Some reports indicated that the GST Council also decided in favour of increasing the GST on fruit juice from 12 per cent to 28 per cent, which will make fruit juice costlier.
The meeting was held to decide on issues like extending tax concession to drugs being used to treat the coronavirus disease and review tax rates of over four-dozen items, like oncology medicine and coconut oil. The inclusion of petrol and diesel under GST was also discussed in the meeting and all eyes were on the outcome. This was the first physical meeting of the GST council in 20 months and the last one was held before the Covid pandemic, on December 18, 2019.
Topics
Close Story