Are jobs threatened by machines in this age of technology?
Man vs machine: With robots replacing humans in various jobs, as seen in Amazon's drones, the GDP is at stake.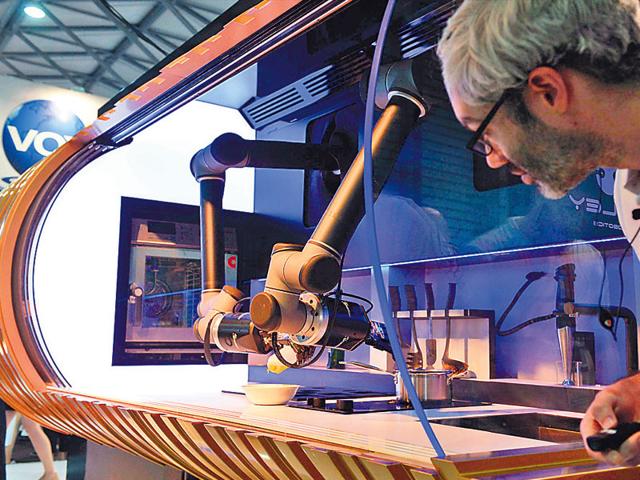 Updated on May 30, 2015 12:32 AM IST
Hindustan Times |
J Mulraj J Mulraj J Mulraj
According to a McKinsey Global Institute study 'Can Long Term Growth be Saved', those born after the Second World War — also known as baby boomers — who drove the GDP growth by six fold over the past 60 years, as a result of which per capita income increased three.
Baby boomers worked hard, held good jobs, spent money and created wealth, and are now retiring.
With the global population aging (India is an exception), technological innovations and a growing life expectancy, global GDP growth is falling.
For India, which has a young population seeking jobs, this low job growth would become a huge problem.
This is the problem the entire polity must work towards resolving without allowing partisan politics to interfere. Otherwise, huge social problems will arise if jobs are not available.
Productivity growth will come from adopting best practices and technology. But machines are replacing human jobs — robots are delivering orders for Amazon stores, driverless cars such as the Google car are being designed, and soon, driverless trucks will be engineered which would affect three million jobs in the US.
Most farm jobs in the developed world are mechanised. This is something that India cannot afford to do with over half the population dependent on agriculture.
Not only does the Indian polity have to be more constructive, but so also the administration.
We need to avoid disputes such as the one over whether Foreign Institutional Investors are subject to Minimum Alternate Tax (MAT).
Look at the issue's consequences — while the issue is being sorted out, few private equity firms are seeking indemnities from companies they wish to invest in such as startups for future tax demands. Companies obviously reject this. So, funding of new ventures is stymied. This is not the best way to create jobs.
Another detrimental factor towards job creation is the easy-going attitude towards fraud practices. It is only now, after a change in management, that the ministry of corporate affairs is seeking to probe the accounts of United Spirits. This is something that ought to have been done earlier.
The ease with which alleged scamsters such as NSEL or Saradha can delay action with the use of expensive lawyers (FTIL spent `102 crore on legal fees) is another case in point, and only dissuade investors.
Meanwhile, another factor posing a threat to India's GDP is the climatic phenomenon of El Nino.
If the monsoons do indeed get delayed due to El Nino, agriculture—which accounts for 14% of the GDP — will get hit, and can drag the growth rate by as much as 0.5%.
Crude oil prices are also hovering around $65 a barrel, putting strain on the country's current account deficit.
The government introduced gold monetisation scheme as a means to bridge this deficit gap because gold is the second most imported commodity, after petroleum crude.
The scheme can succeed only if offered at a sufficiently attractive interest rate.
On the investment front, foreign investors continue to remain engaged with the India, although peeved at prickly issues such as MAT demand and retrospective amendments.

The domestic investor base is also growing. More individual investors, who don't carry the memory of scams such as those involving Harshad Mehta or Ketan Parikh, are entering.
Pension funds have been allowed to invest 5% of incremental corpus in equity. This is a large amount. And insurance companies are also potential pools of money.
Last week, the BSE Sensex lost 130 points to end at 27,828.
Most of the corporate results for Q4 ending March 2015 are poor, showing signs of the policy paralysis of earlier years.
NTPC's Q4 net profit fell 5%, M&M's was down 39%, Hindalco by 36%, Indian Oil by 33% and Bank of India netted a Q4 loss of `56 crore, due to provisioning for non-performing assets.
However, India's largest public sector bank SBI did well with a 23% rise, thanks to gains in its treasury operations.
Close Story
Personalise your news feed. Follow trending topics