By the way: Swachh Bharat, and the price of a sewer man's life
How do you ensure a Swachh Bharat? Simply put, how do you clean our great nation? By ensuring that you hold up a broom with a handle that makes it taller than you.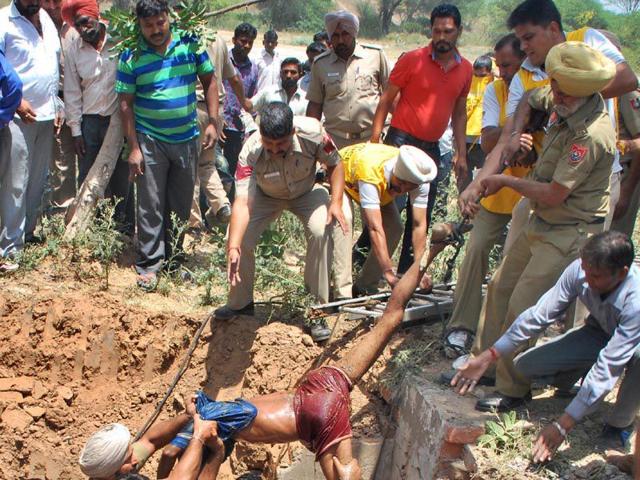 Updated on May 31, 2015 09:25 AM IST
How do you ensure a Swachh Bharat? Simply put, how do you clean our great nation? By ensuring that you hold up a broom with a handle that makes it taller than you. By gathering some leaves, preferably dry, and posing as if you'd continue the clean-up even after the camerapersons leave. And by appearing on fancy posters, giant hoardings, and even movie-theatre screens before the show actually begins, waving your right hand's index finger, proclaiming that it's our duty to put that dreaded toffee wrapper in the nearest garbage bin, which is oh-so-easy to find. And that's that.
The death of three sewer-cleaning men in Chandigarh has yet again shown how our rulers — political as well as bureaucratic — treat the people who actually do the cleaning. Poisoned by toxic gases that form in rotting enclosed spaces like gutters and water tanks, the three were inside a several feet deep manhole, without any gas masks or even a rope to pull and signal if they were in trouble. All three have left behind wailing wives and young children who cannot yet comprehend the tragedy. One child believed his mother had gone to get her father back from work, while she was actually crying her eyes out at the police station.
The story is all too sad, and sadly all too familiar. Even in August last year, UT public health department's worker Satbir Singh had died of the same reason.
Many would conveniently see it as God's will and sleep a sound, spiritually inclined sleep. There are the slightly more sensitive others, who'd lose a bit of sleep, but feel helpless in the face of our pathetic, apathetic rulers.
And then there are the rulers themselves, who promise the moon; later announce compensation as and when needed, and even shed tears in rare moments when they are in touch with their softer sensibilities, if any.
In the latest case, however, there is an added alibi. The municipal corporation had outsourced the work to a contractor, who had further hired these men for `400 a day. Thus, MC officials insist, they aren't directly responsible. That aside, compulsory safety equipment is seldom insisted upon even by the MC or the UT administration for its own workers. Even after the August case, the administration had claimed that all field workers have been given safety equipment. An inquiry was marked too, but little changed.
There is still no group insurance policy for workers even in the fire department, though it was promised last year after a blaze in Sector 17 killed two firemen. In death, the firemen at least got to be heroes. Cleaning filth, however, is no hero's job.
On safety gear, the workers' union says the masks provided by the civic bodies are not of good quality, though it has never held a strike or protest over it. The administration simply says the workers choose not to wear the equipment. Conveniently, enforcement of safety rules is forgotten.
Why is it that supervisors are either nowhere to be found or simply do not ensure that the sewer men wear lifesaving masks before descending into potential death traps? Did anyone in the MC check whether or not the contractor was following the rules, or was he to do as he pleased, only because he'd won the tender?
And, if the workers are to be blamed, does the same logic apply to rules on the road? Let's then assume that all of us are to be responsible for our own safety, and the authorities exist only to announce compensation once in a while; the police be damned.
But, you see, in the real world that we inhabit, discipline is seldom selfimposed. I've written this before, and will repeat it today for its importance — institutional responsibility is routinely reduced to individual duty in our country. Even Swachh Bharat is a mere slogan, only a means to rid the middle class of its guilt, if there's nothing done for those who do the dirty job on the ground and beneath.
As for the three workers, while the contractor had put a price tag of Rs 400 a day on their lives, the mayor was kind enough to raise it to `2 lakh, as compensation, now that they're dead actually.
Close Story
Personalise your news feed. Follow trending topics