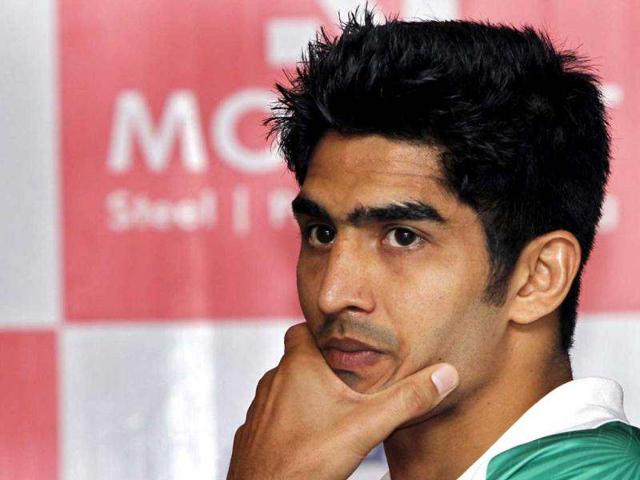 Cops find no links between Vijender and drug dealer
Two more persons have been arrested in drug haul case cracked by Punjab Police team from Fatehgarh Sahib. Nothing substantial has been found as of now which suggests Vijender Singh's involvement in this case, said Ludhiana range DIG M Farooqi.
UPDATED ON MAR 11, 2013 05:38 PM IST
Two more persons have been arrested in drug haul case cracked by Punjab Police team from Fatehgarh Sahib.

Addressing mediapersons, Ludhian range DIG M Farroqi said that 'two more people have been arrested and a cash amount of Rs 1 cr and 20-kg chemicals have been recovered from them.
The arrested have been identified as Manpreet Singh alias Mani and Gabbar Singh, who is a relative of Mani.
The DIG said that involvement of Vijender Singh in this whole episode is yet to be established as the probing is still on.
He, however, informed that nothing as yet has been found which could suggest his involvement.
The Fatehgarh Sahib police on Thursday claimed to have seized 26-kg heroin worth Rs 130 crore in the international market from an NRI's house in Zirakpur.
He later had alleged that boxers Virender Singh and Ram Singh are his clients.
According to Punjab Police Kahlon told police that boxer Vijender Singh and his fellow boxer Ram Singh were his client and one of the cars that were parked at his flat belongs to Vijender's wife.
Earlier on Friday, Olympic medallist Vijender Singh categorically denied any involvement with NRI Anup Singh Kahlon.
"I have no links with Kahlon and there is no truth in the media reports which are making rounds of my involvement with him," Vijender told Hindustan Times from Delhi in his first reaction to the episode.
Vijender further added that 'he had met Kahlon on couple of occasions through somebody'.
"I was in Mumbai and my car was parked outside National Institute of Sports (NIS), Patiala, and I don't know from where the police have found it," said Vijender, who holds the rank of deputy superintendent of police (DSP) in Haryana.

Meanwhile Haryana DGP SN Vashisht said, "Punjab police has not informed us on this. Since what we are hearing from media pertains to one of my officers, I have asked SP, Crime, Hardeep Doon to ascertain facts from the Punjab police. No inquiry though has been ordered by us."
Close