Woman teacher found murdered in heart of Chandigarh
Husband, also a govt teacher, booked; he is absconding after having tried to kill their teen son as well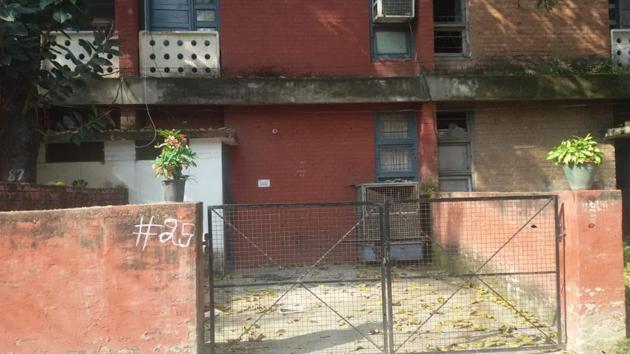 Updated on Sep 16, 2020 11:06 PM IST
A government schoolteacher was found murdered at her house in Sector 23 in the heart of Chandigarh on Wednesday morning.
Police said the decomposing body of Jyoti Rani, 40, was found wrapped in a blanket on a blood-stained bed at her government accommodation.
Her husband, Mandeep Singh, 42, who is absconding, has been booked for murder as well as attempting to kill their 13-year-old son, who was pushed into a canal in Ludhiana district. Their younger son, aged 9, is missing.
Mandeep is a teacher at Government Model Senior Secondary School, Sector 47, while Jyoti taught social science at the government school in Karsan, Ram Darbar.
The murder came to light when the Ludhiana police accompanied the 13-year-old back to his house after he was rescued from the Neelon canal.
Around Tuesday midnight, the Ludhiana police approached their Chandigarh counterparts after the house was found locked from outside. The lock was broken to gain entry into the house as foul smell was coming from inside, and the body was discovered, said Ram Rattan, station house officer (SHO), Sector 17. Preliminary examination revealed injury marks on Jyoti's head and face.
Father pushed me into canal: 13-year-old son
A Class-8 student, the son told police that on September 13, Mandeep asked the two brothers not to go to their mother's room on the first floor as she had tested positive for Covid-19 and was in isolation.
The next day, the accused left for Ludhiana with the two children in his car. After paying obeisance at a gurdwara, Mandeep allegedly gave some medicine to the children, claiming that it would protect them from coronavirus infection, but it made them vomit.
Later in the night, Mandeep stopped his car near the Neelon canal, claiming that it had developed a snag. While the younger son was seated on the rear, the father took the 13-year-old towards the canal and before he could figure out anything, he was pushed into it.
"I shouted a lot, but there was no one around to help. After flowing along the stream for some distance, I managed to catch hold of a tree branch," he is reported to have told police.
Constable Manpreet Singh of the Ludhiana police told his Chandigarh counterparts that the child was rescued the next day by some people at the Gurdwara Katana Sahib and police were informed.
Accused had returned to Chandigarh: Cops
Mandeep's mobile phone is switched off, said investigating officials. His last location has been traced to Sector 40 on September 15, indicating that he had returned to the city.
Jyoti's body is kept at the mortuary in Government Multi Specialty Hospital, Sector 16. The Covid test conducted before the postmortem found her negative.
Mandeep belongs to Fatehgarh Sahib while Jyoti was from Nabha in Patiala.
People known to the family claimed Mandeep did not interact much with the neighbours or colleagues. In fact, he was not even in touch with his relatives and had not talked to his father for five years.
Meanwhile, Sanjeev Singla, principal of the school where Jyoti worked, said: "The news has come as a shock to us. We have lost a good teacher who was also deft at administrative work."
Close Story