Row after Karnataka Congress files complaint alleging BJP of 'bribing voters'
Published on Jan 25, 2023 11:40 PM IST
The Congress complaint comes after BJP MLA Jarkiholi stirred a political controversy after he said that he would "give ₹6,000 to each voter" before the state assembly elections due in May.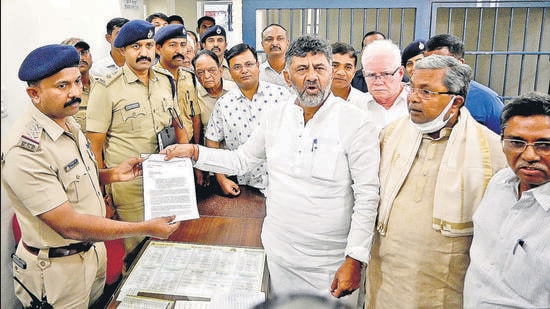 Karnataka Congress on Wednesday lodged a police complaint against former minister Ramesh Jarkiholi, chief minister Basavaraj Bommai and other senior BJP leaders, accusing them of offering bribes to voters ahead of the Assembly elections.
Karnataka Pradesh Congress Committee (KPCC) president DK Shivakumar and Leader of Opposition Siddaramaiah lodged the complaint with the High Grounds Police Station in Bengaluru.
The complaint comes after BJP MLA Jarkiholi stirred a political controversy after he said that he would "give ₹6,000 to each voter" before the state assembly elections due in May.
Jarkiholi was speaking at a rally organised by his supporters in Sulebavi village in Belagavi Rural constituency on Friday. The remark came during his attack on Congress MLA Lakshmi Hebbalkar, who represents the area.
In the complaint, Congress reiterated that Ramesh Jarkiholi had on January 22 announced in Belagavi that the BJP would pay ₹6,000 to every voter in the ensuing Karnataka Assembly elections.
"It is an attempt to influence the result of elections by defeating the objectives of democracy," said DK Shivakumar. "This is part of a concerted conspiracy hatched at the highest levels in the BJP with the tacit approval of the Chief Minister," he added.
The Congress leaders also attached a copy of video footage as evidence, in which Jarkiholi was heard offering ₹6,000 to every voter in the ensuing elections. "There are a whole group of individuals involved in this conspiracy, and the same will become apparent on the arrest and interrogation of the above-said four persons and confiscation of their cell phones, computers and other digital devices," the complaint added.
According to their petition: "Obviously, there is a group of BJP leaders behind this concerted design to bribe voters. This is a blatant and brazen attempt to hijack democracy, and are obvious criminal offence under Sections 171 B, read with 107, 120 B, 506 of the Indian Penal Code, 1860. It is also a bribe offering to the voters, as per provisions of Section 123(1) of the Representation of Peoples Act, 1951."
"This is also a fit and appropriate case where a full investigation by the Income Tax Department, and the Enforcement Directorate should initiate proceedings against the BJP's central and State leaders, the CM of Karnataka and his Cabinet colleagues, andJarkiholi to unearth the source of the ill-gotten money of ₹30,000 crore likely to be distributed to the voters of Karnataka," added the petition.
A few hours after Congress leaders filed a complaint, Ramesh Jarkiholi denied making such statements. "It is true that I said we will give ₹6,000 per head. But that was not meant to be a bribe for voting. It was my measure of per capita funds that I would release for the constituency for its development. My statements were twisted by the media," he said.
He told reporters that he didn't offer bribes and accused the Congress party of distributing gifts. "I am a six-time MLA. I have never stooped to such levels to influence voters. I have only exposed Congress leaders like Lakshmi Hebbalkar, who were openly bribing voters. Why did the Congress leaders, who complained against me, not mention that I had spoken about Hebbalkar's bribing the voters with gift boxes?"
Karnataka chief minister Basavaraj Bommai said on Wednesday the Congress is the one that gave birth to "illegal things and corruption" in the country, as he hit out at the opposition party's police complaint against him and BJP leaders calling it "laughable and ignoble".
Alleging that Congress legislators were caught "red-handed" in Kunigal in Tumakuru district recently distributing pressure cookers to voters and were fined by the Commercial Tax department, Bommai called it a "pressure cooker party".
"This is an example of how low Congress has reached. Those who made a statement will give a clarification for what they said. Congress party itself has announced that it will provide ₹2,000 for every woman-led household, 200 units of free power, they are making announcements every day," Bommai said, reacting to the complaint lodged by the Congress.
(with inputs from PTI)